A few days back I posted the review of PLAYFIT Strength. After the review was published, I started using another PLAYFIT smartwatch called PLAYFIT Slim. This watch feels compact but feature rich. The smartwatch boasts a lot of features and I tried to check all to see if the claims are true. If you are thinking to buy PLAYFIT Slim, you should read this PLAYFIT Slim review to know everything about the smartwatch.
First of all, let's talk about the design. I really liked the design of PLAYFIT Slim. It feels premium with an aluminum body and plastic back. Certainly, it has a solid build that feels really nice. There's a 1.28-inch round display with a 2.5D cover plastic. The display is prone to get smudges and attract fingerprints. There is a button on the right side. It can be used as a Home button, back button, and as a power bottom. On the back side, there is a heart rate sensor and charging pins.
The smartwatch includes silicone straps that are comfortable and won't cause any irritation. The watch weighs just 37 grams. I used it for a week and kept the watch on my wrist all the time. The overall experience was comfortable.
PLAYFIT Slim is also IP67 water resistant. So, you can keep wearing it while performing other daily tasks and can also use it during workouts.
The 1.28-inch touch LCD display has a 240 x 240 pixels resolution. The display quality is really good and is bright enough to use it even outdoors. It has clarity and good brightness. From the settings, you can also adjust the brightness as per your need. I really liked the touchscreen response.
The smartwatch comes with several watch faces that you can select using PLAYFIT app. You can select any watch face and sync it to your watch. There is also a custom watch face where you can select an image, font color, and more things to have a custom watch face for your smartwatch.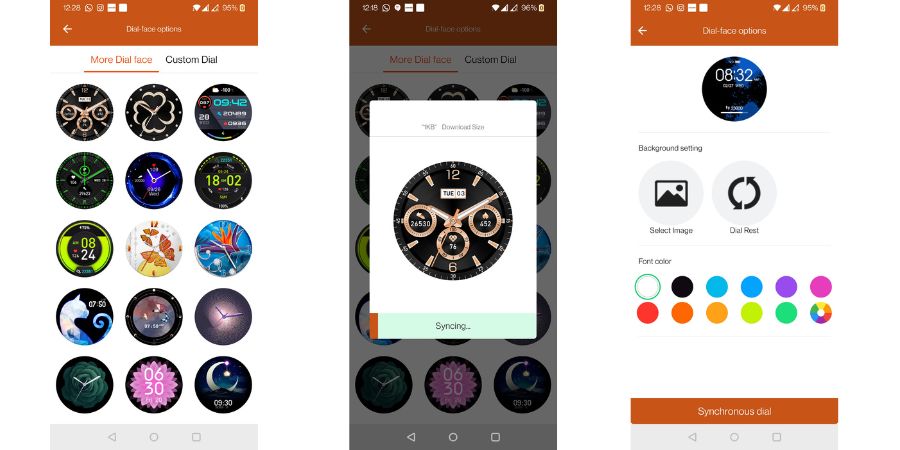 Install PLAYFIT app on your phone and pair it with the watch. The app is available for both Android and iOS devices. So, this smartwatch can be used with both Android and iPhone. When you first install the app, it will ask for a few basic information. Then you will get all the notifications from your phone on the smartwatch. The app also lets you change watch faces, and historical data, and tune different watch settings. The app has several options and lets you change your watch settings. You can change screen timeout time, change dial face, enable DND mode, use the watch as a remote shutter, enable wrist sense, change step length, time format, and more. You can also customize alert settings to enable only those notifications that you want.
The smartwatch features activity tracking and tracks steps, distance, and calories you burn. You get this data on the smartwatch display.
It also has a heart rate sensor and can monitor your heart rate. The heart rate sensor feels accurate. Most readings were fine, but some readings were too high. So, you should use heart rate data as medical advice. The watch also keeps the historical data of your heart rate readings. You can access this data using the companion app. The smartwatch also Spo2 sensor to measure blood oxygen levels. This also works well.
Like many other smartwatches, PLAYFIT slit also features sleep tracking. If you wear it while sleeping, it tracks your sleep and categorizes it into light and deep sleep to give you an idea of the quality of sleep you get. This data is available on the app
There is also a breathing mode that guides you to breathe in and out to feel relaxed. This feature is helpful for people who suffer from anxiety and are feeling really low.
Other notable features of the smartwatch are inactivity alerts, alarm, menstrual cycle tracking, music control, find my phone, and Find my watch. All these features work fine and make the watch useful.
PLAYFIT slim packs a 180 mAh battery and easily offers 6-7 days of battery backup. The battery backup also depends on how many notifications you get daily and your usage of different exercise modes. I was getting around 6 days of battery backup with all the notifications turned on. The watch takes around 2 hours to fully charge.
Verdict
There are many smartwatches now available in this price segment. So the competition is really tough. PLAYFIt Slim still manages to shine with its solid build, good display, long battery, and good health features. At a price of Rs. 3999, this smartwatch is worth the pricing it asks for. If you are considering buying PLAYFIt Slim, you should get it without any hesitation.
You should also see: Best Smartwatch under Rs. 3000