Crusaders XJ-2900 Air Purifier Review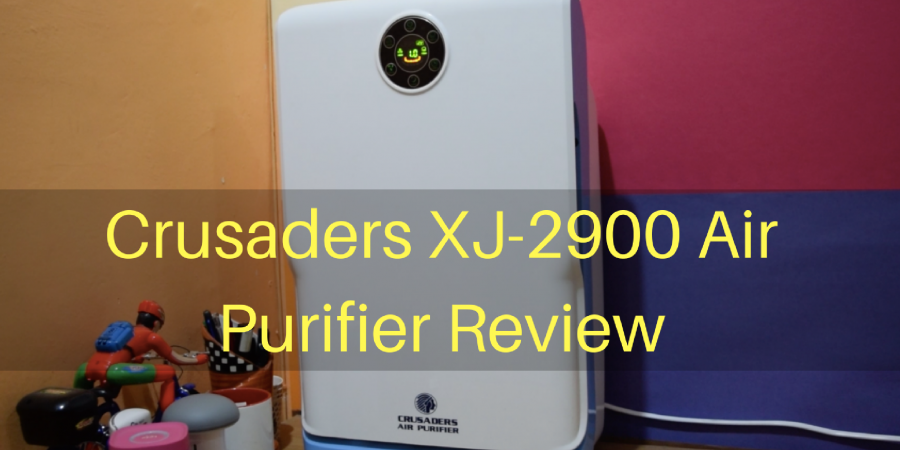 Air Purifiers are not the mainstream product but the way we are ignoring our environment, it will soon become an important part of our daily life. Metro cities have worst level of pollution. So, having an Air Purifier is a good choice for healthy life. I tested the Crusaders Air Purifier XJ-2900 for around 15 days and here is my review of the product.
Up to 60% off on Bluetooth Speakers
Up to 60% off on Bluetooth Speakers
Crusaders XJ-2900 Air Purifier Review
Design
The size of this Air Purifier is not big and it can easily fit into a corner without occupying much space. At the front, it has a flat surface with circular control space at the top with digital display. Here, you see six different buttons for power, Anion, Sterilize, speed, Timer and sleep in between these buttons, you see a display to notify what features are on and set the timer.
You also get a remote control with the Air Purifier to control it from a distance. The remote also has the same six buttons.
The front panel is attached to the body with magnet only. You can detach it to remove all the filters.
At the top side, it has a place to hold it and move from one place to another. At top-back, it has a place to push clean air in the room. It has 180 M3/Hr CLEAN AIR DELIVERY RATE (CADR). and It sucks air from the open area of sides.
The weight of the AirPurifier is less than 5 KG that makes it portable. It is designed to cover the area of around 250-300 Sq. Ft. of. It consumes 43W of power.
Filters
It comes with 7 Filter Technology.
Pre-Filter
Cold Catalyst Filter
Active Carbon Filter
Anti-Microbial Filter for 5-micron size
HEPA (High-Efficiency Particulate Air) Filter 0.3 micron (MERV 17 Rated)
UV Lamp
Negative ions
Its front panel can be pulled out easily. The first layer is the pre-filter that filters heavy particles. It is life long washable.
The next panel has photocatalysis side with titanium dioxide coating. It traps gases. The same panel has a charcoal filter on the other side. It performs Carbon filtering to remove contaminants and impurities.
Here, it has captured chemical fumes, gases, and odors. But Air still has dust, micro-organisms, and other allergens.
The next panel looks sky blue from the front side. It has an antibacterial layer that can filter particles of size up to 5 microns. The same panel has HEPA filter on the other side. HEPA stands for High-Efficiency Particulate Air. HEPA technology removes up to 99.97% of airborne contaminants (that are as small as 0.3 microns) and makes the air safe and healthier.
It has removed dust, bacteria and other allergens. But it cannot capture very small viruses and Micro-organisms captured in the filter can breed or reproduce.
Just above the last panel, there are UV light bulbs. The UV kills microorganisms passing through your air. UV light can destroy things like dust mites, mold spores and other types of bacteria.
So, after UV treatment, it will destroy micro-organisms and very small viruses that HEPA couldn't filter.
Just below the air release area, there are two small brushes that create electrons which are discharged into the air. These electrons attach to the air molecules to form ions. These newly formed negative icons dispelled into the room where they attach to dust, smoke and pet dander to form the larger particles. These will be trapped by air purifier in few minutes. These can also descend to the floor to be cleaned later.
Few pieces of research also explain the importance of negative ions in the air. These are notable benefits of negative ions
Strengthen the functions of autonomic nerves
Strengthens the immune system
Improved energy levels and focus
Better Sleep
The ionizers enable air purifier to work better and help you get cleaner air as compared to other air purifiers that just come with HEPA filter.
Here, it is important to note that Ionisers are distinct from ozone generators even if both devices work in same way. Ionizers use electrostatically charged plates to generate negatively charged gas ions. Ozone generators are optimized to attract an extra oxygen ion to an O2 molecule.
Here, I saw the smart usage of all kinds of air purification technologies in a proper sequence to ensure the best possible air purification.
In just 15 minutes, it reduces the PM 2.5 index to around 40. That is impressive. I tested this in my office and found it working fine. The fans have three speeds and you can control it by remote or built-in controls. It also has built-in power optimizer. It operates silently without making noise.
Filters can last for up to 12 months depending on usage and you can easily replace it. Filters are available via online stores. You can easily replace filters without needing any help from the company.
The company also offers excellent customer support. So, you will not have to worry about after sales service.
Should you buy it?
This Air Purifier is good and smartly combines all purification technologies in one. It is not just to give you clean air, but its Anion feature aims to keep you healthy.
If you are living in a metro city where Air is polluted, you can consider this. If you have small kids at home, I recommend having this Air Purifier. The best thing about this Air Purifier is that is designed to work in Indian environment where dust is the primary problem. So, it has integrated every possible thing to give you clean air.
It is priced at Rs. 14,500 and this price segment has several other Air Purifiers. But Crusaders XJ-2900 easily beats competition with its features and silent operation.
Links to buy are given below.
If you have any query, you can comment below.
Crusaders XJ-2900 Air Purifier Review
"Crusaders XJ-2900 Air Purifier is an impressive product that smartly combines all purification technologies to ensure best possible clean air."
The Good
Compact
Silent operation
Combines Important filtration technologies
Breakdown
Design 70%

Performance 80%

Features 85%

Value for money 70%