Blueair Blue Pure 211 Review – Faster Air Purification and large area coverage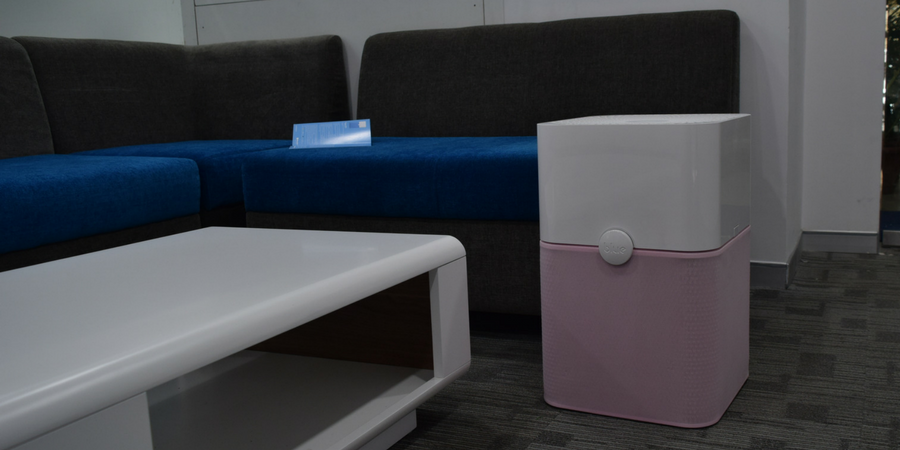 Blueair is a known company behind a range of good Air Purifiers. Recently, I tested their entry-level Blue Pure 211 Air Purifier. This Air Purifier is priced at Rs. 22999 and comes with few good features. Here, is my review of Blueair Blue Pure 211.
UpTo Rs. 10,000 Cashback
BESTSELLING SMARTPHONE
Blueair Blue Pure 211 Review
Design
Blueair Blue Pure 211 comes with elegant design. It has two parts that can be separated. The top part is the fan and the bottom part is the replaceable filter. It has 360-degree filter design. So it sucks air from all sides and releases clean air from the top.
The entire filter base has a pre-filter layer. The pre-filter come in different colors to match your interior. This pre-filter can be washed or vacuum cleaned.
At the front side, it has a big touch button to control fan speed. Touch it once to turn it on, tough again to increase the fan speed, touch again for max fan speed and tough fourth time again to turn it off. This is so simple to understand and use. No complex controls. This control button also has three indicator lights. These are the white LED indicators to indicate fan speed. When this light becomes orange, it means you need to replace filters.
The dimensions measure 20 x 13 x 13 inches. The weight of this air purifier is 5.7 KGs. So, you can easily change the position. I liked its minimalistic design.
Technical Specifications
| | |
| --- | --- |
| ROOM SIZE | 50 M2 (540 FT2) |
| CADR (SMOKE) | 590 M3/H (350 CFM) |
| CADR (DUST) | 590 M3/H (350 CFM) |
| CADR (POLLEN) | 590 M3/H (350 CFM) |
| AIR CHANGES PER HOUR | 5 |
| DIMENSIONS (H X W X D) | 516 X 330 X 330 MM (21 X 13 X 13 IN) |
| WEIGHT | 5.7 KG (13 LBS) |
| ENERGY CONSUMPTION | 30 – 61 W |
| SOUND LEVEL | 31 – 56 DB(A) |
| ELECTRONIC SENSORS, REMOTE, ON/OFF TIMER | NO |
| FILTER REPLACEMENT INDICATOR | YES |
| SPEEDS | 1 – 2 – 3 |
| CASTERS | NO |
| AIR OUTLET | TOP |
| AIR INLET | 360° |
Performance
Now when you know the technical specifications, it is the time to talk about its performance. It claims to clean room sizes as big as 540 sq. ft, it is perfect for living room or hall. It claims 590 cubic meters per hour Clean Air Delivery Rate that makes it faster than any other Air Purifier of the same price segment. It also claims to clean the air five times each hour. This is another notable thing. While there was nothing to test this claim, Air purification was done properly. It quickly removes Bad odors to keep the air clean.
The pre-filter is able to stop big particles and you can notice dust particles on the fabric. So, you need to clean it regularly. It has HEPA and active carbon filter. HEPA can remove up to 99.97% of airborne contaminants to make the air clean. Active Carbon Filter removes impurities chemical fumes, gases, and odors.
This air purifier also does ionization of air with an ion chamber just below the air outlet. So, the clean air also contains negative ions to make Air healthier. This kind of air strengthens the immune system as well.
This filter is replaceable. As per the official claims, the life of the filter is 4380 hours. It means, it will last for 6 months if you use it 24 hours a day. The touch button will start showing the orange light when filters are no more effective. In this case, you need to buy new filters to replace the existing.
This air purifier produces very less noise even on its highest fan speed. So, it will not disturb you if you are watching TV or talking to someone.
This product comes with 2 years warranty. This is another advantage because most of other companies offer just 1 year of warranty.
Final Words
There are several cheaper air purifiers in the market offering the same kind of Air filtering, you must consider that Blueair Blue Pure 211 covers the almost double area and offers better Clean Air Delivery Rate. So, it cleans air faster than other products you can find. It has good design and almost no complex function. Just turn it on and it starts cleaning the air.
If you are looking for Air Purifier to cover large area, this is one of the best to consider.
Blueair Blue Pure 211
"Blueair Blue Pure 211 comes with minimalistic design, no-complex function, and nice performance. It is quick in air purification and filters last longer."
The Good
Good design
Fast CADR
360-degree Air Intake
Breakdown
Design 85%

Performance 80%

Features 60%

Value for money 70%