How to Buy Ethereum : Beginner's Guide
Ethereum is also a popular cryptocurrency that has attracted lots of investors. It is based on blockchain technology. Ethereum is basically a decentralized platform for developers to build apps. It can be used for coding many things. Here, I am not going to talk about Ethereum's technology and how it works. You can read about Ethereum here to know the details.
It provides a cryptocurrency token called "ether". Ether can be traded around the web and mined. If you want to mine, read how to Mine Ethereum. If you do not want to invest in mining hardware, you can directly buy Ethereum from available exchanges.
After the recent surge in the price of Ethereum, many people have no started taking interesting in Buying Ethereum. See how It grew in past 2 months.
There are over 6 million cryptocurrency wallets that hold Ether and this number is growing. If you are also thinking to buy a cryptocurrency for long-term profit, I recommend you to buy Ethereum as soon as possible
Before you buy Ethereum, you also need to own a good wallet. You can buy Ledger Nano S hardware wallet. You can also see best Ethereum wallets list for more option.
How to Buy Ethereum
In this guide, I will tell you how to buy Ethereum. I will list few easy to use and secure platforms where you can buy Ethereum by loading Dollars, Euros or Pounds.
1. Coinbase
Coinbase is the best place to buy and Sell Ethereum along with few other cryptocurrencies. It also supports Bitcoin. The platform also offers a hosted wallet to keep your coins. You can also send your coins to any other wallet as well.
Create an account on Coinbase and add a payment method. You can use a Credit card or bank account to deposit funds. After adding funds, go to Buy/Sell and select the amount of Ethereum you desire.
The platform is offering its services for a long time with no issue till date. It also cares about your security and offers multilayer security. You can enable two-factor authentication. It also uses email authentication each time you try to access the account from unknown IP.
2. Bitpanda
BitPanda also supports buying and selling Ethereum. If you want to buy Ethereum, you can also use BitPanda. Here, you can fund using Visa or Master Card, Euro Wallet, Bank Transfer, Skrill and more ways. So, fund your wallet and order Ethereum. When you want to sell, you can sell it from the same platform.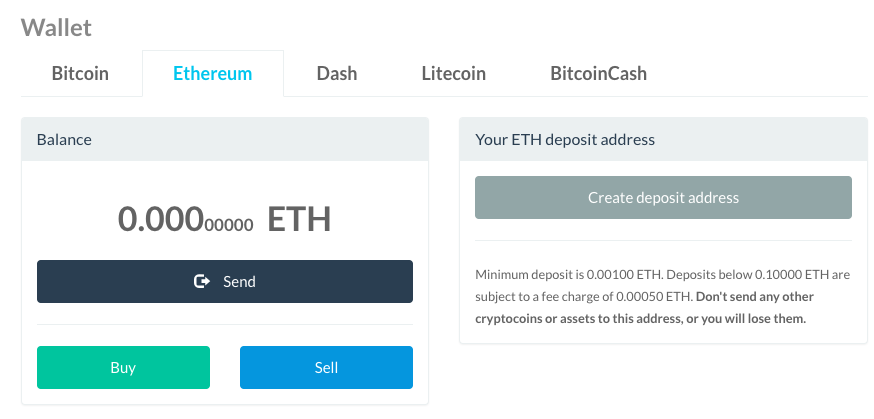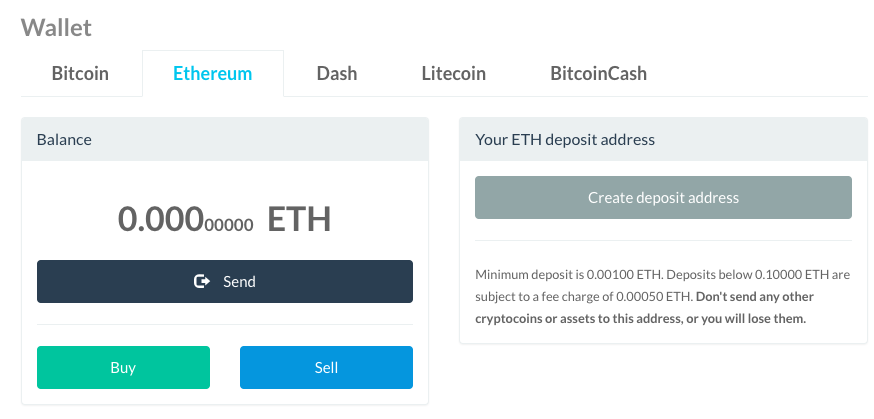 Login to your BitPanda account and you will different tabs for different Cryptocurrencies. Select the Ethereum, create an ETH deposit address and then buy the desired amount of ETH.
If you are from India, you cannot use Coinbase or BitPanda, you can try these websites.
3. Coindelta
Coindelta lets you buy several cryptocurrencies including Ethereum, Bitcoin, Bitcoin and more. So, you can use this platform to buy and sell Ethereum. Due to too high demand, they open registration time to time. So, you cannot just go and signup. You need to wait until they open registration for next time.
4. Zebpay
Zebpay is Bitco exchange platform. So, you cannot buy Ethereum. First, you need to buy Bitcoin from Zebpay and then use the platform Changelly or Binance to get Ethereum by exchanging the Bitcoin. This is a two-step process, but necessary when you cannot use the above-given methods. Zebpay is the trusted platform. This is the reason, I recommend it over other Indian exchanges.
Here is the list of best cryptocurrency to invest in 2018.
Final Words
There are lots of other exchanges, I cannot add the name of all exchanges here. So, I added a small list of trusted websites for buying Ethereum. Coinbase is the most recommended, but it doesn't work in all countries. The Bitpanda should work for most of the countries. As I have most of the readers from India, I added two ways for Indian people for buying Ethereum.
If you still face any problem in buying or selling Ethereum, you can always leave a comment and I will surely come with an answer.