YouTube is testing to make 4K video playback a premium feature
A few days back, it was reported that YouTube is testing up to 10 unskippable ads before playing a video. Now a Reddit user reported that YouTube is limiting 4K videos to Premium subscribers. This is another test to promote users to get YouTube Premium.
Reddit user Ihatesmokealarms posted a screenshot of the YouTube app that limits 2160p playback to YouTube Premium. In the Reddit thread, several other users also confirmed seeing the same while many users can still play 2160p videos without asking for a premium. When I checked it within my app, I was able to play 4K videos without any problem. So, it seems limited testing with select users.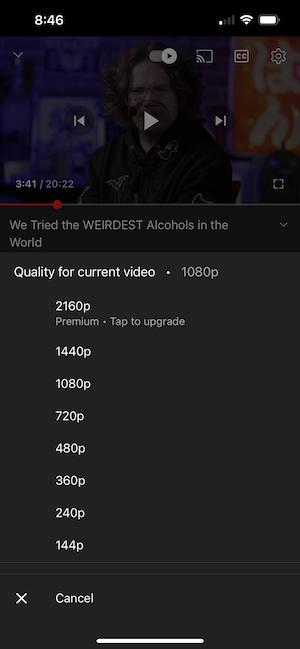 YouTube is now really aggressive in ads to boost its earnings. The company has increased ad frequency. In most cases, users watch 2 or 3 unskippable ads before the video. The company is already testing to increase this number if ads are smaller. In-video ads also interrupt the experience.
Google has yet to confirm this testing. But they keep testing different things and roll out widely if they get a positive response from customers. Although they won't get any positive feedback for pushing more ads, they are now trying hard to encourage more people to get YouTube Premium.
Also see: How to block YouTube ads on Chrome
People who do not want to watch ads can upgrade to YouTube Premium for an ad-free experience. Third-party ad blockers also rarely work on YouTube. The only working solution is to try ad-blocking DNS or switching to a good VPN. NordVPN and Surfshark are two good VPNs that offer built-in ad blocking capabilities.