Understanding the Public Relations Industry in India
India's public relations sector is about to undergo a major transformation. Its scope is extending far beyond media relations as it speeds through the Information Age and into the Conversation Age. Since the expansion of media, the Indian PR business now has the opportunity to provide integrated solutions.
In the future, clients in India will soon look to their agencies for more than just media relations. Currently, this can be seen in the clients like Wipro, which asks its agencies to assist them in figuring out how to best articulate their messages and present them in a way that is useful to clients, analysts, investors, and journalists.
Social media is quickly catching up to traditional media and is becoming an integral aspect of many businesses' communications strategies. With the increasing use of social media, a variety of solutions are accessible. PR specialists can modify communications tactics and content to target a certain audience and track stakeholder sentiment as well. As a result, several agencies have invested in creative and digital departments with cost-effective communication strategies that involve advertising, public relations, and digital media.
Niche PR –
In this small, specialized teams are formed either within organizations or as separate entities. Niche PR might target extremely niche markets or provide a small-but-unique service. Specialists in Indian languages or content development, for example. The current economic crisis may hasten the growth of niche PR firms that provide communications services to a single industry or ethnic group.
While such agencies are uncommon in India, they are becoming more common worldwide. Niche PR agencies are more targeted as they deliver better value than general-purpose agencies. This lowers the cost of the public relations campaign since they've gained knowledge and created crucial relationships in that industry, PR professionals with specialist experience are regarded as experts.
Social media engagement
Social media has grown pervasive, and online behavior has a big impact on consumer and business behavior. Online media will become increasingly significant, just as the internet has made media borderless. In this situation, public relations would become even more crucial, as traditional advertising reaches fewer people and the full worth of online advertising is still unknown. Today's investments in digital infrastructure and talents will pay off handsomely in the future.
Campaigns for a wide range of goods and services, from fast-moving consumer goods to global events, might use variations of this paradigm. This can be accomplished by joining the discourse in the community of your clients' customers to learn more about their demands. Use consumer-friendly platforms, such as Facebook, Twitter, YouTube, blogs, podcasting, QR code technology, and so on.
Setting goals
Setting and measuring goals is essential for every service. The target audience should be established and the goals should be as quantifiable as possible. Traditional and social media should be measured, as well as the influence on stakeholder awareness and business results.
Results from media
The number of references in the press or on the radio is usually meaningless. Instead, audience impressions and the quality of media coverage should be included in media measurement.
Social media output
There is no single metric for measuring social media. It's all about statistics right now, like how many Facebook likes you got or how many Twitter followers you have. The parameters would be determined by the campaign's goal.
It's not about the numbers, though; it's about managing internet reputations. Public relations professionals must pay attention to dialogues and respond thoroughly and honestly to the concerns expressed. Instead of removing unpleasant comments or mentions, the focus should be on responding immediately and engaging.
Transparency –
Transparency in PR measurement is essential. Mention the source of media measurement as well as the analysis process. Make the approach, questions, and statistical methods for surveys crystal transparent.
Article by: Dhanlaxmi Bhoir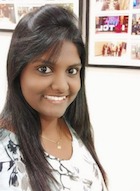 Dhanlaxmi Bhoir is long and distinguished, with excellent communication skills and team management. Skilled at using data modeling to build a competitive advantage. Enthusiastic team player who has a knack for analytics. Outgoing individual with a pleasant personality.