Google Stadia will be launched in November; Here are the details
Now Google has revealed key information of the new Stadia gaming streaming service that it didn't during the initial announcement in March. We were waiting to know how can we get started and how much will we have to pay for enjoying games on Stadia.
Google has now confirmed the gaming streaming service will be officially launched in November, in 14 different territories including the US, UK, and Canada. There will be at least 31 games from 21 different publishers in the start.
There will be two subscription plans including Stadia Base for free and Stadia Pro for $9.99 per month. ButStadia Base will be available in 2020
Google has announced Stadia "Founder's Edition" that includes free three-month Stadia Pro subscription, A Chromecast Ultra, A limited-edition Night Blue Stadia Controller, A three-month Buddy Pass to bring one friend along for the ride and create your special Stadia Name for free. It is priced at $129.99 and is now available for pre-order from Google Store. After that, you can continue using Stadia Pro for $10 per month.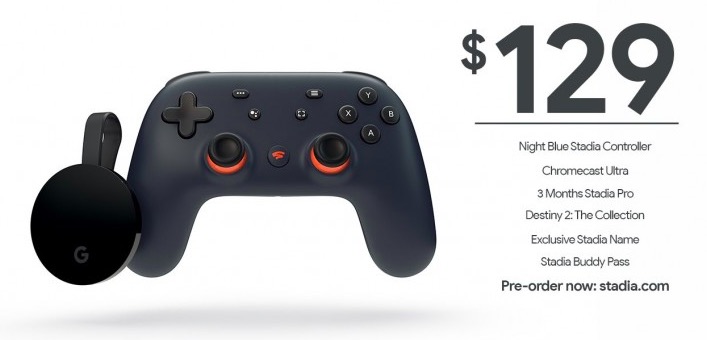 The stadia controller has 802.11 ac Dual-band (2.4GHz / 5GHz) WiFi, Bluetooth 4.2, 3.5mm headset jack for headsets, USB-C port for charging, Google Assistant button and Quick access to image and video capture. It comes in Google Assistant button.
Here is the local pricing of Founder's Edition, Stadia Pro and Stadia Controller for countries it will be launched in the initial phase
Territory
Founder's Edition
Stadia Pro (monthly)
Stadia Controller
US
$129.00
$9.99
$69.00
Canada
$169.00
$11.99
$89.00
UK
£119.00
£8.99
£59.00
Ireland
€119.00
€9.99
€69.00
France
€129.00
€9.99
€69.00
Germany
€129.00
€9.99
€69.00
Italy
€129.00
€9.99
€69.00
Spain
€129.00
€9.99
€69.00
Netherlands
€129.00
€9.99
€69.00
Belgium
€129.00
€9.99
€69.00
Finland
€129.00
€9.99
€69.00
Denmark
DKK999
DKK69
DKK549
Sweden
SEK1,399
SEK99
SEK749
Norway
NOK1,299
NOK99
NOK699
How Stadia Base and Stadia Pro are different?
Stadia Base is free, so obviously you will not be getting all the things. Stadia Base will limit the game streaming to only 1080p resolution while Stadia Pro gams will enjoy 4K streaming. Stadia Pro will also offer 5.1 Surround Sound and free games regularly. Have a look at the list here.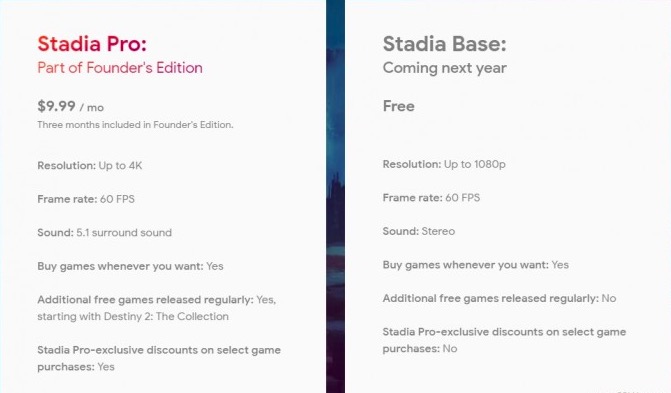 Google Stadia supported platforms: where can I play?
The most notable thing about Stadia is you don't need expensive hardware for enjoying games. You can use your TV, smartphone, or computer for streaming high-end games. Actual games processing will be done on server computers located on Google Stadia's data center. Google Stadia's data centers are powered by a custom AMD GPU, which sports 10.7 teraflops of GPU power that makes it more powerful than Xbox One X (6.0) and PS4 Pro (4.2).
At the launch, you can enjoy Stadia on any PC with a Chrome browser. It will be exclusive to Pixel 3 and Pixel 3a smartphones at launch but more smartphones will also be supported later on.
Google has also confirmed that you need to have a fast internet connection for enjoying the game streaming. If you want 4K streaming of the game with 5.1 surround sound, you need 35Mbps or better Internet speed. At least you need 5Mbps connection to try Stadia on a lower resolution.
If you are wondering what games and game studios are already on board, have a look at this list.
Bandai Namco – Dragon Ball Xenoverse 2
Bethesda – DOOM Eternal, DOOM 2016, Rage 2, The Elder Scrolls Online, Wolfenstein: Youngblood
Bungie – Destiny 2
Capcom -TBD
Coatsink – Get Packed (Stadia exclusive)
Codemasters – GRID
Deep Silver – Metro Exodus
Drool – Thumper
Electronic Arts – TBD
Giants Software – Farming Simulator 19
Larian Studios – Baldur's Gate 3
nWay Games – Power Rangers: Battle for the Grid
Rockstar Games – TBD
Sega – Football Manager
SNK – Samurai Shodown
Square Enix – Final Fantasy XV, Tomb Raider Definitive Edition, Rise of the Tomb Raider, Shadow of the Tomb Raider
2K Games – NBA 2K, Borderlands 3
Tequila Works – Gylt (Stadia exclusive)
Warner Bros. – Mortal Kombat 11
THQ – Darksiders Genesis
Ubisoft – Assassin's Creed Odyssey, Just Dance, Tom Clancy's Ghost Recon Breakpoint, Tom Clancy's The Division 2, Trials Rising, The Crew 2
Google also confirmed that the list will grow with the time. Few more games are also set to be announced next week during E3. But it already looks like video game publishers are interested in this idea.