Twitter Warns Users of Possible 'State-Sponsored' Attacks
About 30 Twitter accounts received a disturbing message from the site last week, warning that they may have been targeted by government or state-sponsored hackers.
Canadian non-profit Coldhak, which focuses on privacy and freedom of speech issues, was one of the first to reveal that they had received the warning from Twitter, and included a screenshot of the message's contents:
Also see:
Here is the screenshot of the message that was received by Coldhak.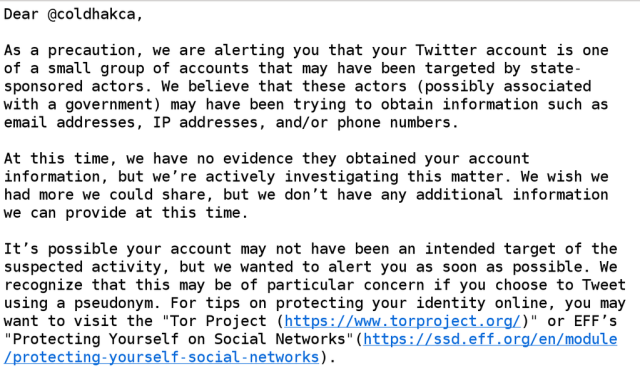 You might wonder most of the Twitter accounts are open to the public – so what information associated with accounts could spies be interested in?
They are most interested in things like your email address, the IP address of the computer you use to access Twitter, your mobile phone number and potentially any private direct messages you exchange with other Twitter users. This are the things which are private to an user.
Jens Kubieziel has created a Twitter list of users known to have received the warning about state-sponsored attacks. At the time of writing, the list contains over 40 accounts – several of which belong to security researchers, activists and journalists who cover privacy and surveillance issues.
Twitter has become at least the third large service to warn users of state-sponsored attacks. Google unveiled its notification service in 2012. Facebook, meanwhile, announced a similar service in October. None of the warnings provide details about which government is suspected of backing a suspected hacking campaign.