Hacker demands $3m in Ransom from a bank for not leaking its hacked database
A Sharjah based bank is in a big trouble. Few days back, a hacker hacked into its servers and grabbed access to its database. Now, the hacker is demanding $3 million ransom for not leaking the hacked database.
"Buba", hacker behind this incident sent an email to bank's management for a $3 million ransom. To keep his identity private, he asked for money in the form of bitcoins. It was good that bank authorities instantly called law enforcement authorities to look into the matter.
Hacker was not happy by the decision taken by Bank and he started leaking data on Twitter. Twitter suspended the account of hacker soon after bank reported the incident to Twitter. But he created another Twitter account and leaked 500 bank customers in just one tweet attachment. Now the new Twitter account of the hacker has also been suspended to avoid more data leaks. But, he can now use some kind of file sharing website to share the leaked data or create another Twitter account.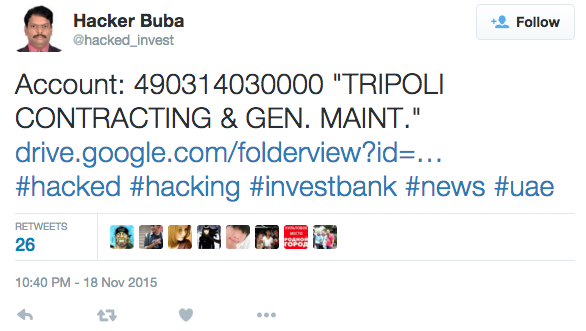 Hacker is also sending SMS to bank customers whose data he accessed during the hack.
Also read: How to be hacker
It is also interesting to note that hacker started posting about this on Twitter from 18th of November, but bank got to know about this 5 days after it all started.
Bank is not in the mood of being afraid and pay ransom. They are taking help of law enforcement to catch the hacker and stop this nonsense.
Law enforcement are still trying to identify hacker. From Tweets, it was confirmed that hacker belongs to Indonesia, but geolocation of Tweets says location to be Hungary. SMSes seem to be sent from UK. So, it is now hard to properly identify the location of hacker. I am not sure if they will be catch the hacker because he seems to be an expert. Police officers will have to take help of some other hacker to trace the exact location of the hacker.
bank customers are not happy. Many firms have bank account in the same bank and are afraid for their businesses. Few bank customers also talked to Gulf News and expressed their anger.
Source: Gulf News