MoboMarket Review: Best Friend of Every Smart Phone User
Hey folks! If you are an Android apps and games lover, you must already have used every top app available in the Google play and have played every top interesting Game as well Right? Well, now it's time to check stuffs out of the box and try top interesting games and apps available on other Android App Marketplace. Yes! You get it right MoboMarket for Android.
Don't tell me you are here for to read MoboMarket review? Yes you are!?
Ahaha… well I am just kidding with you as I am super excited to review this app marketplace software, it's been a week now since I installed MoboMarket in my phone and I won't say how is it right away.
As I want you guys to see all the features, pro and cons of MoboMarket Android App Store on the go right from the beginning by installing it.
Short Note on MoboMarket Before We Download
The MoboMarket is one of the world best Google Play alternative founded in 2012 and now after a long gap its recently have updated its new version MoboMarket V4.0.5.8  for Android in the market with completely new avatar which is making so much buzz on the web.
MoboMarket with the launch of its latest version now has lots of users of it with over 800,000 available HD free games and apps. That mean you have a lot to dig into to find your favorite apps and games.
So now start with installation part and then we'll go through its interface, designs, features especially new features, advantages & disadvantages respectively.
MoboMarket Installation and Its Interface
You can go to MoboMarket official website by clicking over here. Download the package and start the installation. After installation I get this first look after a welcome screen where MoboMarket have its own cartoon which is pretty cute I wonder if its name might be Mobo (I don't know). 😀
Download MoboMarket Package: Link
After which it comes up with one click top app download which I crossed from upper top right in the pop up screen.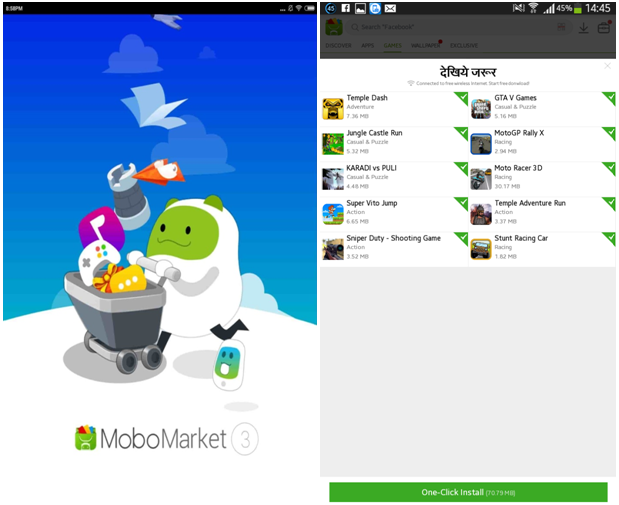 Now we have this final MoboMarket dashboard. Starting from the top left it has marketplace brand logo, search panel in the middle, downloads icon, and tools manager in the right corner.
The Marketplace has five tabs on dashboard as follows:
Discover: It is default "Home" view of Mobomarket dashboard showing both top apps and games.
Apps: this tab has only apps starting with the top rated apps and so on. App lovers attack this tab, checkout for new cool app here. 😀
Games: this tab is full with games. Heaven for Gamers. 😉
Wallpaper: aha! Awesome so MoboMarket integrated this new feature (wallpaper tab), you can check HD wallpapers in different categories.
Exclusive: As the name of tab suggests, in this tab it has categorized important apps.
Below these tabs, it has two big tabs to navigate options "Must have" and "Collections" as the name suggest no need to explain here.
Let's now move to MoboMarket Tool Manager and Downloads.
So, when I clicked Tool Manager, it opened up tools containing various important managers as follows:
Update Manager: This manager tool will suggest the available updates of pre-install apps in your device which you can click update yellow icon given in the front of the app.
Uninstall Manager: Oh MoboMarket! Bravo. So you can uninstall apps directly using this manger easily.
Package clean Manager: Ok! Good, so here you clean garbage of packages which lefts behind after app installations.
Transfer: This is awesome, using this we can do the transfer of data between PC and smartphone.
Let's see the Developer Platform first which is for android app developer who wants to get their app in the MoboMarket android app store.You will get more information app it here itself.
Now let see the setting option in the Tools Manager, the setting option has hell lots of options for to make this app of next level and competing with Google Play now, this setting consist of two major sub setting Quick settings and General settings.
Let's see what options you have in each of the sub setting:
Quick Settings:
Non- WiFi download alert, you can turn this either on or off.
Auto-update on WiFi, you can control the on or off of this as well.
Delete packages after installation, best if you download and remove apps or games constantly to try.
Show update alerts, Send us statistic to make MoboMarket better; you can control the option based on your wish
Last option of this sub category is pretty awesome, Parental Control which show all related content.
General Settings:
Check for updates
Language, it is now in different available languages, which you can check from here.
Feedback: you can give the feedback about you app here.
User Manual
These are all about Installation and its Interface, which is pretty awesome, so many improvements and pretty cool designs and brand attracting color combinations.
So, New AboutMoboMarket Is
Completely new avatar of MoboMarketer, and wonderful Interface
Engaging user experience and best design with attractive color combinations.
Easy to understand options and well categorized.
Top Apps recommendation and localized content for users.
Excellent Device Manager.
MoboMarketFeatures Are
Easy to navigate and understand tabs & options.
App is available for both PC and Android version with more than 800,000 apps & games in the marketplace now.
Very useful device managing Device Manager for you android device to keep it clean and updated.
Flexibility in the more control of the app with the lots of Setting Options.
Whole new experience and more, wallpaper tab gave this marketplace something interesting to explore.
Mobomarket place has well categorized apps and games. Updates top apps on daily basis with popular and exclusive apps options.
Again, MoboMarket suggests localized content in the marketplace.
Forum and User sgroup to talk about your favorite apps.
Pros & Cons
Pros:
Best UI and Design.
800,000 apps and games to choose into.
Tools manager
Wallpapers Tab
Cons:
No disadvantages of this app.
User Feedback and Websites Rating
Cnet.com: Cnet have given overall rating of 5 stars to MoboMarket android store.
Softpedia: Softpedia also have given the overall rating of 5 Stars.
Android Informer: This website has rated MoboMarket for android 9 out of 10.
Conclusion
A lot, lot more than I or you expected at some level other Google Play Store Alternative are out of the reach where MoboMarket is right now, very professional and branded interface and user experience.
Engaging features and easy to understand navigations, the most important point what I liked about MoboMarket Android store most is its tool manager.
Now in last, I can say that this android app store is awesome and one should start using this right away. Do comment your experience below, how did you like it?J