Google Hangouts Introduces free international voice calling in India
Google on Thursday announced that Indian users can now make phone calls direct from Hangouts. Calling from Hangouts available via web, Android or iOS. You can make free calls from Hangouts to Hangouts. Phone calls to US and Canada are free. For other countries, you will have to pay nominal fee. Check calling rates for different countries.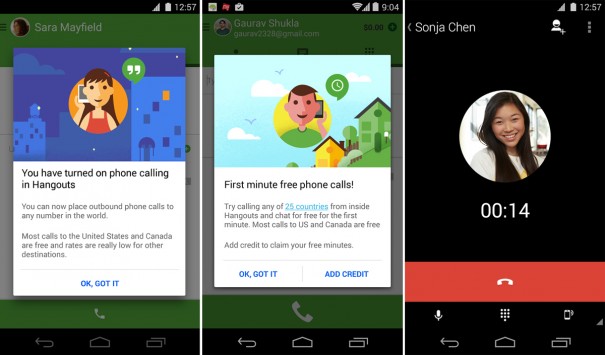 "Starting today, the Hangouts app on your phone will help you stay connected with your family and friends around the world in more ways than ever. Now you can make voice calls to phone numbers outside of India on Android, iOS and the web from Hangouts in Gmail," Google India announced in a Google+ post.
Android users need to download dialer app to make calls via Hangouts. Almost a week ago, Google also announced free one minute calls to few selected country. So, you can make free calls for one minute for those selected countries. But for US and Canada, calls are free.
Also read: Nanu Android app offers Free calling to Landline and Mobile Phone
Due to the regulatory issues, only international voice calls are possible. You will not be able to call any Indian mobile or landline number. If you could remember, Skype also stopped offering free call to Indian mobile and landline numbers for the same issue.