Microsoft Added a Webpage on Official Website to Compare iPad and Windows 8 tablets
Now Microsoft has started comparing its Windows based tablets and Apple's ipad. Microsoft has added a page on its website where it has compared everything in both tablets.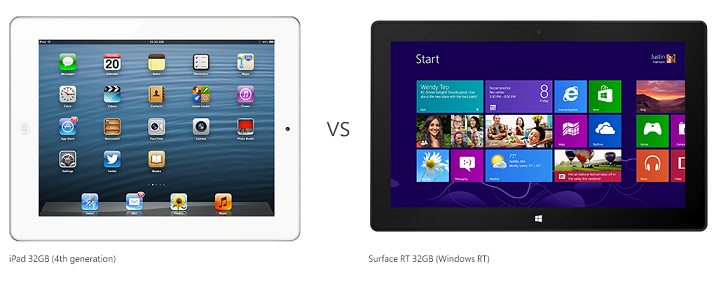 It seems that Microsoft is doing a fair comparison and admits that Windows 8 based tablets weigh high and has lower battery life. But Microsoft noted that Apple's iPad lacks ports that you will find in all Windows 8 based tablets. Microsoft also added that Apple's iPad only support AirPrint printers while Windows 8 based tablets support most of the printer available.
Microsoft offers 7 GB SkyDrive cloud storage with Windows 8 based tablets while Apple only offers 5 Gb free cloud storage space on iCloud. You only has Microsoft office app for Windows 8 tablets while iPad can only run OneNote.
Windows 8 based tablets support multiple accounts but in iPad you have a single account. At the end, you get Windows 8 based tablets in lower cost that Apple's iPad.
Microsoft has tried to put some strong points but it seems to be strong on papers. Apple's iPad comes with retina display that is really awesome. You can not get this kind of crystal clear display in any Windows 8 based tablets.
What do you think about this comparison? According to you, which tablet is best? Share your views with us via comments.