Facebook to Charge for Popular Post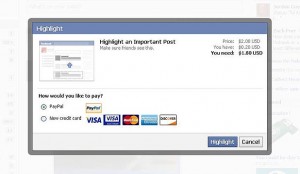 Facebook is considering to add a new feature in which it will charge users for highkighting important posts. This is a testing feature which is being tested in New Zealand.
This new feature will earn more money to Facebook and allow users to get more visibility for their posts and  bring extra attention to a specific Facebook status update, photo or video.
When it arrived on website, people thought it as spam. After that Facebook spokeswoman Mia Garlick confirmed it was a new "feature" it was testing.
"We're constantly testing new features across the site. This particular test is simply to gauge people's interest in this method of sharing with their friends," she said.
According to Facebook, the company is testing a variety of price points including free, but the free sample may just be an attempt to attract more users into the program. This time Facebook is charging $2 to highlight a post on Facebook which will be shown in yellow background.Facebook accepts payments from major credit card providers and PayPal.
This is the first time when Facebook is trying to earn money from postings by regular users and comes as it is gearing up for a public listing which is expected to value the company at about US$90 billion.