While the Apple Magic Keyboard is a popular choice for Mac users, there are several reasons why people might look for alternatives. Apple Magic Keyboard can be relatively expensive. Some users may prefer more budget-friendly options that still offer quality performance. Some third-party Mac keyboards offer additional features and prioritize ergonomic design. There are several good Mac keyboards from different brands, but you need to ensure that the keyboard is fully compatible with your Mac. You should also consider the build quality and battery life of the wireless keyboard. I have checked several available options for Mac keyboards and made a list of the best keyboards for Mac.
These keyboards can be used with both Mac and Windows. Mac keyboard has Option and COMMAND keys that are not found in Windows keyboard. So, keyboards that are compatible with Mac also have Option and COMMAND keys.
Best Keyboards For Mac
| | | |
| --- | --- | --- |
| Keyboards For Mac | Price | Buy Here |
| Logitech Pebble Keys 2 K380s | Rs. 3545 | Buy Here |
| ASUS Marshmallow KW100 | Rs. 2799 | Buy Here |
| Logitech K480 | Rs. 2495 | Buy Here |
| Amazon Basics ABIKM06 | Rs. 1999 | Buy Here |
| iClever GK08 | Rs. 2699 | Buy Here |
1. Logitech Pebble Keys 2 K380s
Logitech Pebble Keys 2 K380s is a Bluetooth keyboard that comes with a compact design and support for Mac. The wireless keyboard is available in a variety of colors and features a sleek and slim design. The round keys look really beautiful. The keyboard has dedicated Option and Command Keys to use with the Mac. The keyboard can be paired with three devices and lets users effortlessly switch devices with one click on the Easy-Switch button.
The Logi Options+ app provides a personalized touch, allowing users to configure the 10 Fn keys according to their preferences The keyboard promises up to 3 years of battery life. It also has an auto-sleep power-saving mode that extends battery life.
This wireless keyboard can be used with Windows Chromebook, Linux, Android, macOS, iOS, and iPadOS.
Buy Here: Amazon
2. ASUS Marshmallow KW100
ASUS Marshmallow KW100 is a nice keyboard for Mac computers. It comes with a unique blend of design, functionality, and compatibility. The chiclet-style keys provide a comfortable and satisfying typing experience. It effortlessly connects to your Mac and ensures compatibility. The keyboard can connect with up to 3 devices.
Keys have 6mm Keytravel and promise a silent typing experience. It also features a 2-level adjustable kickstand. ASUS Marshmallow KW100 support Windows, ChromeOS, macOS, iOS, and iPadOS.
ASUS Marshmallow KW100 runs on 2 AAA batteries and promises to run for 2 years.
The keyboard also has a few downsides. It lacks backlighting which could be an issue for a few people. It also has no 2.4GHz option.
Buy Here: Amazon
3. Logitech K480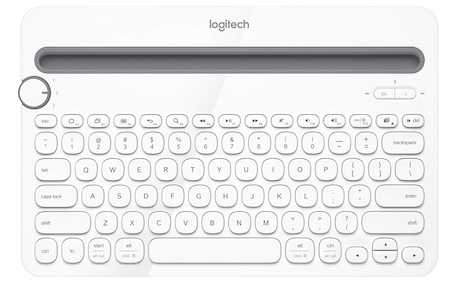 Logitech K480 is a versatile wireless keyboard designed to seamlessly integrate with your Mac and other devices. It effortlessly pairs with your Mac and promises a convenient typing experience. The keyboard also supports Windows, macOS, Chrome OS, Android, and iPadOS. The keyboard features an Easy-Switch Dial that lets you effortlessly toggle between three connected devices. So, you can easily switch between your Mac, iPad, and iPhone with a simple turn of the dial.
The K480 retains the familiar keyboard layout and features all essential shortcut keys in a space-saving design. The integrated cradle design can also hold your iPhone or iPad at the perfect angle. This feature not only ensures a comfortable viewing experience but also promotes efficient typing. The cradle accommodates most phones and tablets up to 0.4 inches thick and 10 inches wide.
Logitech K480 runs on 2 AAA batteries and boasts a remarkable battery life of up to 24 months. The keyboard is also spill-resistant that makes it durable.
Buy Here: Amazon
4. Amazon Basics ABIKM06
Amazon Basics Wireless Keyboard is another good keyboard that brings dual connectivity options. It is designed to seamlessly integrate with Mac, Android, and Windows devices. The company sells it with a keyboard combo.
he Amazon Basics Wireless Keyboard and Mouse are both equipped with rechargeable batteries. The mouse has a 200 mAh rechargeable battery and the keyboard packs a 300 mAh rechargeable battery. The duo provides an impressive 40 hours of continuous usage on a single charge.
Amazon Basics Wireless Keyboard and Mouse set brings together dual connectivity, rechargeable convenience, and universal compatibility in an affordable package.
Buy Here: Amazon
5. iClever GK08
iClever GK08 Wireless Keyboard and Mouse is a full-size wireless combo designed for optimal performance and comfort. It also makes it an excellent choice for Mac users seeking an efficient and versatile input solution.
The keyboard features engineering-level ABS construction with a 10° tilt for ergonomic comfort. The low-profile mouse complements the full-size keyboard, providing a clutter-free operation that is ideal for office use.
The scissor key mechanism enhances typing feedback and stability. It promises a responsive and comfortable typing experience. The optimized key-travel and anti-slip tapes further contribute to quiet, precise, and comfortable typing.
The combo is compatible with both Windows and Mac operating systems.
iClever GK08 boasts a rechargeable battery that delivers up to an impressive 45 days of use. The intelligent power-saving feature automatically puts the combo to sleep after 10 minutes of inactivity.
Buy Here: Amazon