5 Best webcams for video conferencing and streaming
Video calls are now a part of our life and are really important as a professional. Now after the Covid-19 pandemic, meetings have gone virtual. So, video conferencing is the only way to meet people and discuss different matters. People working on desktop PC need a webcam for video conferencing or video calls. If you are a streamer, you also need a good webcam for high-quality video streaming. In case you are not satisfied with the webcam quality of your laptop, get a good webcam.
In this article, I am listing good webcams for video conferencing and streaming. If you regularly take calls for business purposes or stream, you can take a look at the list and get a good webcam.
There are some webcams that cost more than Rs. 20000. Certainly, those webcams are good but are not in the buying range of most people. Not many people would like to invest a huge amount on a webcam. But people who are into streaming should have a big budget for a webcam. If you want to use a webcam for shooting 4K content, you will have to invest high. While making this list, we have considered both quality and affordability.
If you can spend a big amount on a webcam, you can check Logitech HD PRO Webcam C920. It offers 1080p high-quality video capture and has built-in dual stereo mics with automatic noise reduction for the best video calling experience. This costs Rs. 20000.
Logitech Brio is a 4K webcam that best for streamers. If you can invest big, buy this one. This one offers Ultra HD 4K Streaming, 1080p/60fps Hyper-Fast Streaming, and wide-angle view.
Best webcams
1. Logitech B525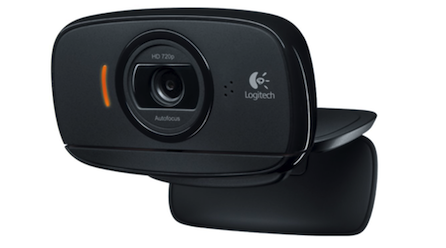 Logitech B525 is an excellent webcam for professionals for high-quality video conferencing and video calling. It can record 720p videos at 30fps and can also capture 2 megapixels still photos. The autofocus capability is good. With the supported app, you get features like zoom adjustment, temperature, brightness & contrast adjustment. It also has a built-in mic as an advantage and the mic performs well. It has a good build quality and long high-quality cable. It can be added at the top of the monitor or your laptop and remains stable there. You can use it on any video conferencing app like Zoom, Teams, Google Meet, and WebEx.
Price: Rs. 5999
Buy Here: Amazon
2. Zebronics Zeb-Ultimate Pro
Zebronics is a notable PC accessory brand. It also offers high-quality webcams for desktops and laptops. Zebronics is a full HD webcam offering 1920x 1080 videos with features like auto white balance and night vision. It also has LED lights and a switch to turn on LED to use in low light. It also features a built-in microphone. So, you can take online video calls without even using the headphone. This is a USB webcam. Just plug and use.
Price: Rs. 3299
Buy Here: Amazon
3. Logitech HD C270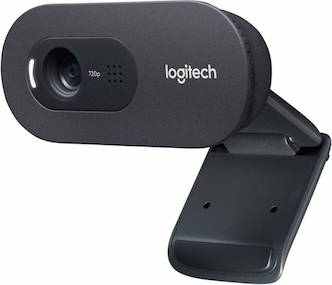 Logitech HD C270 is another good webcam for video conferencing and video calls. It works fine on all the video conferencing software and browsers. It can capture (16.9) widescreen 720p high-quality videos. This one also comes with an inbuilt microphone to capture audio as well. This one also supports Windows and macOS. It is also a USB webcam, so it is easy to use. Just plug on your laptop or desktop and use.
Also read: Logitech C270 HD Webcam review
Price: Rs. 1840
Buy Here: Amazon
4. Lenovo 300
Lenovo 300 is a full HD 1080p webcam with a 2.1 megapixels CMOS camera. The webcam delivers high-quality videos with its ultra-wide 95° lens and fixed focus. It has stereo dual-mics that can capture your audio even from a distance. The web can is easy to use with a plug-and-play option. You just need to plug the USB 2.0 cable into your PC and then start using it. The webcam supports Windows, macOS, Linux, and Chromebook. The webcam has a universal clip that fits any laptop or desktop. The webcam is also tripod ready. The webcam comes with a 1.8-meter long cable.
Price: Rs. 1790
Buy Here: Amazon
5. Zebronics ZEB-Crystal-Pro
Zebronics ZEB-Crystal-Pro is the cheapest webcam option on the list but works fine. Not as good as other webcams on this list but fine if you want the cheaper option. This records 640 x 480 videos at 30fps. That means no HD streaming but find for video conferencing. It also boasts Night vision but you should take care of lighting around if you are using this one. This webcam also comes with a microphone.
Price: Rs. 999
Buy Here: Amazon
Wrap up
If you are looking for a streaming webcam, select at least a 1080p webcam for high-quality video capture. 720p webcams can offer a good video calling experience. It is also worth noting that you also need a good internet speed for a good video calling experience. Logitech has several costly webcams and all those costly models are good in offering what they promise. Logitech C930e and Logitech C925e are also good models but are costly. If you have a high budget look at these as well.