5 Best Monitors for Video Editing
Video editing isn't an easy job. It not just require skills but also the right setup. When you are making a video editing setup, it is really important to have a good monitor where you can accurately see colors. Video editors require a good monitor because it allows video editors to accurately and effectively edit and color grade their footage. Video editors need to see their footage as accurately as possible to ensure that the colors are represented correctly. High resolution is also important, so video editors can see videos in greater detail. A wide viewing angle ensures that the colors and brightness levels remain consistent. It should also be capable of hardware calibration, which allows the monitor to be calibrated to a specific color profile. If you are looking for the best monitors for video editing, keep reading. In this article, I will list some of the best monitors for video editing.
Best Monitors for Video Editing
| | | |
| --- | --- | --- |
| Monitors for video editing | Price | Buy Here |
| Apple Pro Display XDR | Rs. 4,12,412 | Buy Here |
| LG 38WP85C-W | Rs. 1,62,990 | Buy Here |
| BenQ Sw271C | Rs. 1,24,990 | Buy Here |
| ASUS Proart Display | Rs. 76,999 | Buy Here |
| LG Ultrafine Display Ergo | Rs. 55,900 | Buy Here |
1. Apple Pro Display XDR
The Apple Pro Display XDR is one of the best monitors designed for demanding tasks such as video editing, photography, and graphic design. If you have a MacBook for video editing or using a Mac Pro or Mac Mini, this monitor should be your choice. With a 32-inch Retina 6K display with a peak brightness of 1600 nits. This monitor delivers exceptional image quality with incredibly sharp detail and vibrant colors.
It uses an advanced backlighting system, which utilizes 576 individual LED zones to provide precise control over brightness and contrast. This results in deep blacks and bright whites, as well as an impressive contrast ratio of 1,000,000:1. The monitor also supports a wide color gamut, including P3 and DCI-P3, as well as HDR with a dynamic range of up to 1,000 nits. This makes it ideal for creating and editing high-quality content that requires accurate color representation.
Key Specs
32-inch LCD
Retina 6K resolution (6016 by 3384 pixels)
Extreme Dynamic Range (XDR)
Brightness: 1,000 nits sustained, 1,600 nits peak
Contrast ratio: 1,000,000:1
P3 wide colour gamut, 10-bit colour depth
Super-wide viewing angle
One Thunderbolt 3 port, three USB-C ports
Price: Rs. 4,12,412
2. LG 38WP85C-W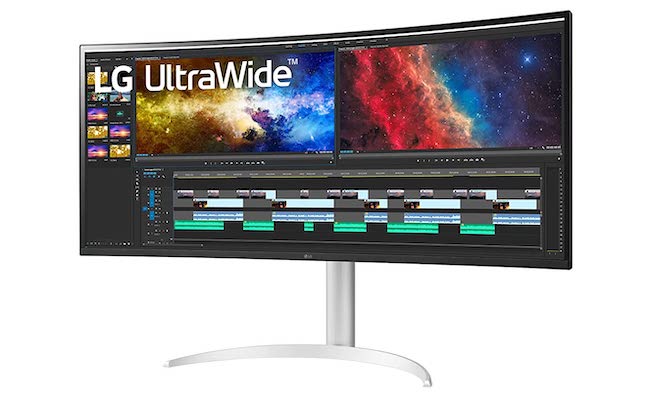 For individuals who prefer gaming or watching films on a huge screen, or who need a roomy and immersive workspace, the LG 38WP85C-W is a terrific choice. The display's 3840 x 1600 resolution produces sharp, clear images with superb color fidelity. It is a great alternative for multimedia creators that want accurate color representation because of this and its support for HDR10.
Slim bezels on the 38WP85C-W's sleek and contemporary design help to maximize the viewing area. The monitor also comes with a useful stand that has options for pivoting, swiveling, and height adjustments. It has two USB 3.0 ports, a USB-C port with Power Delivery, two HDMI ports, and a DisplayPort 1.4 input.
Key Specs
37.5-inch LCD
Native Resolution: UltraWide QHD+ (3840×1600 pixels)
Aspect Ratio: 21:9
Panel Type: IPS
HDR 10
Speaker Output 10W
95% coverage of the DCI-P3 spectrum
3-Side Virtually Borderless Design
Adaptive Sync: AMD FreeSync
One Thunderbolt 3 port, two USB ports, 1x DisplayPort,
Price: Rs. 1,62,990
3. BenQ Sw271C
The BenQ SW271C is a professional-grade 27-inch 4K monitor designed for photographers, graphic designers, and video editors. It covers 99% of the Adobe RGB color space and 100% of the sRGB color space, allowing for extremely accurate color reproduction. The monitor also features a built-in hardware calibration system and allows users to calibrate their monitor without the need for additional software.
It includes two HDMI 2.0 ports, a DisplayPort 1.4 input, a USB-C port with Power Delivery, and four USB 3.0 ports. The monitor has a sleek and modern look with slim bezels that help to maximize the viewing area.
Key Specs
27 inch IPS Anti-Glare display
Brightness 300 nits
3840×2160 resolution

Headphone Jack

HDR10, HLG
Response Times: 5 ms
100% sRGB, 90% P3, 99% Adobe RGB
2x HDMI, 1x DisplayPort, 1x USB C, 1xUSB Type B, 2x USB 3.1, SD/SDHC/SDXC/MMC
Price: Rs. 1,24,990
4. ASUS Proart Display
ASUS Proart Display is a 27-inch professional-grade monitor for video editors and graphics designer who require accurate and consistent color reproduction. It has 100% sRGB and 100% Rec. 709 color gamut coverage to ensure that colors are reproduced accurately and consistently. The monitor also has ASUS ProArt Calibration technology for hardware calibration with a compatible calibration device. The monitor includes two HDMI ports, a DisplayPort 1.2 input, and a USB-C port with Power Delivery, providing users with a variety of options for connecting their devices.
Key Specs
27-inch WQHD (2560x 1440) IPS display
100% sRGB and 100% Rec. 709 wide color gamut
ASUS-exclusive ProArt Preset and ProArt Palette
75Hz refresh
Adaptive-Sync technology
4xUSB port, Mini DisplayPort, DisplayPort, HDMI, dual-link DVI-D, audio in and earphone jack
TÜV Flicker-free, TÜV Low Blue Light
Price: Rs. 76,999
5. LG Ultrafine Display Ergo
LG Ultrafine Display Ergo is also an impressive monitor for video editing and graphics designing. The monitor features a 4K UHD display panel with 350 Nits Brightness and HDR 10. It promises Ture color, enhanced contrast, wide viewing angles, and lifelike vision for productivity. Other notable features include Black Stabilizer, Dynamic Action Sync, Flicker Safe, and Reader Mode. It has an ergonomic design that can be changed for every posture. The advanced stand helps to promote good posture and high adjustability.
Key Specs
32″ 4K-UHD (3840 X 2160)
Dci-P3 90%, Hardware Calibration
HDR 10
350 Nits Brightness
USB-C (Data & Power), HDMI X 2, Display Port
Inbuilt Speaker (5W X 2)
Adjustable Stand
Price: Rs. 55,900
This to consider while buying a gaming monitor
When looking for a gaming monitor, there are a few key features and specifications you should consider to ensure an optimal gaming experience. Here are a few factors you need to consider while looking for a gaming monitor.
Refresh rate: This refers to how many times per second the image on the screen is refreshed. A higher refresh rate means smoother motion and less motion blur. Look for a monitor with a refresh rate of at least 144Hz.
Response time: This is how quickly a pixel can change from one color to another. A lower response time means less motion blur and ghosting. Look for a monitor with a response time of 1 ms.
Resolution: This refers to the number of pixels on the screen. A higher resolution means sharper images and more detail. Look for a monitor with a resolution of at least 1080p (1920×1080) or higher, such as 1440p (2560×1440) or 4K (3840×2160).
Size: Consider the size of the monitor you want. A larger screen can provide a more immersive gaming experience, but it may also be more expensive and require a more powerful graphics card to run smoothly.
Panel type: There are three types of panels commonly used in gaming monitors: TN, IPS, and VA. TN panels have fast response times but poor color reproduction and viewing angles. IPS panels have better color accuracy and wider viewing angles but slower response times. VA panels have high contrast ratios but slower response times and may suffer from ghosting.
Adaptive Sync technology: This technology synchronizes the monitor's refresh rate with the graphics card's output to eliminate screen tearing and stuttering. Look for a monitor with either AMD FreeSync or NVIDIA G-SYNC.
HDR: High Dynamic Range (HDR) provides a wider range of colors and greater contrast, resulting in more vibrant and realistic images. Look for a monitor with HDR support.