13 Less Known Google Apps You Should Not Miss
Google is one of the most active app developer offering free apps to help you in different things. We all use Gmail, Google Search, Maps, Chrome like apps but there are so many good Google apps that you may not know. In this article, I will be listing few less known but useful Google apps. You must check these apps and try to find out what is useful to help you in your daily life.
Interesting Google Apps You Should Not Miss
1. Google Trips
Google Trips is a travel planner app that makes it easy to organise your travel info at one place and make it available even without needing data connection. When you first install the app, you will see the list of places you have been in place with exact dates. It uses your location data to collect these information.
If you want to go somewhere, you can create a trip by searching for the location. It will show you what things to do there and where to eat. You can also manage your reservations direct from the app. It fetches reservation data from your email
If you are a regular traveller, you should install the app for sure.
2. Google Arts & Culture
Google Arts & Culture is also an interesting app that lets you explore places virtually and learn about its history. It curates content from over 1200 international museums, galleries and institutions from 70 countries.
You can experiences those museums or art galleries in Virtual reality using Google Cardboard. You can also use this app to search for museums and cultural events around you. It also shows guided tours curated by experts and teaches you something new everyday.
At any museum, you can also point your device camera at artworks to learn more about them, even without having active offline.
3. PhotoScan
PhotoScan is an scanner app that lets you scan old photographs and save them in digital format. Just take the picture of any printed picture and get glare-free scans. It has advanced edge detection mechanism and smart rotation to make sure you are getting perfect shot.
4. Snapseed
Snapseed is an interesting app for those who love capturing photos from smartphone. The app let you process, photos and tune it to improve any shot you capture. You get 29 different tools and filters to tweak a photo. I personally use this app to process photos before sharing it on Instagram.
5. Wallpapers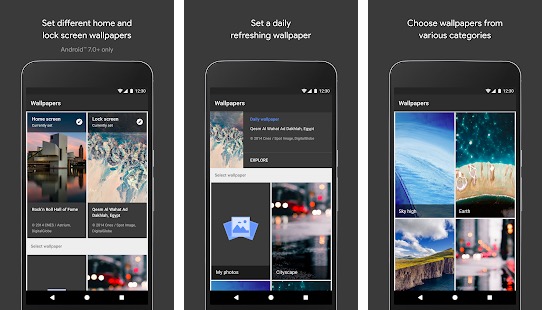 If you love changing wallpapers of your phone to have different experience daily, you should know about Wallpapers app. It brings photos from Google Earth, Google+, and other partners to give you high resolution wallpapers. You can pick your favorite category and you'll get a new wallpaper image each day.
Download : Android
6. Datally
Datally is for those who are on limited data connection. The app lets you have control your mobile data and helps you in saving mobile data as well. The app claims that you can save up to 30% of mobile data by controlling data usage for apps installed on your phone. It also helps in finding nearby Wi-Fi using WiFi Finder tool. So, you can save your mobile data by switching to Wi-Fi.
Download : Android
7. Google Googles
Google Googles allows you to take photo of any painting, a famous landmark, a barcode or QR code, a product, or a popular image and search for it to get more information about that object. It can read text in several languages and translate it into other languages. You can also add contacts by scanning business cards or QR codes. It can also solve Sudoku puzzles.
Download : Android
8. Google Lens
Google Lens helps you in finding identify a plant, animal or any insect. You can also learn more about popular landmarks, add events to your calendar, get directions and call a number.
Now they have also integrated Google Lens in Google Assistant. If you have Asssitant already, you do not need to install a separate app.
Download : Android
9. Expeditions
Expeditions is a virtual reality tool that lets you take part in immersive virtual tours from all over the world. You can either choose to be a leader or follower of an expedition. The go to places with the help of VR. You can also explore outer space or dive underwater with Sharks. You can explore over 200 expeditions in using a virtual reality device.
Download : Android
10. Measure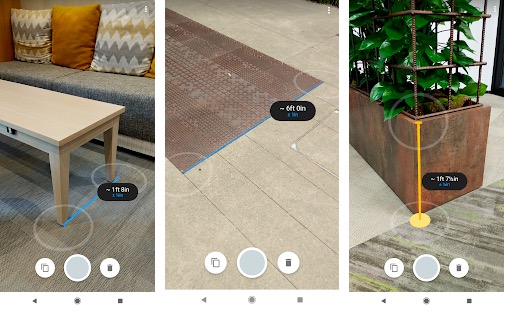 Measure is also an interesting app that lets you measure things at your office or house. It works in the same way you used to do with measurement tape. The app can measure length and height of objects on a flat surface. You just need tp move drag the distance tool or elevation tool onto a flat surface to measure.
Download : Android
11. Files Go
Files Go is a file manager app with interesting features. It lets you free up space on your phone, search for files and even transfer photos to other phones offline.
Download : Android
12. Science Journal
Science Journal is another interesting app for scholars. You can use this app to get free digital science notebook. You can keep your notes, photos and observations all in one convenient place. You can also use the sensors on your phone to measure and graph phenomena such as light, sound, and motion. You can also conduct external sensors via Bluetooth to conduct experiments on the world around you.
13. Trusted Contacts
Trusted Contacts is a personal safety app that lets you open a direct sharing line between you and your loved ones. The app lets you add your closest friends and family as trusted contacts Trusted contacts can request your location and see your phone's activity status. It also allows you sharing your Google Maps location with those trusted contacts.
Final Words
There are lots of other apps from Google that you may or may not know. You can check all Android apps from Google available on Google Play. I have only listed 13 of those apps that I find interesting but less popular.
What app did you find interesting? Let me know via comments.
Recommended Videos