10 Best Meme Creator Apps for Android and iOS
Memes are everywhere on the Internet. We post or reshare it on most of the social media platforms daily. Not just in posts, we also use memes on messaging apps. This shows how important memes are for us now. If you also have some cool meme idea and want to create your own Meme, you can try some good memes creator apps. In this article, I am listing best meme creator apps for Android and iOS devices. You can download any of these meme generator apps and give your meme idea a platform.
Also see: Best Typography Apps
Best Meme Creator Apps
Here is the list of best meme generator apps for both Android and iOS. You can use any of these apps depending on your phone and start making funny memes.
1. GATM Meme Generator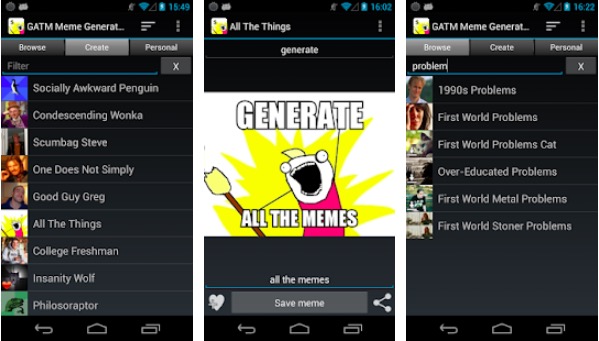 This is a powerful meme generator app that offers a quick and easy way of creating memes. It also keeps you updated with popular and trending memes. The app lets you use a custom template or build from scratch. The app also doesn't put a watermark on your creation. You also have an option to submit your memes on the app for others to use.
GATM Meme Generator is only available for Android. The free version of the app contains ads and the pro version without ads cost $1.95.
Download: Android
2. Mematic: Make your own Meme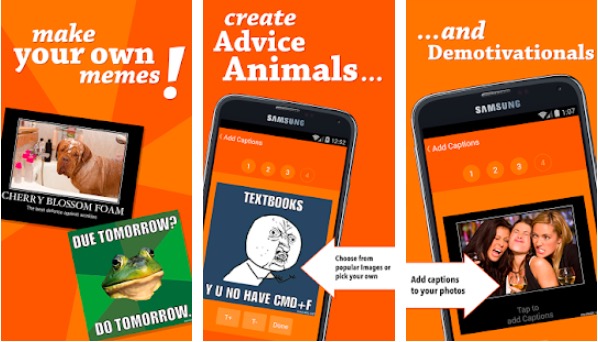 Mematic is an excellent meme creator app for Android and iOS both. The app lets you quickly design memes without putting many efforts. You can select any available template and add a caption. That's it. Now share the meme with your friends. The app only offers basic text editing option. The app allows you to access the hundreds of classic meme pictures for adding captions. The app has clean UI and even allows you to put GIFs in your meme.
The app is free to download and there are no in-app purchases. The app contains ads and there is no way to remove those ads.
3. Meme Generator Free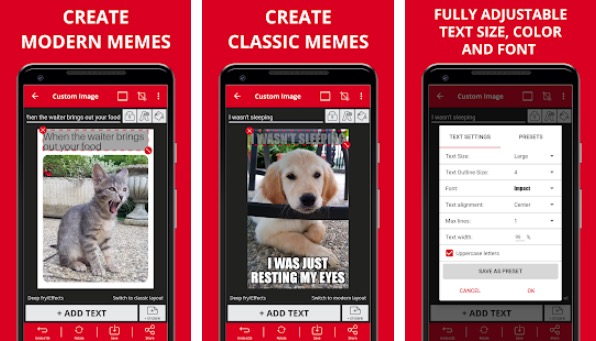 Meme Generator Free is another notable meme creator app for both Android and iOS. The app brings more than 1000 high-quality meme templates with lots of example captions to choose from. You can edit the text, adjust text color or size. You can also choose from over 50 fonts. There is also an option to combine multiple memes in one. The app also doesn't put any watermark.
The app is free to download and contains ads. There is no in-app purchase option.
4. Instameme: Meme Generator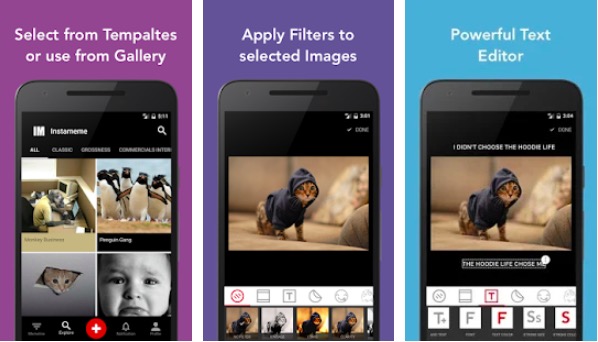 Instameme is another excellent meme generator app you can try. The app comes with tons of memes that you can use to make your own meme. You can add texts, emojis, troll paces and apply several filters. The app claims to offer over 5000 meme templates. You can either save memes locally or share it on any social media site.
The app is free and contains ads. This app is only for Android and is not available for iOS. Don't confuse with apps on iOS App Store having a similar name.
5. Meme Factory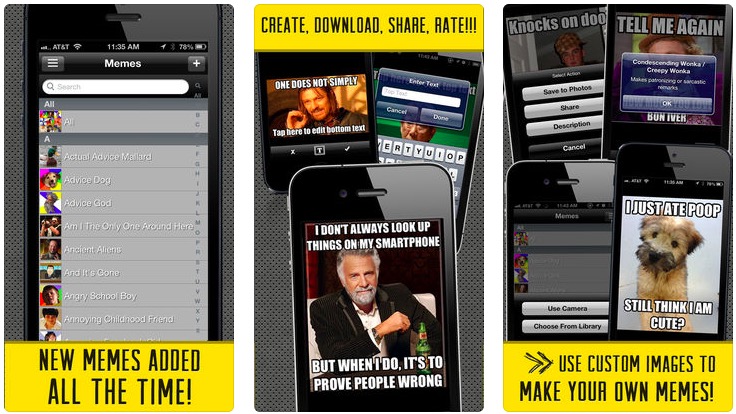 Meme Factory allows you to create your own memes in few taps. The app lets you browse thousands of funny user-uploaded meme. You can search for a meme template or memes by a certain user. You can also sort memes by time or popularity. You can select the available meme template and edit as per your need. You can add captions to over 125 meme templates or use your own image.
This app is only available for iOS. You can download it for free, but there are in-app purchase options.
Download: iOS
6. Meme Creator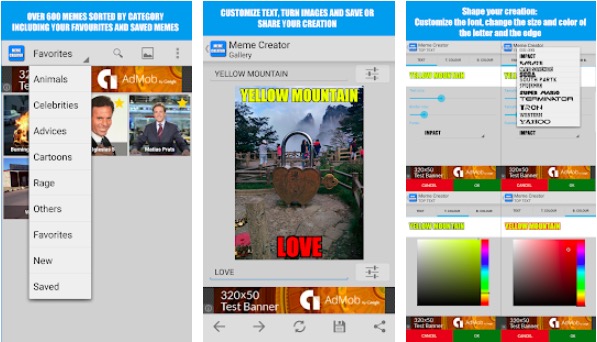 Meme Creator is a free Android app that lets you create your own memes and share them with your friends. The app comes with over 600 memes and uses more than 20 fonts on your text. You can also adjust text color and size. You can export the meme and then save it on other social media apps. You can also combine multiple memes to create your own meme comics.
Download: Android
7. Meme Producer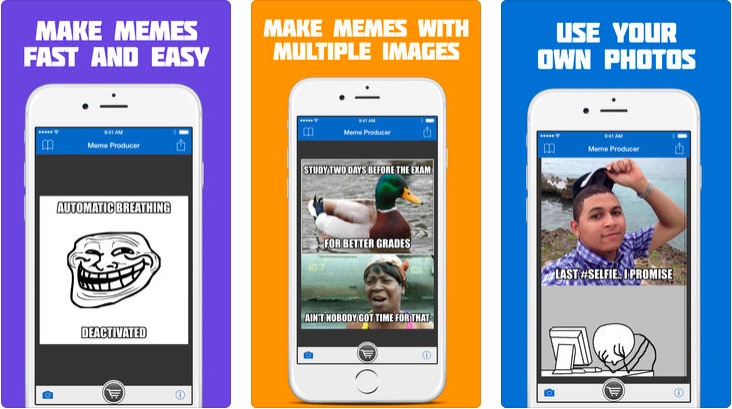 Meme Producer is a free meme generator app only for iOS devices. The app makes meme creation really easy. You select any image and then add text on it. You can add multiple images to your images and even upload your own photos for memes. The app contains no ads and never puts its own watermark. So, the free app doesn't restrict you in any way.
Download: iOS
8. Modern Meme Maker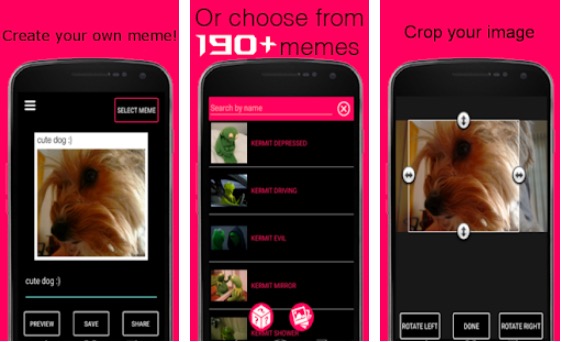 Modern Meme Maker is also a good meme maker app but only for Android. The app lets you select any image from your phone's gallery for using in the meme. There are more than 200 funny memes available for you to add the caption. You can crop or rotate an image depending on your need. You can also put a watermark on your meme. You also have the option to change the font size of the caption.
Download: Android
9. Make a Meme+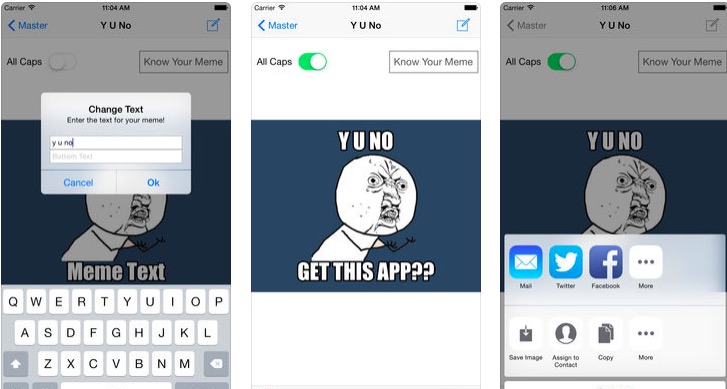 Make a Meme+ is an iOS-only app that lets you easily create funny memes from your iPhone. You can pick from the selection of awesome memes and change the text. You can also pick your own photos. You can add hats, faces and more things in photos. The app lets you save the meme on your phone or directly share it on social media websites.
The app is free but many memes are available through in-app purchase.
Download: iOS
10. Straight Outta Meme Maker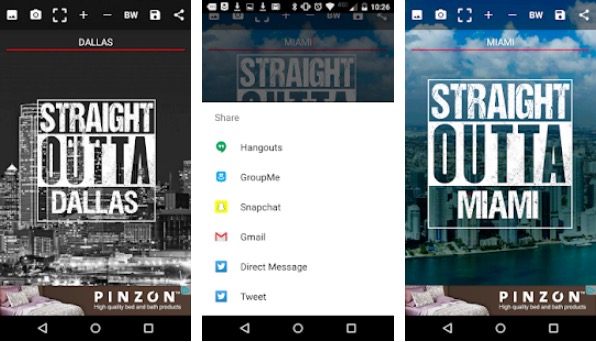 This is the last app of the list and worth to mention. This meme maker app is only for Android. The app lets you type a test on ay existing photo or a photo captured on the spot. Then you can share it with your friends. It is not like cool memes, but the straight Outta meme and very few people might take an interest.
Download: Android
Also see: Best Font Changer Apps for Android
Final Words
I have included meme creator apps for both Android and iOS. Depending on your device's platform, you can choose any of these available meme creator apps. All these apps are similar and offer a quick way to create a meme to share on your social media profiles. If you have a sense of humor, why don't give it a platform to make a meme and become popular?
If you know any other good meme maker app, you can share the name with us and I will surely try it to include in this list. If you really like this post, you can also explore other similar but interesting articles we posted in the past.
Recommended Videos