5 Best Face Swap Apps for Android and iOS
Face Swapping is one of the latest social media trends. You can see photos on Instagram, Twitter and other social media platforms where two people are in the photo with face swapped. Face Swapping makes hilarious pictures but only if you know how to do it right. This is the reason I am adding a list of best face swap apps for Android and iOS. If you are looking for a good face swap app, you can have a look at the list here.
Also read:
Best Face Swap Apps
Here is the list of best Face Swap apps for Android and iOS. If you were looking for face swapping apps for Android or face swapping apps for iOS, you have a list of face change app to check.
1. Snapchat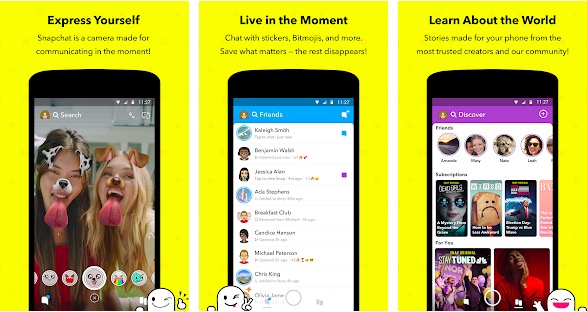 Snapchat is one of the most popular social media apps among millennials. The app offers several lenses including a face swap lens. It lets you swap face with another person in real-time. You can also use a photo saved on your phone for this. Recently, Snapchat's baby lens and gender swap lens went viral on social media.
The app has a lot more other features like Chat, Discover, memories, and profile. If you are not already using Snapchat, you can download it and create a profile to try its cool face filters. Snapchat is available for both Android and iPhone. If you are looking for a good Face swap app for iPhone, this one can be a good choice.
2. Cupace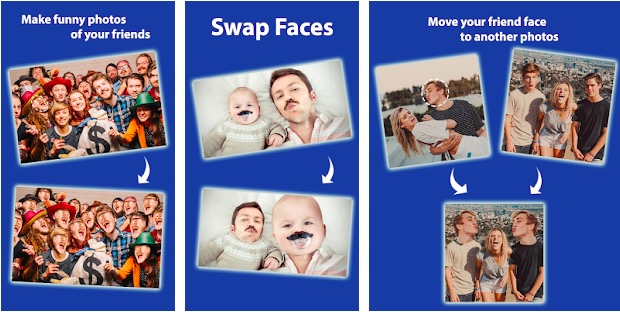 Cupace is another popular Face swap app you can try on your smartphone. Unlike Snapchat, this app lets you manually extract faces from an image and paste it on the face of a person on another photo. The app makes an easy option of cropping a face and putting on other faces. Once you cut a face from a photo, it is saved within the app. So, you can use it in several different photos anytime later.
Download: Android
3. Face Swap Live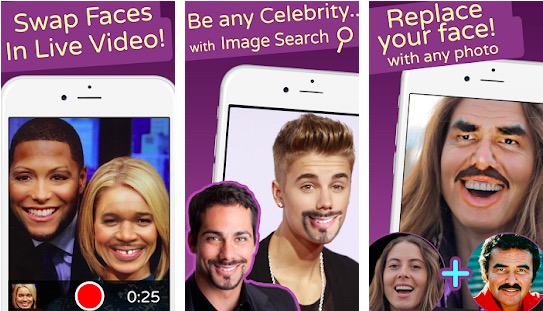 Face Swap Live is also one of the best face swap app available for both Android and iOS devices. You and your friend need to be in the camera frame and the app will show your faces interchanged in real-time. You can then capture the face swapped photo and also record videos with your faces swapped. Not just face swap, you can also add cool photo filters in solo selfies.
4. Face Swap Booth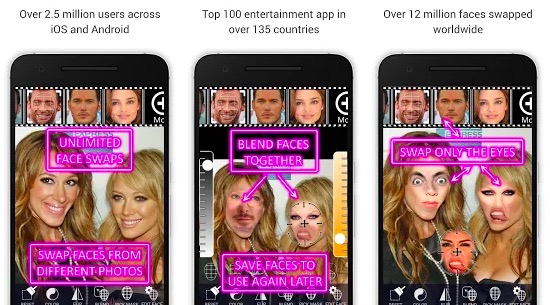 Face Swap Booth is also a similar app that lets you swap faces. You can swap faces across multiple photos. You can also save a face to use on different photos anytime later. There are also advanced editor tools to blend the image perfectly.
This app is available for both Android and iOS with an option for in-app purchase for the premium version. The premium version gives additional advantage like save unlimited photos, faces, remove ads and watermark, and more.
5. MSQRD
MSQRD was also one of the apps that went viral in the past for its Face filters. Later it was acquired by Facebook to use its face filters across several other Facebook products. MSQRD also offers Face Swap option where you and your friends can be in frame with face swapped. You can either take a selfie or record a small video. Along with Face Swap, the app brings some hilarious face masks to try. It is something like Snapchat lenses you may have used if you are a Snapchat user. Later, you can share the photo or video on different social media platforms.
Final Words
We have listed the best face swap apps for Android and iOS. If you are looking for a good face swap app, you can download any of these face change apps and try. Snapchat is quite popular as it also offers several other interesting lenses to try.
If you know any other good face swap app, you can let us know by using the comments section below.
Recommended Videos