Who doesn't like designing crazy buildings, settlements, and communities?
These types of games are the perfect way to convey yourself and be creative, sometimes without any hindrance or anyone stopping you. It is also very similar to strategic games, but the main difference is that in such games or your success is not based on how you survive physically, but is more dependent on your financial survival.
The main goal is to make money and reach your desired result. Most city-building simulators have a sandbox mode meaning you can build with an unlimited budget and don't have to worry about taking care of your finances.
Furthermore, such games also help in enhancing your management skills, whether it is just about how you manage your resources, it is always fun to brainstorm and come up with efficient solutions. So with this being said, here is a list of the best City Builder Games and Management Games you can play.
Best City Building Games For Android
1. Theotown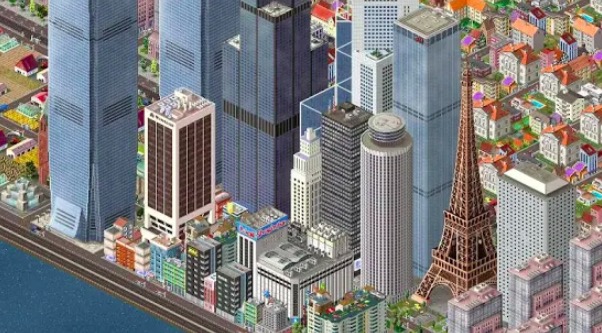 Theotown is a city-building strategy game that lets you build and manage an isolated society. You start this game with only a few people to control, and literally nothing in hand. The main goal of this amazing metropolis building game is to develop a sustainable environment for people to survive through various conditions. If you think this, you are wrong, the thing is that people will die if they are not well-taken care of. After all, you have to make your town thrive.
Declare zones for residential, commercial, or industrial buildings and build a road to connect them. Make your city more attractive by building parks, schools, and many more facilities. If you like a really challenging game and want to build your own little community, Theotown is a great game to play.
The game is free to install but contains ads and offers in-app purchases.
2. SimCity BuildIt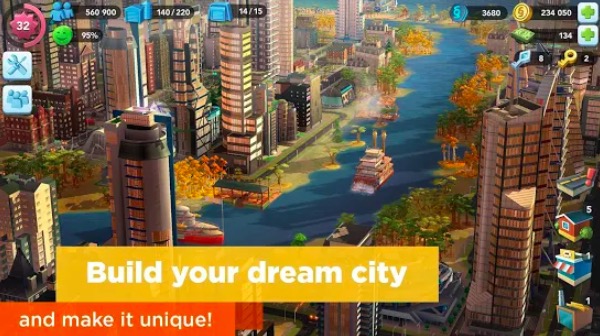 This is an all-new SimCity that lets you be your very own hero and lets you build a beautiful city. As your metropolis gets bigger and more intricate, your choices also have to be more thoughtful and intelligent. Join a Mayor's Club to trade supplies with other members and chat about strategies and available resources. To keep your citizens happy and consequently keep your popularity index high, you have to find solutions for various issues and also provide a plethora of services by, for instance, building power plants, police departments, educational institutions, and parks. Extremely breathtaking, and lively 3D-quality graphics, SimCity deems itself the most realistic city builder game on Android, undoubtedly.
3. Megapolis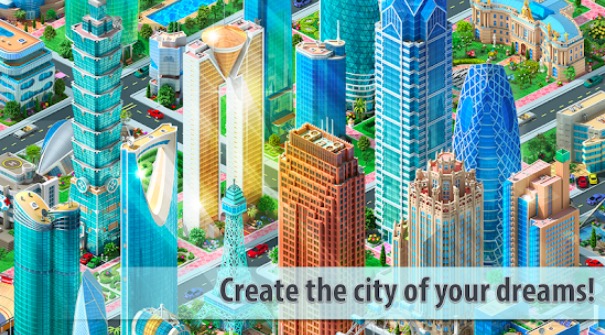 In this strategic city building game build your own industrial metropolis from scratch. This game offers to manage economic situations, strategic planning, and placements of essential buildings, in fact, there is even a chance to get special gifts when visiting neighbors. Build gardens and decorations to look at your city better and improve the environment for your citizens. Develop infrastructures, attract new citizens, and build manageable roads, airports, railways, and many more in order to grow your city into a mega town.
Megapolis is constantly growing. Your gameplay experience is our priority, so updates are released regularly. In this strategy game, you'll find everything you need to create your perfect city, for instance, the ability to build and expand your city, awesomely realistic 3D graphics with magnificent natural landscapes, and even more.
4. City Island 5 – Tycoon Building Offline Sim Game
City Island 5 is a popular tycoon-building game that can be played offline. In the game, players are tasked with building and managing a city on an island, from developing infrastructure to managing the economy and attracting new citizens.
Players can create and customize their own unique city, building a variety of different buildings and structures, including homes, businesses, and entertainment venues. The game also features a variety of challenges and quests that can be completed to earn rewards and progress through the game.
One of the unique features of City Island 5 is the ability to unlock and use different transport options, such as boats, planes, and helicopters, to transport goods and resources around the island.
5. Township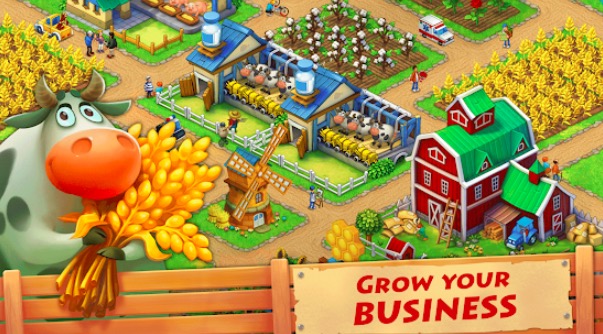 Build your dream town with this unique city-building game for Android. Harvest crops at the farms, process them at your facilities, and sell goods so as to develop your town. Trade with exotic countries, and get in touch with various people around the world. Open restaurants, cinemas, and other community buildings to give life in your town a special flavor. Run your own zoo and collect animals from around the world. The township is free to play, though some in-game items can also be purchased for real money.
6. Fallout Shelter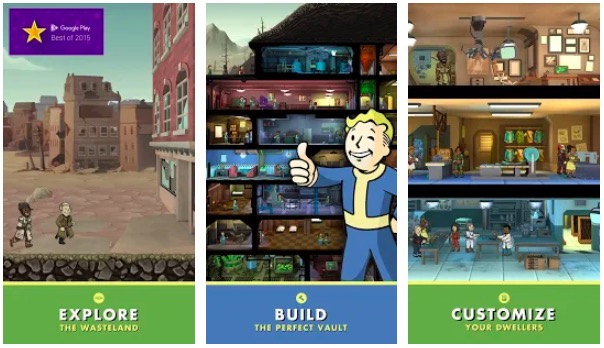 Fallout is considered one of the best house-building games of all time. It is all fun with fantastic gameplay and the originality of your favorite game. The game player can send the Dwellers on the surface above to encounter the adventure and provides an option to loot the needed items back. The player has to make sure that the residents do not die in their span on the surface. Protect them from all types of dangers and ensure that they are unharmed from any trouble. Send Dwellers above ground to explore the blasted surface left behind and seek adventure, handy survival loot, or unspeakable death. Find new armors and weapons, gain experience, and earn Caps.
It is also a free-to-play game with in-app purchases and ads.
7. Townsmen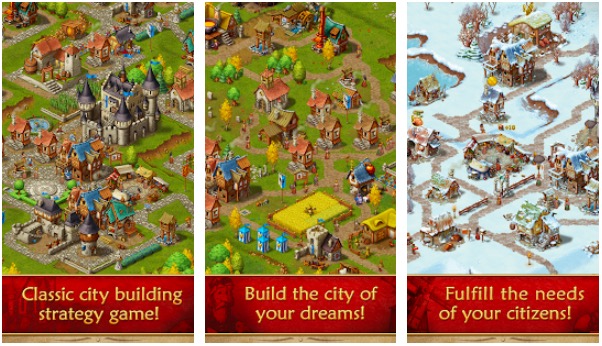 Develop your small village into a humungous medieval empire with a thriving economy and a happy community of villagers. Find spots for mining ore, harvest the crops of your farms, and collect coins as taxes from your folk. Build jousting fields, taverns, and marketplaces, and beautify your city with impressive statues, magnificent monuments, and lush gardens. But there are also dangers and problems lurking around. Enemies are always in the area, looking to plunder and pillage your peaceful town. Build buildings, guard your towers, and recruit brave soldiers to protect your people from harm. What is more? this game features extremely cute inhabitants that will definitely take your heart away.
8. Forge of Empires
Forge of Empires is a popular city-building game where players can build and manage their own city from the Stone Age to the Modern Age. Players start by constructing simple huts and gradually progress through different eras, unlocking new technologies, buildings, and units along the way.
One of the key features of Forge of Empires is the ability to research and develop new technologies, which can provide various benefits such as improved resource production, increased military power, and more efficient buildings.
Players must also manage their resources carefully, balancing the production and consumption of goods such as food, wood, stone, and iron. This is important as these resources are required to construct buildings, train units, and advance through the different ages.
9. The Battle of Polytopia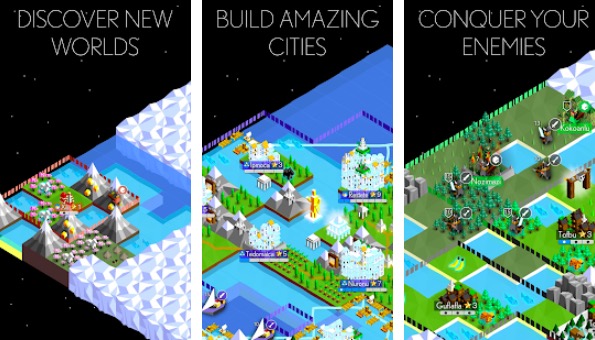 The Battle of Polytopia is another notable city-building game that requires a proper strategy to win. It lets you explore a new world, and set up new cities. It has a good storyline and offers good graphics. The game features auto-generate maps. You can pick among different tribes and disbar new lands.
This is also free to play but offers in-app purchases. It doesn't contain ads.
10. Virtual City Playground: Building Tycoon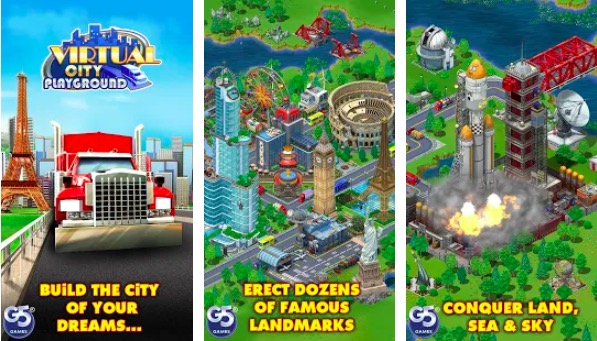 This is another nice game for creating buildings. The aim of the game is to build a city, and take care of recycling, the environment, and security. The graphics of the game is really good. With progress, you will earn rewards and public events. The game is free and offers in-app purchases.
11. Bit City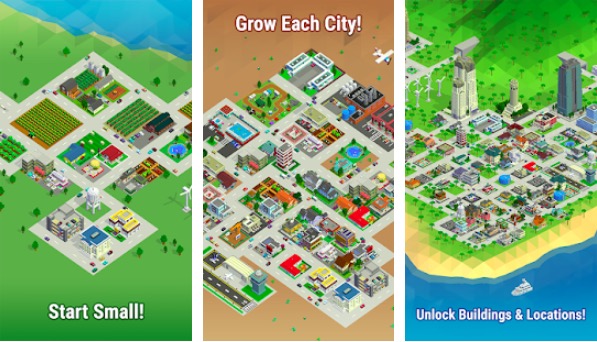 Bit City is a minimal city-building game for Android. You can start from a tiny town and grow it to be bigger. Collect profits and invest in the city to keep it growing. You can also fill the city with new types of buildings, cars, planes, ships, and more. You can customize the city in a way you like. So, don't wait. Install and play.
Like other games on the list, this is also free to play a game with an in-app purchase option.
12. Pocket Build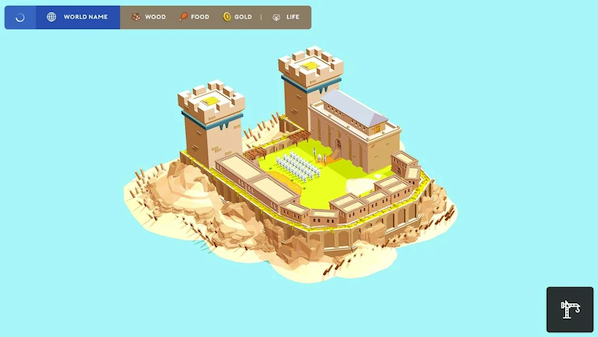 Pocket Build is also a good city-building game where you can make your own fantasy world. This is an open-world game with beautiful graphics and endless possibilities. You have hundreds of items to build. The game lets you build rotate and place items anywhere in the world.. you can build castles, people, farms, trees, fences, bridges, buildings, and more as per your imagination.
13. Dungeon Village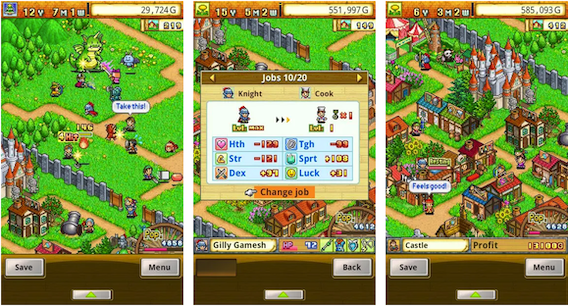 Dungeon Village is a good RPG city-building game where you can build your own city. The game has pixel graphics and offers impressive gameplay. You will have to build specialized components and not common buildings. The game is priced at $4.99 and also contains ads.
14. City Mania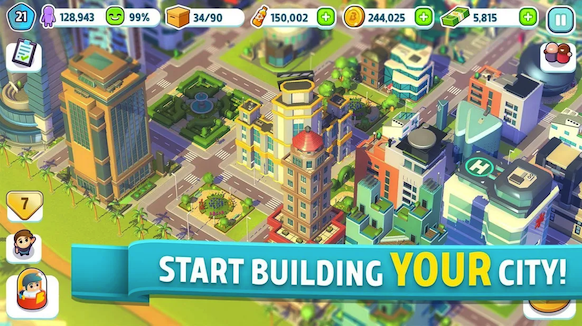 City Mania is a popular city builder game from gaming giant Gameloft. The lets you customize your city. You can craft buildings and expand your city. You can also decorate your city as per your interest. Recruit funny characters and add them to your collection. You can also customize city areas like education, entertainment, and commerce.
15. Pocket City
Pocket City is a city-building game for Android that allows players to create and manage their own city. The game features a simple and intuitive interface, making it easy for players of all ages to jump in and start building.
In Pocket City, players are tasked with building and managing their city's infrastructure, including roads, power plants, and water supplies. They must also manage the city's economy, balancing the budget and keeping citizens happy by providing amenities such as parks, schools, and entertainment venues.
One of the unique features of Pocket City is the ability to control the weather and natural disasters. Players can trigger events such as hurricanes and earthquakes, which can have a major impact on the city's infrastructure and population.
Read more, Popular Video Games Based on Movies
Final Words
That is our list of best city-building games for Android. You can download any of these and start making your virtual cities. Fallout 2020: My Country and Fallout Shelter are my favorites. Install any of these games, be your own boss, and get ready to rule a town of your own.
If you enjoy any other city-building game that I didn't include in this list, you can let me know using the comment section below. I will surely try that and include it in this list.