Redragon K617 Fizz review
Almost everyone is now aware of the Redragon. They have a long history of producing inexpensive keyboards that still feel tactile to users. A 60% mechanical keyboard with fun elements like RGB lighting and a small dimension is the Redragon K617 Fizz. I bought it a few days back to play games and do regular work. Today, I'll review the Redragon K617 Fizz keyboard to see if it ought to serve as the foundation of your gameplay system.
Buy Here: Amazon
Box 
In addition to the keyboard, Redragon provides you with a range of add-ons to enhance your keyboard experience.
USB-C Cable: You receive a rubberized USB-C cord that is 90 degrees angled so that it can fit neatly into the side-mounted socket.
Keycap Puller: A plastic lifter is provided to make it simple to remove the keycaps from your board if you ever decide to replace them. While not particularly exceptional, this lifter gets the job done.
Switch Puller: A metal switch lifter is also included, allowing you to swap out the switches whenever you want.
Four additional switches are provided in case a switch ever fails.
Sticker and Documentation: A user handbook and a sticker bearing the Redragon insignia are provided to assist you in getting started with the board. However, the quality of the stickers is not good. They look cheap, I tried putting them on my gadgets but they did not hit the spot.
Overall, the packaging is quite excellent, and it is encouraging to see that Redragon includes accessories with the board.
Build quality 
The Redragon K617 has a body made entirely of plastic and a color scheme of either pink and white or white and grey. At about 0.43 Kg, the board is on the lightweight side. If you want to carry your keyboard around with you, the K617 is a very compact keyboard thanks to its lightweight and tiny size ( 60 percent )
The K617 has a small incline to increase board comfort. There are two rubberized flip-out feet on the underside of the board if you would prefer a greater elevation. Two more rubber soles are also on the underside. This implies that while you are playing, the board shouldn't shift.
A side-mounted USB-C connector is used by the device. If cord organization is important to you, this is a drawback, but at least the included connection is at a 90-degree angle.
You won't get a board that is as strong as you would with more expensive aluminum boards, but given the price, the construction meets my standards.
Keycaps
A pair of double-shot ABS keycaps with shine-through icons is included with the Redragon K617 Fizz. In OEM shape are the keycaps. With prebuilt keyboards, OEM profiles are typical. Compared to a laptop keypad, they are shaped to make typing easier.
The ABS keycaps may be more prone to acquiring shine over time than other keyboards I have used, but they seem to manage it a little better than those other keyboards. Compared to the keycaps on their older keyboards, like the K552, they are a minor upgrade.
The keycaps allow a good deal of light to pass through, but this is combined with a font that doesn't appear great. The tales have a cartoonish appearance, and they also don't appear to be very constant. These keycaps are a good choice given the cost of the board if you truly like the gamery font.
Switches and Stabilizers
Red switches made by Redragon are included with the K617. They have a seamless motion because they are linear switches. Like other red buttons, the actuation energy is quite minimal. Although the switches don't offer the finest possible experience, they are competitively priced. You will enjoy using this board if it is your first time using a mechanical keypad.
The stabilizers on cheap mechanical keyboards are typically quite bad, so I was favorably pleased by the K617's stabs. The spacebar has a good sound because the wires on the stabs have some oil on them.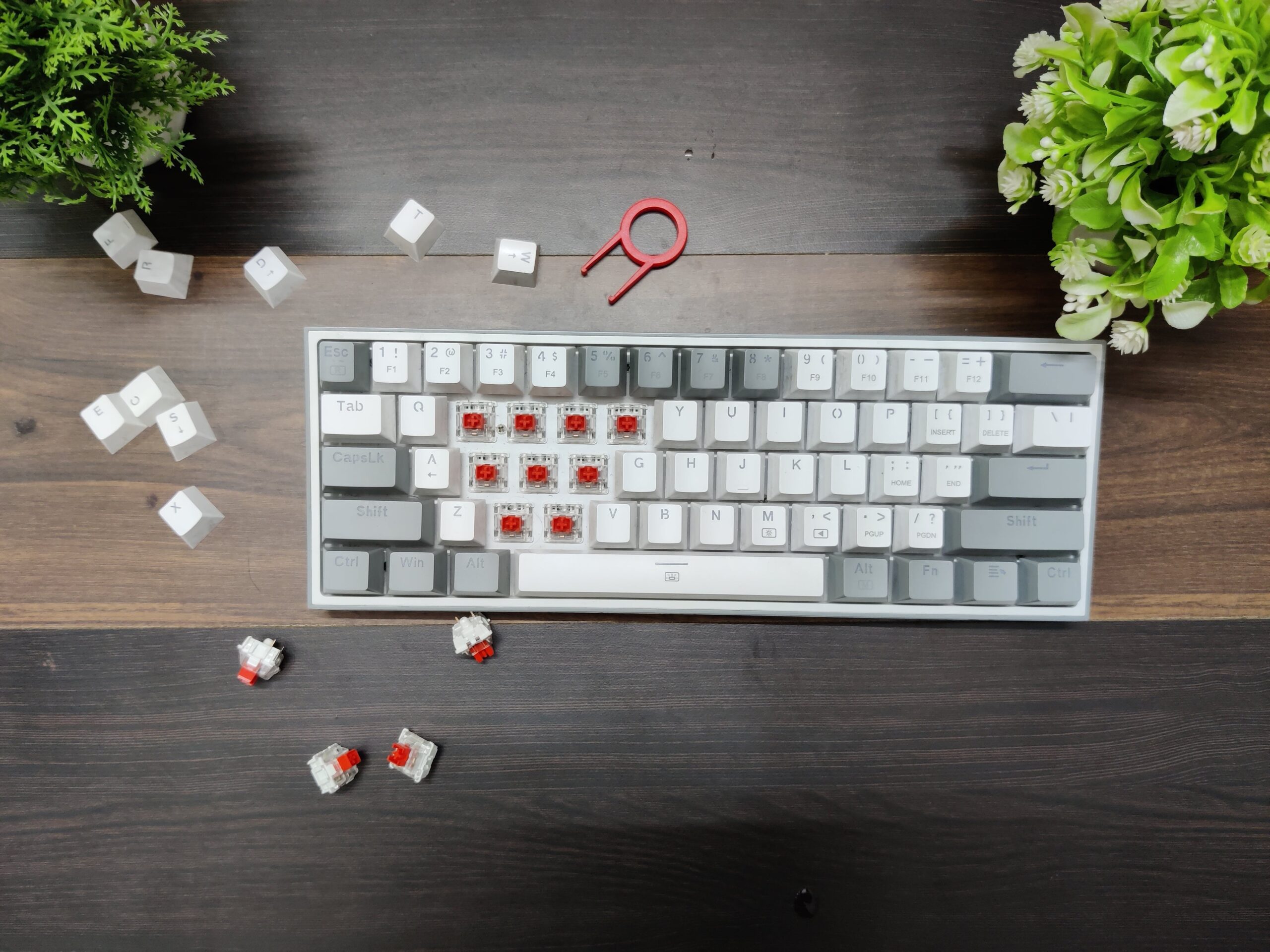 Hotswap PCB
Hot-swappable PCBs are a trait that has become increasingly common over the past few years. This indicates that no soldering is required to remove the switches from their receptacles and change them out for new switches. Switch replacement takes only a few seconds.
The K617 is north-facing and accommodates 3-pin switches. This indicates that some switches are supported by the board even though they only have three places of interaction with the PCB rather than five. Because the ports on this board face north, there may be some disturbance with Cherry Profile keycaps.
Unfortunately, only Redragon switches and Outemu switches seem to fit in nicely.
The K617's hot-swap support is pleasant, particularly for the price, but it is only truly useful if you want to modify your stabilizers or need to replace a broken switch. We cannot suggest the K617 for you if you're searching for an inexpensive keyboard to test out various switches.
Software
Per-key RGB illumination is provided by the Redragon K617 Fizz. Both aboard and more intricately with their software are options for controlling this. Sincerely, I have no qualms about the illumination, which is quite vibrant. The fact that the dish is white and better reflects the light is possibly helpful in this.
You can adjust the illumination effects, brightness, and pace using the keypad. You have a lot more power over the keyboard when using their program. You can modify mappings, add macros, and regulate illumination using Redragon's program. Although I have used superior keypad software, this one gets the job done. Changes made to the board's illumination will be saved, making them functional even if you use numerous machines.
The software doesn't correctly occupy a complete window because it appears to have been intended to look game-like. Furthermore, for some reason, it doesn't appear HD. The software's functionality may be adequate, but the experience is undoubtedly diminished by the UI. Overall, the illumination is done well, but I wish the program had been updated.
Note: To change the illumination settings of the keyboard "Fn+R-Alt" is used.
Conclusion
If you're searching for a cheap mechanical keyboard, Redragon offers a respectable choice. The board is functional despite lacking elements like a scroll wheel, Bluetooth, or metal construction. The board's hot-swappable PCB is the only significant feature, but it isn't very compatible with other switches.
The experience is also marginally diminished by the software's bad user interface. However, this board is a good choice to take into consideration for most people who are just seeking to buy a small mechanical keyboard. This is particularly true because the default audio is truly quite good.
Redragon K617 Fizz
"Redragon K617 Fizz is a low-cost 60% mechanical keyboard with a beautiful design and good performance."
The Good
Good tactile feedback
Decent build quality
Linear switches
Software support
The Bad
No multimedia keys
Single elevation system
Breakdown
Design and build 80%

Performance 80%

Features 70%

Value for money 90%