How to Link Aadhaar card to PAN
The Indian government has made it mandatory to link the Aadhaar card to PAN. It created lots of arguments and debates, but you have to do it to find the income tax return. As per the Supreme Court judgment passed on 9 June 2017, you have to link Aadhar card to pan if you have Aadhar card. If you do not have, you can e-file tax returns without the same for FY2016-17.
Note: If you do not have Aadhar card, learn how to apply for Aadhar card.
Why does the government want to link Aadhar with Pan?
Both PAN card and Aadhaar card are unique identification cards. By linking the Aadhar with Pan, the government will be able to keep an eye on taxable transactions of a particular individual. People generally use multiple PAN cards to avoid tax. After linking, they cannot use multiple PAN card and they will have to show their exact income.
How to Link Aadhaar card to PAN
The Income Tax Department has made it easy to link Aadhaar with PAN. Linking Aadhar and PAN is not tough and you can do it via SMS or website of Income tax department. The good thing is that you do not require to submit any documents to link Aadhar to Pan card. You just need to enter the Aadhar number and PAN number. It will link only if both cards have the same name.
Follow these ways to link Aadhar card to Pan. I am writing both SMS and online ways.
1. How to link Aadhaar with PAN using SMS
If you do not have access to the Internet, you can use the SMS way and link Aadhar with PAN card.
SMS format to link Aadhaar with PAN
Send SMS to 567678 or 56161 in the following format:
UIDPAN<12 digit Aadhaar><10 digit PAN>
Note: Here. replace <12 digit Aadhaar> with your Aadhar number and <10 digit PAN> with PAN number.
2. How to link Aadhaar with PAN using Income tax efilling website
Step 1:  Visit the www.incometaxindiaefiling.gov.in and click on the option Link Aadhaar at the left side of the page.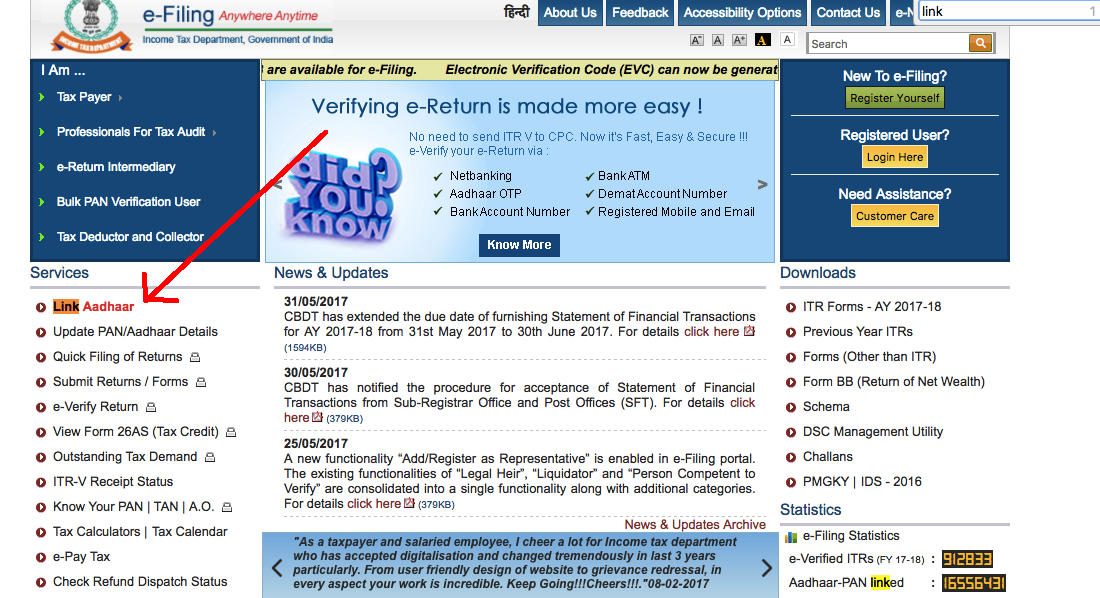 Step 2: Provide PAN, Aadhaar number, Enter the name as given in Aadhaar card. Avoid spelling mistakes.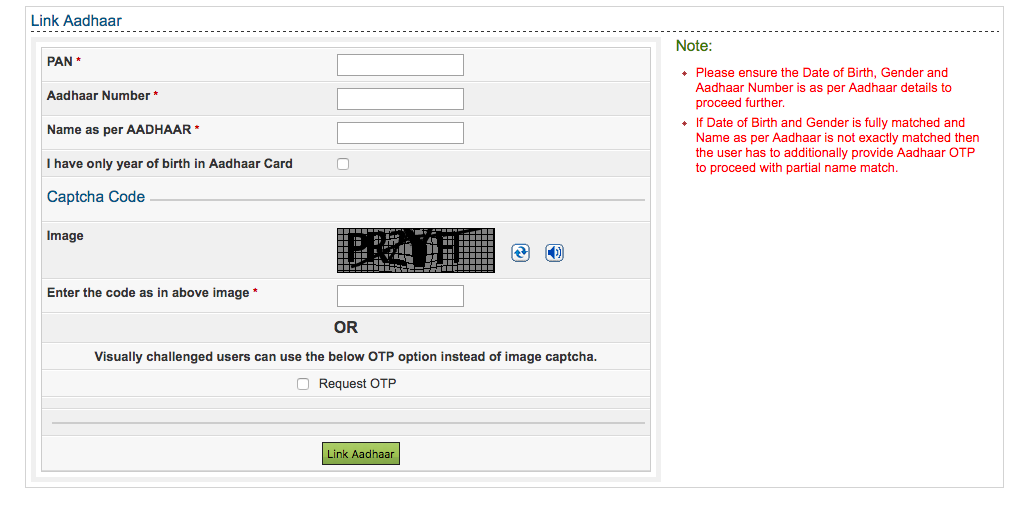 In the case of minor mismatch in Aadhaar name provided and name in Pan, it will just to OTP verification. If names are completely different, the linking will fail and you will have to change the name either in Aadhaar or in PAN.
If you still have confusion or anything to ask, you can comment below.