How To Import & Export Crosshairs in Valorant
Valorant is a free-to-play first-person shooting game developed by Riot Games. The mouse sensitivity plays an important role in playing this game but Crosshair is also an important thing. When you are new to Valorant, you are given a default dynamic crosshair that takes good space on your screen. This is the reason most gamers customize the crosshair. Valorant offers the option to customize the crosshair but what if you want to copy the crosshair of your favorite streamer? You can also import and export the Crosshair in Valorant. In this article, I will tell you how to import and export Crosshair in Valorant.
Also see: Valorant ranking system
There are also a few good Valorant crosshair generators where you can customize the Crosshair and copy the code to import it into Valorant. You can check Valofrags Crosshair generator.
How to Import Crosshair in Valorant
In Valorant, Open Settings and then go to "Crosshair". Now click on the downwards-pointing arrow icon net to Crosshair Profile.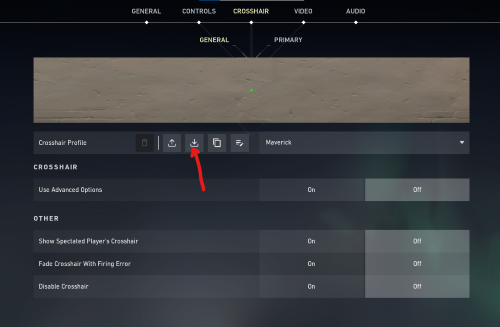 Now paste the Crosshair code in the field. Then click "Import."
Valorant crosshair codes
Here are some Valorant Crosshair codes used by pro-Valorant players you can import into Valorant.
SHROUD: 0;P;o;1;0l;4;0o;0;0a;1;1b;0
TENZ: 0;P;c;5;h;0;f;0;0l;4;0o;2;0a;1;0f;0;1t;0;1l;0;1o;0;1a;0;1m;0;1f;0
SCREAM: 0;P;o;1;d;1;0b;0;1b;0
HIKO: 0;c;1;s;1;P;o;0.15;f;0;0l;5;0o;2;0a;1;0e;0.25;1b;0
TARIK: 0;c;1;s;1;P;o;1;d;1;z;3;f;0;0b;0;1b;0
You can also check this website for more Valorant Crosshair.
How To Export Crosshair in Valorant
To export Crosshair, Open Settings. Then Go to "Crosshair" and click the upwards-pointing arrow icon next to your Crosshair Profile.
It will copy your crosshair code to the clipboard.
Then you can share this code with anyone who wants to copy your crosshair in Valorant.