How to Get YouTube Premium for Free
YouTube Premium is a premium subscription to YouTube that offers several benefits. With YouTube Premium, you get ad-free videos, background video playback, YouTube Music Premium, and offline downloads. So, you get a better YouTube experience.
What YouTube Premium offers:
Ad-free experience – No waiting & Ad skip at all.
Youtube Music – Listen to songs even when the phone is locked.
Play YouTube even in the background so you can do Multitasking while playing YouTube videos on your smartphone.
YouTube Offline – Any video you can save for offline.
YouTube Premium costs Rs. 129 per month or Rs. 1290 for 12 months. You can also get a Family plan at Rs. 189 per month for up to 5 family members. If you do not want to pay for YouTube Premium, there are a few ways to get free YouTube Premium. In this article, I will tell you a few ways to get YouTube Premium for Free.
How to get Free MX Gold Membership
Free YouTube Premium Membership with Flipkart
If you are a regular Flipkart customer, you already know that Flipkart provides Super Coin on each purchase. You can later use Flipkart's Super Coin to get brand discounts, OTT membership, and more. Flipkart also provides YouTube Premium memberships for 2 months, 3 months, and 12 months.
For this, go to the SuperCoin section and click Reward Store. Here look for YouTube Premium rewards. Click on it and then Claim the reward. If you do not have enough coins, it may ask you to pay some amount to get YouTube Premium.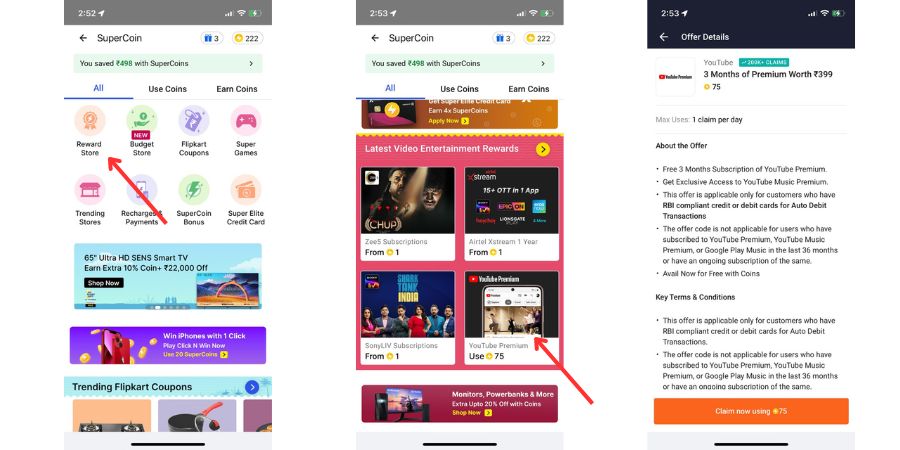 Download YouTube ReVanced
If you do not have enough Super coins, but want to get the benefits of YouTube Premium without paying anything, try YouTube ReVanced. YouTube ReVanced is the successor to YouTube Vanced and a good YouTube Vanced alternative. YouTube ReVanced provides the same benefits as YouTube Premium. You get background playback, the option to disable YouTube Shorts, free YouTube Music, and more.
Download YouTube ReVanced and it will add YouTube Revanced to your phone. It will offer you the same experience you get on YouTube with all the YouTube Premium benefits.
Wrap Up
Now you know how Flipkart can give you free YouTube Premium membership if you are a regular Flipkart customer. Otherwise, YouTube Revanced is also a good option. But YouTube Revanced is not an ethical choice because it takes away the revenue of creators. So, it is better to purchase a YouTube Premium subscription if you do not have enough Flipkart SuperCoins.
Also see: Free YouTube to MP3 320kbps Converters