How to block websites on Android phone
There could be several reasons to block a website on your phone. Maybe you don't want your kids to access those sites or any other reason. There are few ways to do this and you can block websites on your phone without needing to root your phone. In this article, I will be telling you how to block websites on your Android phone.
Also see: How to block a number on your phone?
Block websites on Android
There are few browser-specific ways like you can install a Firefox extension. But that won't work properly. It is because anyone can install other browsers on the phone. Android already comes with Chrome as a default browser. So, I am not discussing any browser-specific methods.
By using third-party apps
There are some free third-party apps that do this job for you. You can install these apps and grant them accessibility permission. Then you can make a list of websites that you want to block. Now you can try accessing websites you added in the block list. You won't be able to access.
a. BlockSite
BlockSite is the best app that I recommend for this. You can use this app to block websites and apps you don't want to allow access to your phone. You can also password protect the app to make sure no one is removing the website in the Block list.
b. Mobile Security & Antivirus By trend Micro
Mobile Security & Antivirus is an Antivirus app that comes with a built-in website block feature. So, it serves two purposes. You can use it to block websites along with keeping your phone protected from several security threats.
In case you want an advanced parental control feature to web filtering, screen time control, app blocking along with website filtering, you can try the Famisafe app. It is one of the best parental control apps.
By using DNS Filtering
This is a bit complicated method but works well if you don't want to install any Thord party apps. This gives you better control and lets you filter the whole categories of websites on your phone.
OpenDNS is the one I recommend. To configure that in your Android phone, head to Settings > Network & internet > Wi-Fi. In Wifi, tap on the network you are in and then tap on the pencil icon at the top side.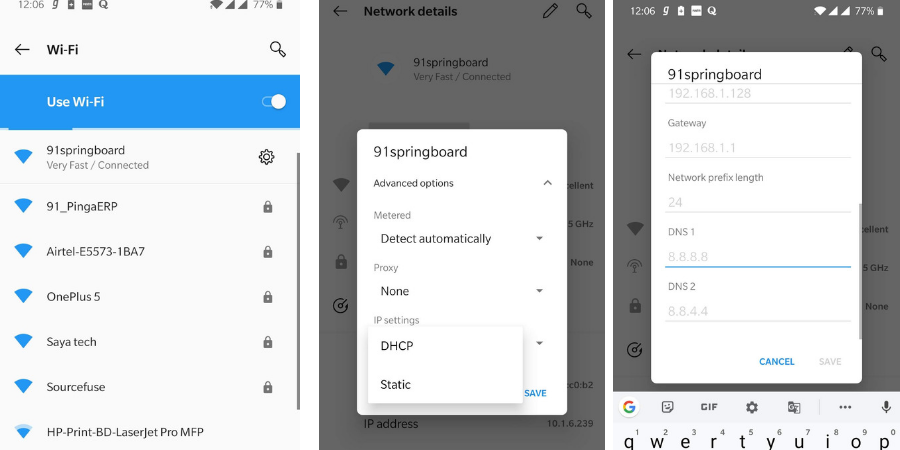 Now expand the Advanced options. Change the IP settings from DHCP to Static. Here, enter 208.67.222.123 and 208.67.220.123 in DNS 1 and DNS 2 respectively.
By default, it has a default list of websites to block that includes unsafe websites and websites with objectionable content. If you want to make a manual list of websites, you can create an account on OpenDNS.com and make your own block list.
When you open OpenDNS.com from your device, it will automatically detect your network. Add the network in your OpenDNS account and then You can manage this network and make a list of websites to block.

Whenever you are on this network, it will automatically block websites you added in the block list.
Final Words
It is easy to block websites on your Android phone without putting many efforts. You also do not need to root your phone. Just follow the given methods and you are done. In case you have any questions in following any of these ways, you can always ask using the comments section below.