CS: GO or Counter-Strike: Global Offensive is one of the most popular multiplayer first-person shooter games. The game was released back in August 2012 for multiple platforms and is still popular among gamers. CS: Go recorded over 1.3 million players playing the game at a time on April 17, 2020. The game has a competitive matchmaking game where you can play 5v5 matches. Based on the performance of players, they get a rank called CS: GO Rank. A player's CS: GO Rank confirms his/her skill. There are 18 different ranks. The better you play and the more games you win, the better rank you get. Here is the breakdown of the CS: GO ranking system
CS: GO RANKS
The 18 CS: GO ranks (CSGO ranks)are as follows:
| | |
| --- | --- |
| Rank | Abbreviation |
| The Global Elite | TGE |
| Supreme First Master Class | SMFC |
| Legendary Eagle Master | LEM |
| Legendary Eagle | LE |
| Distinguished Master Guardian | DMG |
| Master Guardian Elite | MGE |
| Master Guardian II | MG2 |
| Master Guardian I | MG1 |
| Gold Nova IV | GN4 |
| Gold Nova III | GN3 |
| Gold Nova II | GN2 |
| Gold Nova I | GN1 |
| Silver IV | S4 |
| Silver III | S3 |
| Silver II | S2 |
| Silver I | S1 |
Silver I is the lowest rank and Global Elite is the rank for the best player in competitive Counter-Strike: Global Offensive. Each rank has an icon that is shown on the profile. So, you also need to know the rank icon, to identify the rank of a player. Here is the icon of each rank.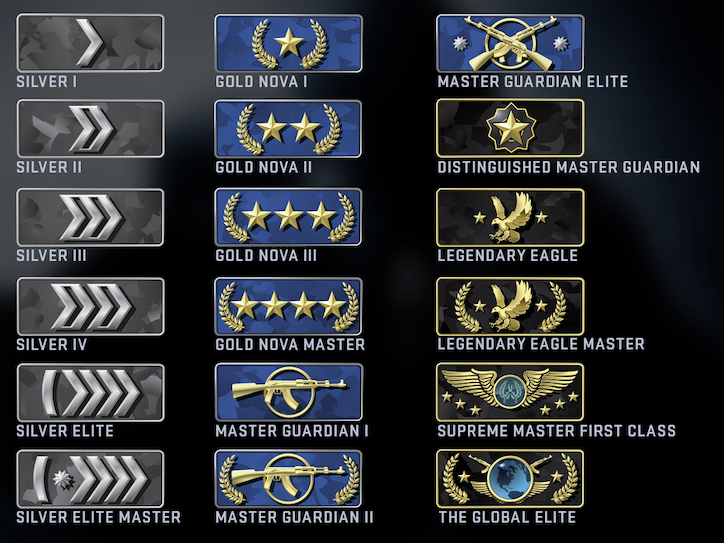 This rank is used for matchmaking. Because CS: GO ranks players with similar skills. Silver Players are matched with other silver players. Basically, a player is ranked with players with 2 higher or 2 lower ranks in most cases. If you keep winning and performing well, you will be ranked up.
Silver is the beginner rank. According to reports, around 33% of the players are found in silver. Silver players have less understanding of the game, not much accurate aim, are not accurate in grandees and have low co-operation with other teammates. Players who are ranked from Gold Nova I to Master Guardian Elite have an understanding of the game. They know maps, the aim is better, and play with well-coordinated teamwork. Better the rank, the better the gameplay. Players who are ranked in between Distinguished Master Guardian and The Global Elite are the players who have absolutely accurate shots, can predict the position of opponents, throw accurate games, and play with super successful strategies. The Global Elite rank players are the best CS: GO players in the world.
Also see: CS GO Wallpapers For Smartphones
Here is the rank distribution graph. Less than 0.8% of CS: GO players are global Elite.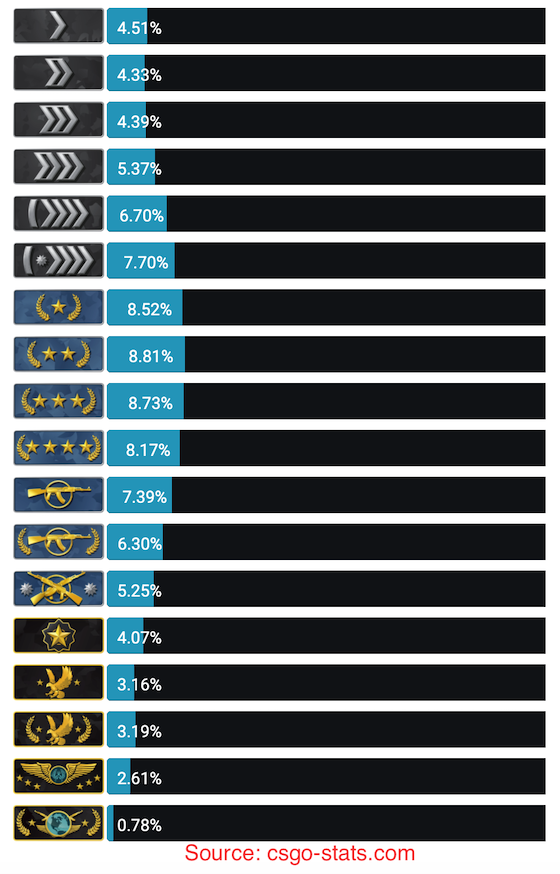 On August 2022, CS GO ranks were reset and players needed to play competitive games again for recalibration. They needed to win one competitive game to get the rank again. The company claimed it fixed ranks to make the ranking system even better.
How to get your first CS: GO rank?
If you start playing CS: Go, it will not give you a rank instantly. You need to first start playing on casual servers to get private rank 2. You can play different CS: Go modes such as Deathmatch or Arms Race to practice different weapons and understand maps. You also need Prime status to play ranked matches and to receive a rank in Counter-Strike: Global Offensive. In June 2021, Valve also made Prime status a paid feature that costs $15.
Once you have private rank 2, you can join competitive matches. You will have to first win 10 competitive matches to get your first rank. Initially, CS: GO also limits you to
In your first 10 wins, the ranking algorithm analyses your game to give you the rank. If you play well, you will start with a Gold rank. Most players remain in the Silver ranks.
How to customize CS: GO Crosshair
How to rank up in CS: GO?
Developers of the game don't reveal how their algorithm works. This secrecy is to avoid rank manipulation. There have been several fan theories based on personal experiences but no one knows how exactly the rank works.
Match Winning is the key factor. The bigger your win, the better your chances of ranking up. For example, winning with a score of 16:14 will have a smaller impact but winning with a 16:3 score will have a better impact. If you are matched with high-ranked opponents and you win the game, the more chances are getting ranked up. There are also several other important factors like MVP awards, K/D ratio, ADR, and your cooperation with teammates. Improve your CS: GO skills to rank faster. Practice on Aim Training maps, learn how to use grenades, learn maps, learn weapons, start checking the radar and learn money management.
If you have won more than 50 games and are still in the silver ranks, you should start giving more time in practice maps to improve your aim and skills. This will help you in improving your game.