Elon Musk unveils prototype humanoid "Optimus" robot at Tesla's 2022 AI Day
At Tesla's 2022 AI Day, Tesla CEO Elon Musk revealed a prototype humanoid "Optimus." He confirmed that the robot shares some AI software and sensors with Tesla Cars' Autopilot driver assistance features.
The company says that the robot is being made to perform tasks that are unsafe, repetitive, or boring for humans.
Optimus also came to the stage and waved to the audience. Musk claims that the robot could do a lot more but they limited the activity for this presentation. The company also played a video showing Optimus performing simple tasks, such as watering plants, carrying boxes, and lifting metal bars.
Tesla's Optimus packs Tesla SoC and a 2.3kWh battery pack. It has Wi-Fi and LTE connectivity. It uses third-party actuators to walk around.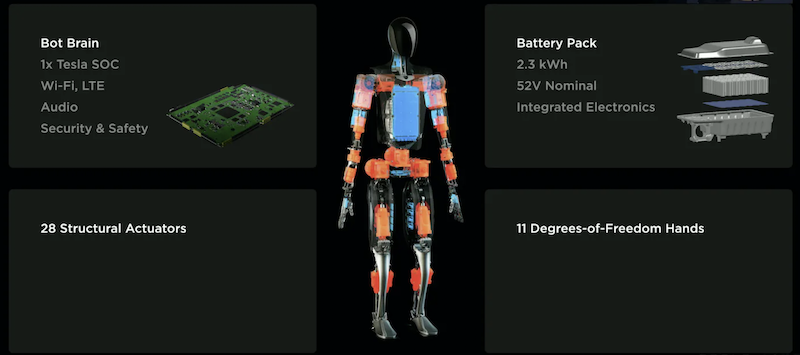 The company first announced Tesla Bot at last year's AI Day and promised to bring a working prototype soon. The last year's demo was a glossy black-and-white rendering and musk warned fans not to expect the prototype to look like it was shown. This year's working prototype still had wires and circuit showing. So, it feels like an early prototype.
After the event, Musk tweeted to confirm that there will also be a catgirl version of the Optimus.
Musk said that Optimus could cost lower than $20,000 and will be available in three to five years. The company has made the robot for mass production.