Google Maps gets Street View in India
Google has finally brought Street View to India. Instead of capturing data by itself, the company has partnered Genesys International and Tech Mahindra for data. These partners have over 150,000 km within 10 cities including Bengaluru, Chennai, Delhi, Mumbai, Hyderabad, Pune, Nashik, Vadodara, Ahmednagar, and Amritsar. The company plans to expand Street View to more than 50 Indian cities by the end of this year.
To use Street View on Google Maps, open the app and zoom into a road in any of the cities where Street View is available. Then tap the area you want to see.
Google has opened Street View API to local developers. So, they can integrate Street View within their apps and services.
Google Maps is also now showing speed limits shared by traffic authorities in Bengaluru and Chandigarh. This information will be added for more cities in the coming days. Google has also started showing information on road closures and incidents for Delhi, Hyderabad, Chandigarh, Ahmedabad, Kolkata, Gurgaon, Bangalore, and Agra.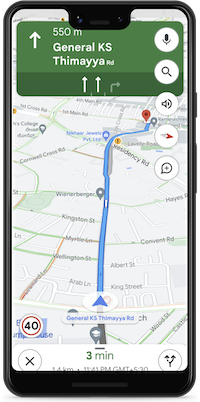 The company has also partnered with Bengaluru traffic police to help optimize their traffic light timings. The company claims to reduce 20% congestion across all the intersections using its data. This pilot project will also be expanded to Kolkata and Hyderabad in the coming months.
Google has also collaborated with Central Pollution Control Board to show authoritative air quality information.