Pocket FM Review: A good app for listening to audiobooks and podcasts
Audio content is now getting popular. You can see the changing trend. Now people prefer listening to audiobooks to actually reading a book. This is the reason audiobook apps are now really popular. Podcasts are also becoming popular. Millions of users in India now listing to Podcasts and listen to stories and audiobooks. To serve these people who prefer listing to Podcasts and audiobooks, there are a few homegrown platforms. Pocket FM is one of the popular Indian platforms for listening to audiobooks and podcasts. I recently started using it because the app offers content in local languages. In this article, I will talk about Pocket FM in a detailed manner.
Pocket FM is a popular platform that brings audiobooks, stories, and podcasts. The platform has thousands of creators who make audio content and narrate stories. Currently, the app has content in Hindi, Tamil, and Bengali. As a native Hindi speaker, I was very comfortable with the content on the platform.
The app offers a large library of audiobooks. In the explorer section, you can search for audiobooks, podcasts, and artists. You can also explore content using categories. Content is available in different categories including Crime, Horror, Suspense, romance mythology, motivational and more. I found some of my favorite books by Dale Carnegie, Robin Sharma, and Swett Marden on the platform in the form of audiobooks. But I would love to see the app adding more books on its platform. There are several audiobooks covering content on language learning personality development, Lifestyle tips, money management, and more.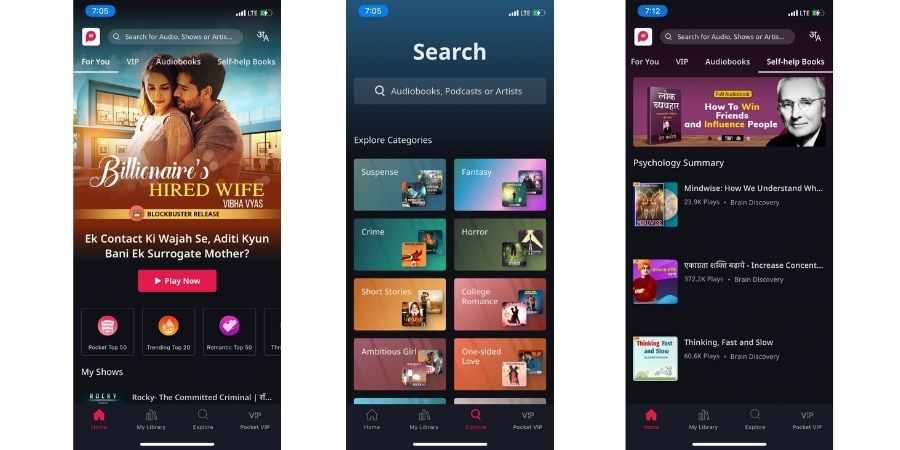 The UI is really easy to use nad navigate. At the top, there's a search bar to look for new content. Explore section offers categories to find content of your interest. Audiobooks or stories that you start can quickly be found in the My library section.
Audio player also has features you need. You have control to quickly go to next and previous episodes. You can quickly move forward and backward by 10 sec. There are several audiobooks covering content on language learning personally development, Lifestyle tips, money management and more. It also lets you increase audio playback speed and set sleep timer.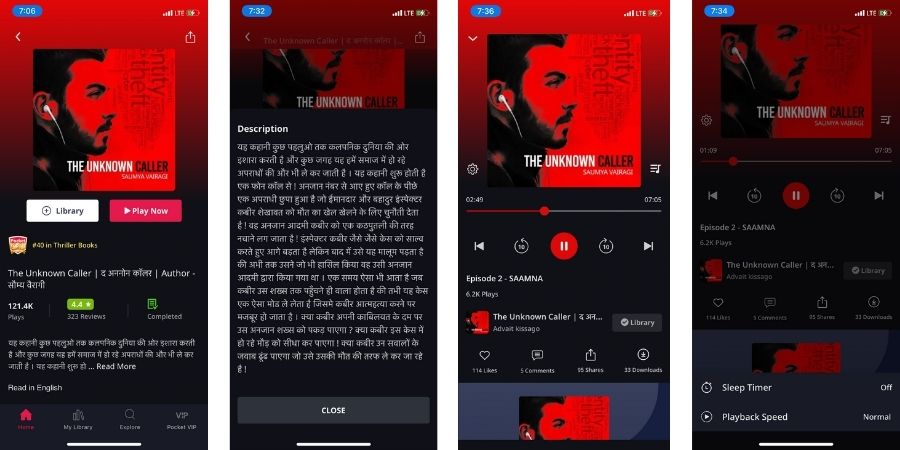 All the audiobooks come with a short description, so you get an idea of the content before you start listening to it. User reviews can also help you decide what content to select. Most voice-over artists working on the platform are really talented. Their narration is impressive. So, you don't just listen to an audiobook but can also visualize the content in your mind.
The app also lets you download content for listening to it offline, but you need the Pocket VIP subscription. Most popular audiobooks just offer limited episodes for free. So, you need the VIP subscription to unlock all the episodes. Pocket VIP subscription brings several benefits including unlimited downloads, ad-free browsing, and 100000+ audiobooks. You can avail free trial for a month. After the trial, it costs Rs. 39 per month. That's a small amount for the content you get on the platform. Here's how normal access and VIP subscription differ.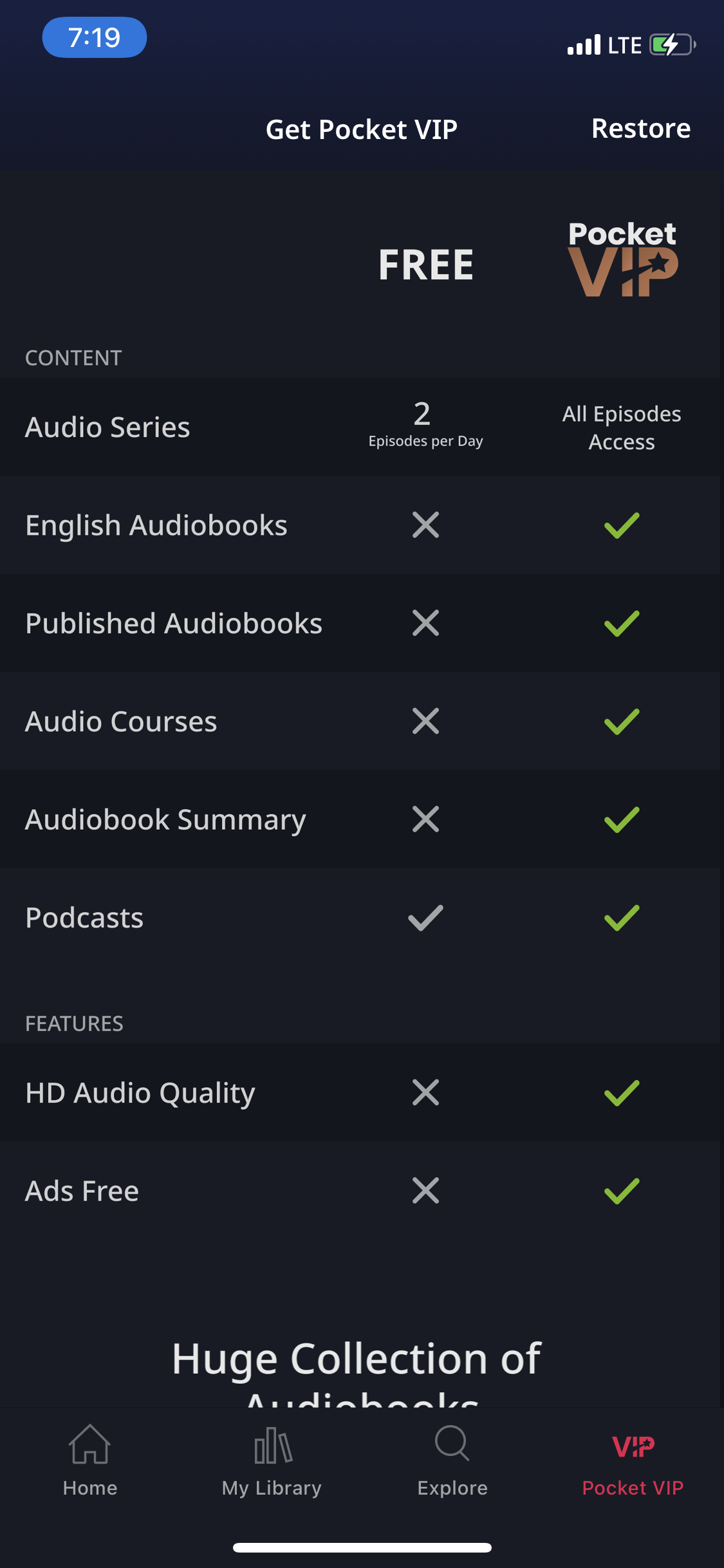 The app has thousands of audiobooks and stories. Creators also keep adding new episodes to existing stories and new audiobooks. So, the app is worth trying. If you really want to enjoy the app, I recommend you get VIP subscription. So, you can listen to back-to-back episodes in good audio quality.
If I compare it with Audible, Audible covers more authors and books than Pocket FM. But Audible requires a subscription for listening to Hindi audiobooks and the subscription cost is Rs. 199 per month. On the other hand, Pocket FM offers some of the parts for free and the subscription cost is much cheaper. Pocket FM also has lots of original stories and podcasts that you will surely find interesting.
Download Pocket FM on Google Play Store | App Store