Chromebooks outsell MacBooks for the first time in 2020
A new data claims that Google's Chromebook outsold Apple's Mac computers for the first time in 2020. Google managed to sell more Chromebooks than MacBooks Apple sold. This is also a warning sign for Apple and Microsoft.
The report shows that Windows is still dominating the market but it saw a 4.9% drop in market share as compared to 2019. Chrome OS jumped to 10.8%, 4.4 % up from the previous year. Apple's macOS grew from 6.7% to 7.5%.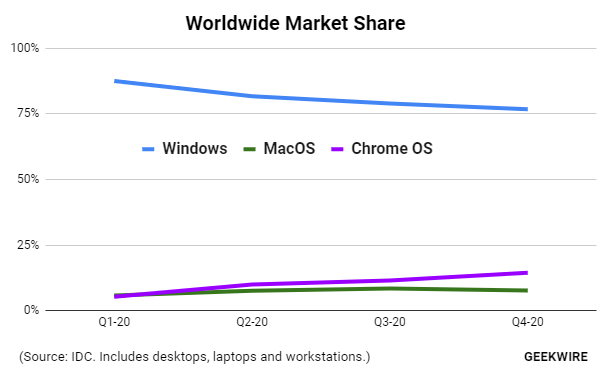 Due to the Pandemic, PC shipment grew last year. Several companies bought lightweight and compact laptops for their employees, so they can keep working from home. Chromebooks are compact and are comparable to Windows and macOS if you just need to access products or services over the internet. Chromebook's main demand is in the US schools where it is used as an educational laptop.
Recently, Canalys report also confirmed the growth in Chromebook shipments. Canalys claimed that Chromebook shipments Almost Quadrupled in Q4 2020 and Google shipped 11 million units during this quarter. This was 287% increase over Q4 2019's figures. HP is still the top Chromebook seller with 3.5 million units shipped in Q4.
Source: GeekWire