Amazon announces a new cloud gaming service called Luna for Fire TV, desktop and mobile
September 25, 2020

in

Games
At the 2020 hardware event, Amazon announced its cloud gaming platform called Luna. This cloud game streaming platform has been in rumors since last year and was in works under a codename "Temp". Luna will be available on PC, Mac, Fire TV, and iPhone and iPad (via web apps). The android app will be launched later.
Luna will work on Fire TV Stick natively but requires a dedicated app on Windows and Mac. It uses web apps for the iOS platform and It will be playable through the iOS Safari browser. There's no native app for iOS because of restrictions from the App Store policy. That's the reason other game streaming services aren't available. Android support will be coming soon.
Interested users in the US can request to get salt access starting today. Amazon has not confirmed when it will be available to other regions.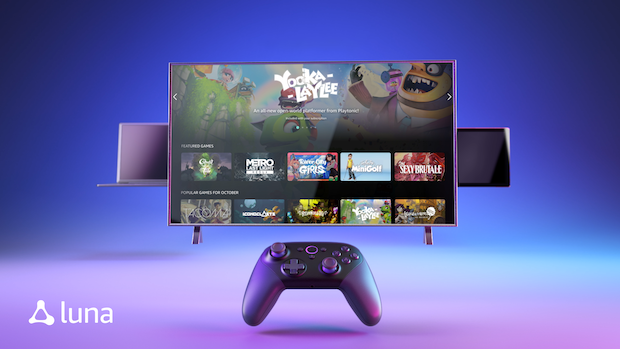 For now, the service is getting an "introductory price" of $5.99 a month for the early access phase. Subscriber will be able to play Luna Plus channel games across two devices simultaneously. It offers 4K / 60fps gameplay for "select titles".
More than 100 games will be available via Luna Plus channel. The list of available titles include Resident Evil 7, Control, Panzer Dragoon, A Plague Tale: Innocence, The Surge 2, Yooka-Laylee, GRID, Abzu, and Brothers: A Tale of Two Sons. More games willl be added over the time.
Amazon has also announced a dedicated channel for Ubisoft. Subscribers can access to existing and upcoming Ubisoft titles through this channel. This channel is limited to stream at one device at a time. Amazon has not confirmed the pricing for this channel. The company will introduce more such channels for other game publishers.
Luna will also get Twitch integration to stream game play. Players will also see Twitch streams for games in the service.
Games can be played either with a mouse and keyboard or a Bluetooth controller. The company has also launched an Alexa-enabled Luna Controller that costs $49.99 during the early access period.
Luna controller connects directly to the cloud through Wi-Fi. You will also be able to instantly switch between devices as if you want.
Luna takes on Microsoft's xCloud and Google Stadia. That means Amazon Luna already has a tough competition to beat. Stadia cloud gaming service costs $10 and Microsoft's xCloud is free to Game Pass subscribers.
Amazon's interest in gaming is not hidden. The company owns popular gameplay streaming platform Twitch and also owns IGDB, gaming titles database. The company recently launched online shooter game Crucible recently and is working on a multiplayer game called New World.
The service is only available in the US in early access. It should be available in whet regions when it opens to all.