Qualcomm announces Snapdragon Wear 4100 and Snapdragon Wear 4100+ SoCs for smartwatches
Qualcomm has introduced Snapdragon Wear 4100 series that includes Wear 4100 and Wear 4100+ Socks for smartwatches. This series is the successor to Wear 3100 that was launched almost 2 years back.
The new smartwatch platforms are based on 12nm process technology as compared to 28nm used in the previous get. So, you can guess how much improvements we will see in next-gen smartwatches. Qualcomm claims that Wear 4100 chips can offer up to 85 percent performance improvement and 25 percent lower power usage as compared to predecessor.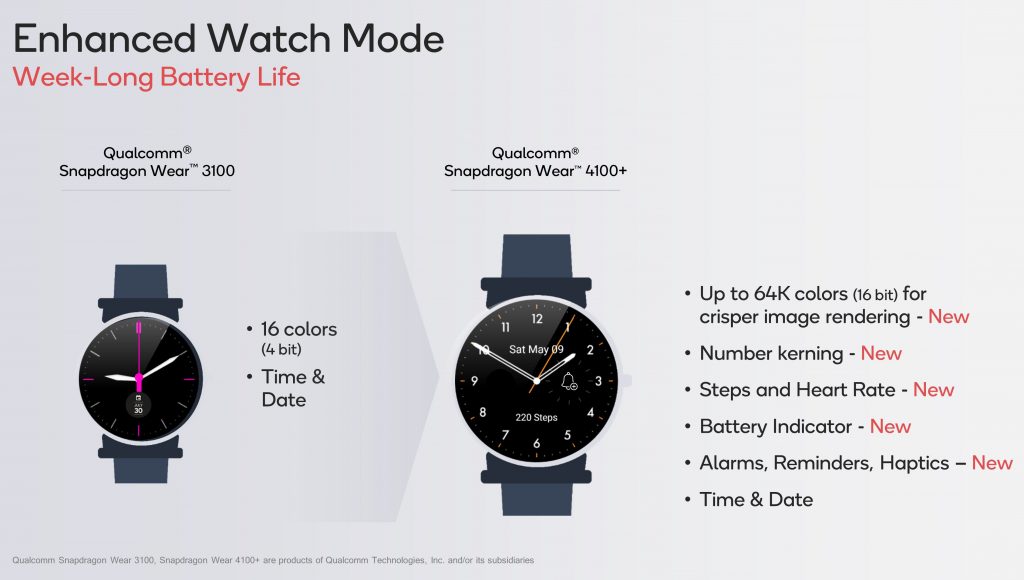 The 4100 and 4100+ both feature a quad-core Cortex A53 processor but 4100+ also combines it with a smaller coprocessor. The coprocessor is there to handle several background tasks when the device is in ambient mode.

In new platforms, smartwatches will support up to 64,000 colors in ambient mode while it was just 16 in previous gen platform. Newer smartwatches will also be able to show continuous heart rate and sleep monitoring data.
The 4100 series platform also supports Bluetooth 5 standard and an upgraded 4G LTE modem for faster cellular connectivity.
Snapdragon Wear 4100+ and Snapdragon Wear 4100 are available and shipping now. So, we should see much improved smartwatches by the end of this year.