Likee: A review of the renewed special effect video app with exciting new features
Popular special effect video editing app LIKE has rebranded itself to Likee – changing not just the name, logo and tagline but also the offerings of the app. While essentially the app remains a short video platform, it has now been revamped to offer better user experience with new added features, diverse categories of video content and the ability to encounter new video content via the Nearby feature.
Likee (formerly LIKE Video), belongs to Singapore-based company BIGO Technologies and offers users a way to create entertaining videos and showcase their talent. The app offers a video editor, a large bank of video filters and effects to make appealing videos. The new upgrade not just brings a new design but also adds a ton of new features that transform boring, mundane videos into exciting ones. In this article, I explore the new features of the app and if they are YAY or NAY!
The new home page now offers more than just trending videos. The new home page style categorizes videos for the ease of viewing of users. There are three different sections: Follow, Popular and Nearby. The Follow section shows videos from people you follow on Likee. The Popular section is for trending videos on the app. The Nearby section curates videos from people nearby to your location including strangers. This is an important change and helps you make interesting video discoveries from nearby creators. It also shows the distance of the user from your location and gives you an option to filter video by gender.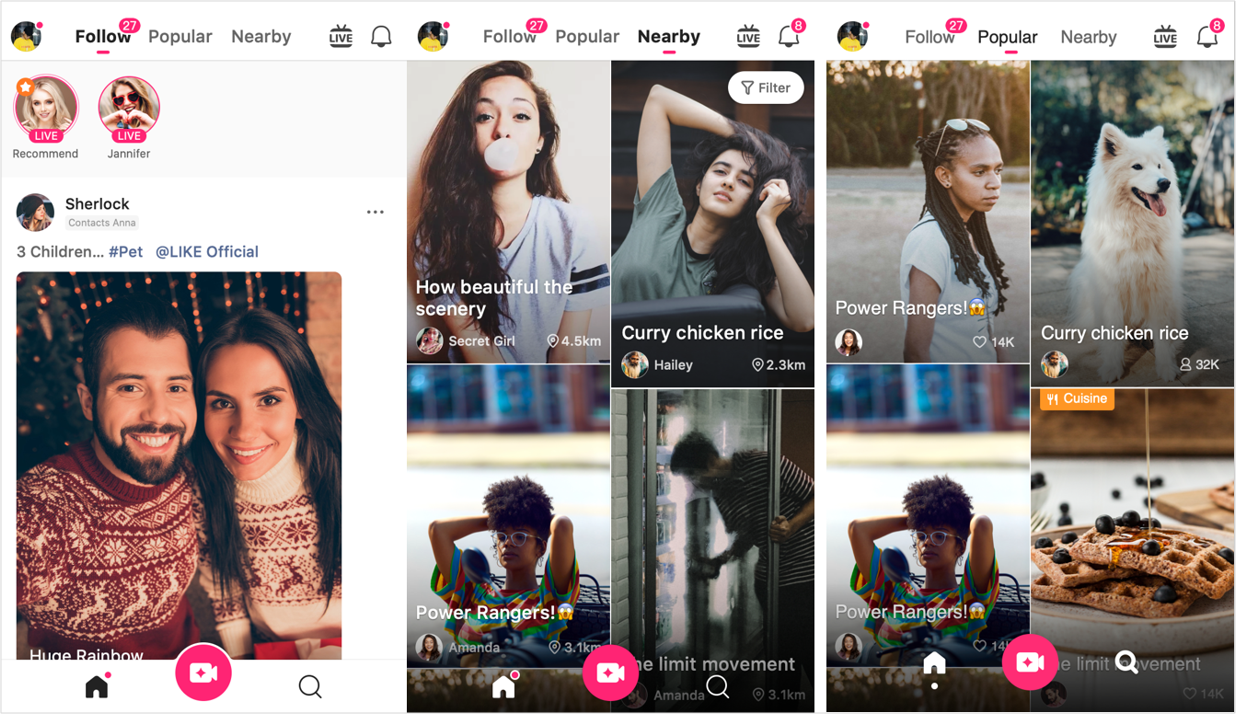 The app has also improved the segregation and viewing experience of videos, with vertical video content. The home page has different vertical video category labels making it easier for users to choose their preferable videos. It also provides users with a more centralized platform for gathering video contents. You can easily find videos by category and also follow hashtags for the app to curate new videos uploaded with the hashtag. Videos are now divided into buckets like food, comedy, sports, news to name a few. This enables ease of viewing and selection for the user while also providing a wide variety of content.
For uploading videos of your own or following other people on Likee video app, you need an account. However, the app allows you to only view videos even without creating an account.
Likee video app is power-packed with a cutting-edge magic video maker, which offers exclusive custom clips, dubs mash, sync, duet, trendy special effects, and thousands of stickers & music.
Likee video app is great for creating awesome videos – you can easily pick the most interesting content to share on your Facebook, Instagram and other social platforms. With exciting editing tools, over 300 emoji stickers and face filters like AI beauty filters, stylish stickers, magic music filters 4D magic, superpower and others, users can create fun videos with never before seen real-time effects!
Likee video app retains the old video filters and effects but has added a large number of new filters including Modern, Babypink, Original, Elegance, and Beauty. The Beauty filter is to beautify your face and look better in videos, improving skin tone and makes face slim to look better. It gives you an option to control skin softening, whitening, slimming and eyes shape.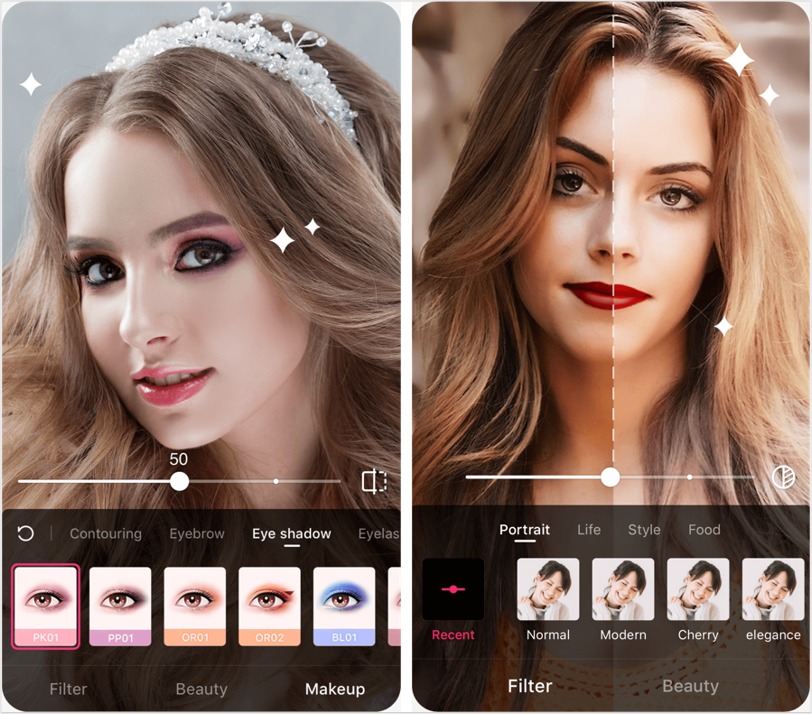 The existing features such as Superme, Colorful Hair and other dynamic stickers have been retained to make extraordinary videos. Superme is an innovative option to combine photo-editing with video creation. With this feature, you can easily transfer a 2D image to a 3D video. To meet the various requirements of users, Superme includes four series (Love, Creative, Cool and Funny) of over 80 exquisite and interesting effect options.
I personally liked the Superme sticker that gives creators an option of making creative videos like videos showing a super power in you or more such videos. You don't need to an expertise in video editing for using any filter. Videos like shooting yourself in between a desert using a filter look so real and that needs a just few seconds to apply the filter.
The Colourful hair sticker offers fun elements to play with and lets you edit the hair color of a person. You can now adorn a stylish look in their videos, with colored hair of their choice, all for free. You have the option to choose from different styles and colors of hairs to suit you. To use this feature, tap on "Stickers">"Colourful Hair".
Moreover, the upgraded LIVE feature allows you to interact with creative and inspiring people from all across the globe. Users can now start a face-to-face chat with your favorite creators and start showcasing your incredible talent and precious moments.
On the video app, it is easy to find different types of interesting and informative video content, such as the latest movie information, good rating shops nearby, useful skills and life hacks. equipped with the world's leading intelligent recommendation system, Likee specially personalizes your video feed for you.
If you like a video by a creator, you can also reward the creator which helps them get better recommendations. The company has added "Wisdom Beans" reward for creators in this upgrade. This is part of the Likee's Talent Creator Union as part of which signed-creators are rewarded for the unique videos they make, earning monetary rewards, encouraging them to produce up even better content.
Creators can join the Talent Creator Union and earn for publishing valuable videos. This feature is there to help creators earn real money and encourage them to keep making quality content. Signed creators earn basis performance and engagement of videos. A detailed statistic of the rewards is also be available. It is not clear if any Likee user can join or if there is a criterion for joining the Talent Creator Union.
Review: Likee comes with a clean interface that is easy to use. It is easy to navigate through different sections by using swipes or taps. You can enjoy videos posted by other Likee creators as well as enhance knowledge with the new skill-based and DIY videos. If you are interested, you can also shoot amazing videos by using the video editor and effects, and share videos with the Likee community. The new diverse vertical video contents improve video watching experience. The new app version offers qualitative content, supporting users to find the videos of their choice with ease. The app also now curates content basis the search results of the users. The plethora of filters and stickers are an added bonus for creating beautiful and exciting videos.
In this generation of the digital, it can be a task to choose between the million apps out there. Likee brings an option that is user friendly, interesting and different from others. If you have not yet started using Likee app, use the links given below to download.