Toshiba's dynaEdge AR Smart Glasses is a wearable Windows PC
Toshiba has introduced new dynaEdge AR Smart Glasses for enterprise customers. This wearable product is actually a wearable windows PC.
It combines dynaEdge DE-100 Mobile Mini PC and dynaEdge AR100 Head Mounted Display (HMD). The dynaEdge DE-100 Mobile Mini PC was launched last year in August. That is not a new thing. It pacs Intel Core M processor, 6GB of RAM, 512GB of internal storage and runs on Windows 10. It lasts six hours on a single charge. It also has five physical buttons to control things.
Now the company has paired that mini PC with dynaEdge AR100 Head Mounted Display. It weighs about 50 grams and can be used with either the left or right eye based on your preference. It has an integrated micro display that can offer a viewing experience equivalent to a 4.1-inch display. It also has an integrated touchpad, GPS, three-axis accelerometer with a gyroscope for head tracking and 5MP camera. It also has speaker and dual noise-canceling microphones for voice communications.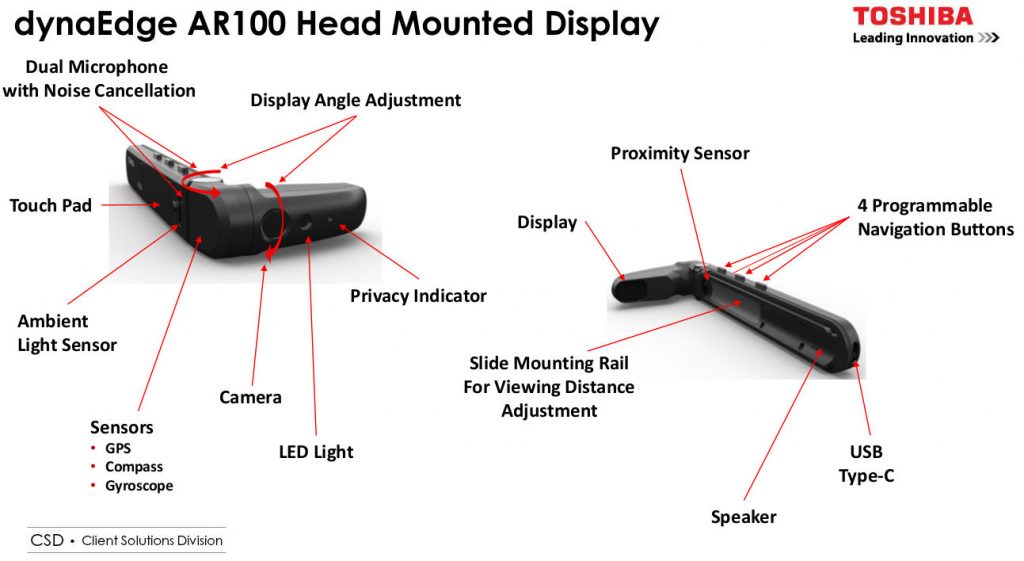 Toshiba has given different mounting options. You can use regular glasses-style mounts, safety helmet mount, and a headband.
Windows 10 Pro is not wearable-friendly, so it could be hard to operate. Toshiba has given a touchpad on the side of the AR100 headset. It has also made a custom UI and launcher to make it easer.
With this device, you can access to video calls, documents, capture photos and more. The company wants to sell this to enterprises and not to normal consumers. It makes sense as enterprise users can effectively use it in several case scenarios.  It can used to get assistance from a remote expert.
Toshiba dynaEdge AR Smart Glasses will be available in Q2 2018 starting at $1,899.99. There will be different configurations with processor, memory and storage. Pricing will different depending on the specifications.
We all remember Google Glass. Now Toshiba is also doing the similar work but offering the first wearable Windows 10 PC. The concept looks interesting but I am not sure how comfortable it is in real usage. What do you guys think about dynaEdge AR Smart Glasses. Let us know your views in the comments.