Digibank by DBS: This is the future of banking
Banking is an important part of our daily life. With the introduction of internet banking and mobile banking, banking has become easier. So, we do not need to locate the nearest branch for most of the tasks. Still, there are few things that require us to visit the branch physically.
This is where the revolution in banking called as Digital Only Banks come in. Digital Only Banks are the banks that offer the whole banking solution within the mobile app. You do not need to visit the bank's branch for any single thing. One such bank is Digibank by DBS Bank.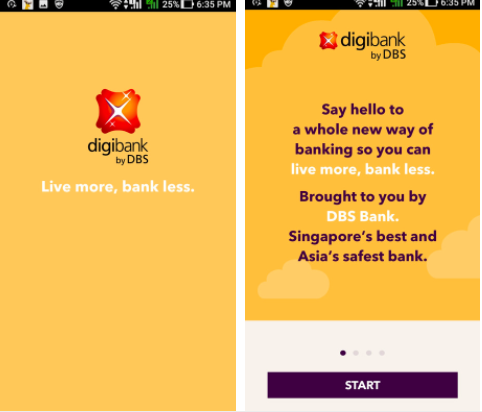 DBS (Development Bank of Singapore) Bank is one of the largest banks in Asia and has been awarded for its security and services.
Key Features of Digibank by DBS
7% interest rate on Digisavings

Virtual debit card

Minimum zero balance

Free physical debit card

Unlimited ATM Withdrawals

FREE IMPS NEFT.

Open account in just 90 seconds

Enhanced security that requires no OTP
Quick comparison with Kotak 811
Kotak is also offering a similar service 811 to offer mobile-only banking. They also offer zero balance account and mobile only banking, but I preferred digibank over 811 by Kotak because of a few notable differences. Digibank offers a higher interest rate, and no hidden charges.
When I contacted Kotak for 811, they told me these things
6% interest rate and it is 5% if you have balance less than Rs. 1 Lakh

299 per year for a physical debit card

1 free deposit/withdraw cash only after that, it is chargeable

1 leaf in, Cheque book for Rs. 3
The app of Kotak is also slow and most of the times, you will end up getting no response.
Now coming back to Digibank. With digibank you can create the account in 90 seconds. You instantly get the free Virtual debit card to start shopping. Compared to Kotak 811 that takes over 5 min to set up, digibank is a breeze.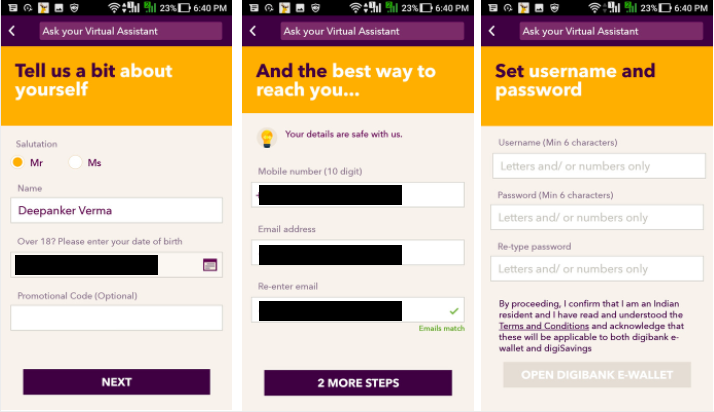 The app is easy to use and comes with interactive interface. The app is stable and runs fine even on slow internet. 
The app provides trends and analysis of transactions. So, you can understand your spending pattern and optimize your budget based on the recommendations.
The app also does not require One-Time Password(OTP) authentication for transactions. It uses its 'Dynamic Inbuilt Security,' that takes care of security of transactions.
The Digibank app has two key sections:
Digibank e-wallet

DigiSavings
Digibank e-wallet
In Digibank e-Wallet, you get an account number and a Virtual debit card. You can use this virtual debit card to shop online. You can add funds to your e-wallet account and use it to shop, recharge, pay bills and send to any account. Everything is simple and straightforward.
DigiSavings
DigiSavings offers you better benefits. This is the savings account on DBS bank with 7% interest rate. So, you will get more credit interest on savings account. And for this, you do not need to visit the branch and fill the form. You just need to tap on "Open Digisavings" and enter your PAN, Aadhaar details.
The only thing it needs is the verification of your fingerprint to identify that you are not opening this account on any other person's details. For this, you need to get your fingerprint scanned at any DBS branch, CCD or book and agent who will come at your home for this. So, the DigiSavings takes up to 3 days.
You can also request a physical debit card if you need. You will get unlimited cash withdrawals from any ATM across the country.
You get 7% interest rate on your savings account and they pay the interest quarterly. Here, it is important to breakdown the interest rate. You will get 7% interest rate if you have amounts up to Rs.1 lakh in your account.
In the savings account, you can also open fixed and recurring deposits. The interest rates for fixed deposits are in the range of 6.25 – 7.2% for duration of 90 days to 5 years.
What if you need support?
There is a virtual assistant to help you. You can see the option at the top of the app.
What about security?
The app is secured by a password, but there is nothing complicated. Just enter the password to login. It also has enhanced security with two-factor authentication.
You can even disable the virtual debit card to avoid misuse.
You can download the digibank app from Play Store on Android and from App Store on iOS.
Final Words
I think this is the future of banking that makes us free and gives access to all services without visiting the bank. I liked the concept of a digital only bank. I personally like DIY (Do It Yourself) concept and I got the same here. I can do everything directly from the app and save my time. The best thing is its 7% interest rate that is much higher than other accounts. So, you are getting easier service with better credit interest.
I recommend that you to try this digital only banking and see if you find it interesting.