We have different shopping apps to buy products online and we have the market around us where we can go, see products and decide if we want to buy. In both kinds of shopping, we waste hours to find best deals. For online shopping, we have various comparison websites to compare and find best deals but what about offline shopping? We never know the best deal available offline until we go to the market and visit different shops.
Also see: 10 Best Price Comparison Websites in India
UP to Rs. 20000 Cashback on Camera
UP to Rs. 20000 Cashback on Camera and Zoom card vouchers
While this is a general perception that online products are always cheaper, this is not true. In some cases, our desired product is also not listed online. So, we have to move out and visit different shops to see where the product is available.
Djinie shopping app
To solve this shopping problem, Djinie app is available. Djinie a shopping aggregator to find best deals from online and offline stores near you. What I liked is the aggregation of deals from both online and offline stores. So, you can search for best deals from both online and offline stores at the same time. So, you have freedom to either buy online or offline.
Just below each listing, you see three icons to like the product. These have the different meaning. The heart on the lamp says "I like this product. Remind me about it later." The heart on the price tag says " I like this product. Notify me when new offers for the product come on the platform." The heart on the price tag says" I like this merchant. I want to know when this merchant adds new offers." You can use these different ways of liking as per your need.
If you like a deal available in an online store, it will redirect you that online retailer's website where you can buy the product. This is something like we see in different comparison websites. You can bookmark a deal to get the notification when it becomes cheaper or unavailable. You can always check the list of likes and bookmarked products.
The concept of buying offline is very awesome and it makes this app different from other comparison apps available. You can add a product your wishlist and the product will be reserved for you for next 24 hours. It means the shop owner will not sell that product to any customer until you deny to buy it.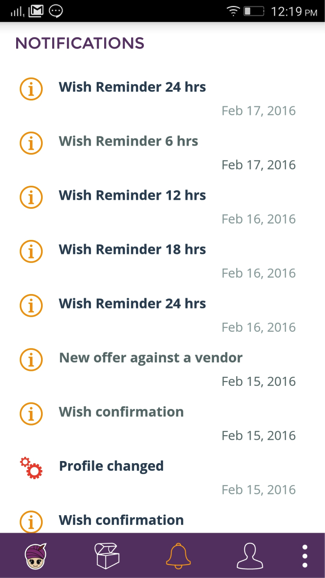 Djinie app will also send you the notifications in every 6 hours to remind you about your wished product. So, you will never forget that you wished something from an offline store and can go out to buy that.
As of now, offline shopping is available in specific locations of Mumbai. But, the company is trying to expand and add more locations as soon as possible. If you are using the app from a location where the company does not offer offline stores listing, you will only see offers from different online stores.
Best thing is that they selected the categories which we generally buy offline. With this app, you will know the exact seller and can directly visit the shop of the seller to purchase the product. So, you can save your precious time which you spend on visiting different shops to buy a product.
Download : Android
Try this app and let us know your views in comments.
---
Advertisement
---