Google Nexus 7 32 GB is Now available on Google Play for Rs. 18,999
After Nexus 7 16 GB, now Google has started selling Google Nexus 7 32 GB wi-fi only version in India via Google Play Store. Tablet is in stock and will be delivered within 2 days after booking.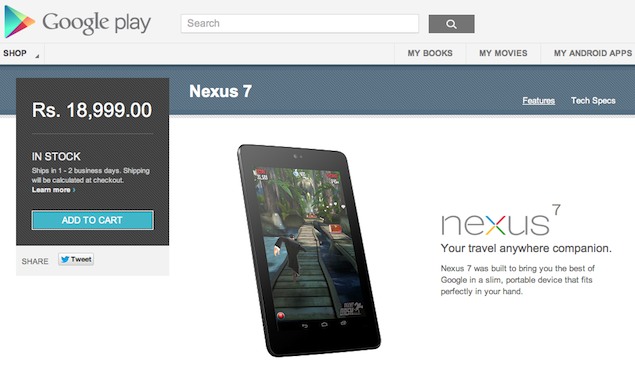 This tablet was unveiled back in June 2012 and went on sale in mid july 2012. It took 10 months to launch the tablet in India. Google Nexus 7 tablet runs on Android Jelly Bean tablet. It is powered by 1.4 Ghz Nvidia Tegra 3 quad-core processor. It features a 7 inch IPS display with 1280×800 pixels resolution. It is packed with 1 GB RAM.
For video calls, Google Nexus 7 32 GB has 1.2 megapixel camera. It is packed with 4325 mAh battery
Google Nexus 7 tablets are manufactured by Asus. Asus has already started selling 32 GB variants of Nexus 7 wifi only tablets in India for the same price. 3G variants of the tablet costs Rs. 21,999.
Currently the device is not listed under the device section in Google Play store. If you are interested in buying Google Nexus 7 32 GB tablets, you can order it from Google Play Store.