Galaxy Note 510 up for pre-orders for Rs. 30,900
Samsung Galaxy Note 510 or Samsung Galaxy Note 8.0 is now available for pre-order in India. Official Samsung e-store is taking pre-order of Samsung galaxy Note 510 for Rs. 30,900.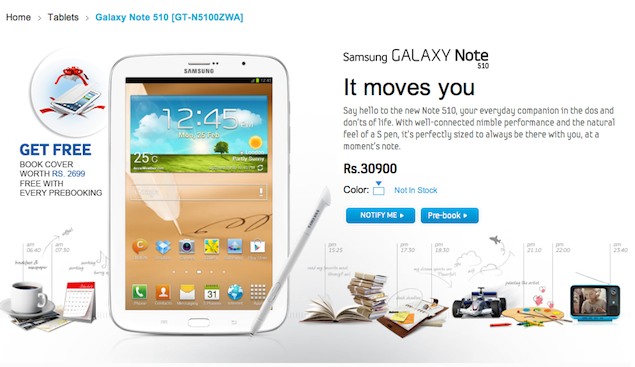 Samsung Galaxy Note 8.0 was unveiled in MWC 2013 back in February and then announced for Indian as Galaxy Note 510. It was also rumoured to come in March but delayed due to unknown reasons.
Samsung Galaxy Note 510 features 8 inch WXGA TFT display with 1280×800 pixels resolution. It runs on Android 4.1.2 Jelly Bean. It is powered by a 1.6 GHz A9 quad-core processor. It has a 5 megapixel rear camera along with a 1.3 megapixel front camera.
Galaxy Note 510 comes with 2 GB RAM and 16GB/32GB internal storage. Internal storage is also expandable up to 64 GB.
It features Wi-Fi 802.11 a/b/g/n, Wi-Fi direct, AllShareCast, Bluetooth 4.0 and USB 2.0 connectivity. It is packed with 4,600mAh battery.
Samsung Galaxy Note 510 technical specifications
8-inch WXGA display with 1280×800 pixels resolution
1.6GHz A9 quad-core processor
Android 4.1.2 (Jelly Bean)
2GB RAM
16/32GB internal storage, expandable up to 64GB  via microSD card
5-megapixel rear camera
1.3-megapixel front camera
Wi-Fi 802.11 a/b/g/n, Wi-Fi direct, AllShareCast, Bluetooth 4.0, USB 2.0
A-GPS + GLONASS (3G version only)
Accelerometer, Digital Compass, Proximity
4,600mAh battery