Motorola Mobility India Website Shut Down, Support Site is Still Sctive
Few months back, Motorola was acquired by Google in a deal of billions and then after few months of deal, Motorola started struggling. India was never a bog market for Motorola, so it decided to leave Indian market.
Few months back, It also announced to shut down its operation in India due to global restructuring. Now the Motorola Mobility website in India has been shut down with a message inside an envelop.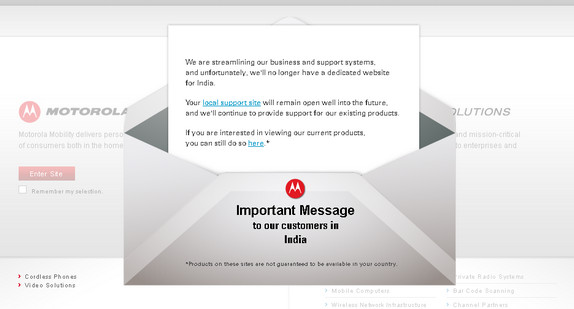 The message reads, "We are streamlining our business and support systems and unfortunately. we'll no longer have a dedicated website for India."
If you are an existing customer of Motorola, you do not need to worry. Support site is still active in case you have any repair or other issue with yout motorola phone.
"Your local support site will remain open well into the future, and we'll continue to provide support for our existing products," it says.
Company will not sell any new mobile phone in India. Only existing smartphones in retail stores are up for sale. If you are thinking to go for a Motorola phone, I will suggest to leave this thought and try some other brand.