Samsung Launches Galaxy s3 in India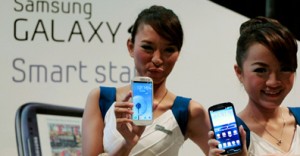 South Korean smartphone giant Samsung has launched its newest smartphone, Samsung Galaxy s3 in India. This smartphone is tagged with the price of 43,180 which is higher than Galaxy s2.
This latest Galaxy series device offers various advanced features.  Samsung galaxy s3 is runs on Android 4.0 Icecream Sandwich operating system with a default user interface TouchWiz Nature UX. It features a 4.8 inch HD Super AMOLED (1280×720) display and loaded with 8 mp high quality camera that features a zero-lag shutter speed that lets user capture moving objects without delay.
Samsung Galaxy S III features 'Game Hub' and 'Video Hub', which provide users access to various social games and high quality TV and movies, respectively.
Other features of this smartphone includes Wi-Fi a/b/g/n, WiFi HT40, GPS/GLONASS, NFC, Bluetooth 4.0(LE), Burst shot & Best photo, Recording snapshot, HDR, Recording & Playback: Full HD (1080p).
read: Samsung GALAXY S III Features and Specifications
Galaxy S 3 has a Li-Ion 2100 mAh battery which can ensures 11-hour and-40 minute talk time for the device.
This smartphone has a tagline which says, 'designed for humans'. I am confused why it is? But company says that the smartphone is made for users to make their work easy and perfect.
This smartphone also has a new feature called S voice which is similar to the iPhone's app Siri. This feature can sense when you've picked up your phone and then alerts you about the notifications through vibrations. This feature allows you to control your phone through voice, eg to turn up the volume, and to ask it questions.
Samsung has also tied up with Vodafone India to sell this smartphone in the country.
Recommended Videos