7 Best Rugged Waterproof Bluetooth Speakers Under Rs. 10000
There are plenty of Bluetooth speakers in the market and the price starts for as low as Rs. 1000. But, most of these Bluetooth speakers come with the average build quality. Bluetooth speakers are good for outdoor parties, so these must be rugged to fit your outdoor destinations. This is the reason, you must look for water and dust resistant Bluetooth speakers if you are a traveler and looking for a speaker to be with you at your travel destinations.
In this article, I am listing the Best Bluetooth speakers with Ruggedness. These are water and dust-resistant. These can even survive accidental falls.
Best Waterproof Bluetooth Speakers Under 10000 INR
These are the best Waterproof Bluetooth speakers under Rs. 10000 that are dustproof and shockproof. So you can take it with you on any kind of trip and enjoy music without any interruption. See the list below along with links to the best buy deal.
| | | |
| --- | --- | --- |
| Waterproof Bluetooth speakers under Rs. 10000 | Price | Links to Buy |
| JBL Flip 5 | Rs. 8,449 | Buy Here |
| JBL Charge 3 | Rs. 8,635 | Buy Here |
| Ultimate Ears Wonderboom 2 | Rs. 5,499 | Buy Here |
| Sony SRS-XB33 | Rs. 11,499 | Buy Here |
| Sony SRS-XB23 | Rs. 7,990 | Buy Here |
| JBL Flip 4 | Rs. 7,499 | Buy Here |
| Soundcore Anker Flare | Rs. 4,999 | Buy Here |
1. JBL Flip 5
JBL Flip 5 is a rugged power bank built for beach or pool parties. This is one of the best rugged waterproof Bluetooth speakers under Rs. 10000. It has a cylindrical design that looks good. It has nylon fabric that feels tough. It also controls buttons giving tactile feedback when pressed.
This speaker comes with 2 dynamic drivers with 20W power in each. It offers good sound and the bass is also good. The speaker produces clear mids and highs. There is no noticeable distortion even at maximum volume levels. This speaker also comes with a one-touch smart assistant feature that activates the phone's voice assistant. You can stand it vertical or horizontal and be bold with your choice of 11 vibrant colors.
This Bluetooth speaker comes with a standard splash and spill resistance due to IPX7 certification. It can be submerged under 1 ft of water for 30 minutes.  It packs a 3000 mAh battery offering up to 12 hours of music playback. The battery takes 3.5 hours in charging.
2. JBL Charge 3
JBL Charge 3 is another good rugged Bluetooth speaker under 10000 INR. The speaker comes with the solid build quality and feels very tough. It also has buttons offering tactile feedback. It has dual speakers with signature JBL sound. It also comes with clear and loud sound quality without any kind of distortion. The bass response is also good. It also has a Dual external passive radiator for good bass.
It features IPX7 certification. You can also submerge JBL Charge 3 in water.
It packs a 6000mAh Li-ion battery that offers around 20 hours of playback on a single charge. This speaker can also act as a power bank and you can charge other devices with it.
3. Ultimate Ears Wonderboom 2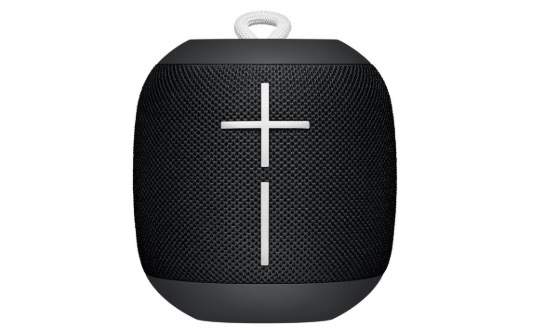 Ultimate Ears Wonderboom 2 is also an excellent Bluetooth speaker that delivers 360-degree sound. It is also IP67 rated for being water and dust-proof. It can stay in up to 1 meter of water for up to 30 minutes. It can also float on water if you drop it on a pool.
It has two 40-mm active drivers. It has clear mids, Solid bass, and excellent music quality. It is cheap but good to be your traveling companion. You can use it for poolside parties. It features Bluetooth v4.1 for wireless connectivity but lacks a 3.5mm jack or a microphone.
It offers up to 13 hours of battery life. The battery takes around 3 hours in charging.
Buy Here: Amazon
Also see: Ultimate Ears Wonderboom Review
4. Sony SRS-XB33
Sony SRS-XB33 is also a good waterproof Bluetooth speaker under Rs. 10000. It comes with a boxy and cylindrical design having solid build quality. The speaker delivers good sound with rich bass and immersive vocals. It produces accurate mids and lows sound. It is IP67 rated for being spill-resistant.
It has a dedicated Xtra Bass button that you can use as per your preference. It also has control buttons at the top offering tactile feedback. The speaker also has a button to activate the voice assistant of the phone. The speaker offers up to 24 hours of battery life if you use it at 60% of the volume.
Buy Here: Amazon
5. Sony SRS-XB23 
Sony SRS-XB23 has a deep, punchy sound with Sony extra bass speaker. It has n IP67 ratings that make it dustproof, waterproof, and washable. You can take your speaker to the beach or pool. It has a built-in mic that offers a convenient way to talk hands-free, whether it's a conference call for work or a chat with friends. You can connect to 100 compatible wireless speakers with Bluetooth to make the party more lively. The speaker has Voice Assistant that supports Google Assistant and Siri via voice assistant.
You can take it anywhere whether you're camping with friends or relaxing in the park. The compact and lightweight design of SRS-XB23 fits into your plans as easily as it fits into your bag. The speaker has up to 12 hours of battery life that will keep on playing for a long time.
Buy Here: Amazon
6. JBL Flip 4 
JBL Flip 4 is an IPX7 Waterproof speaker with durable fabric material. The dual external passive radiators demonstrate just how powerful this speaker is. It has a built-in voice assistant that accesses Siri or Google. The JBL Connect+ Technology helps in enabling the pairing of 100 JBL Speakers to make your party more lively. It has Built-in Noise and Echo Cancelling Speakerphone.
The JBL Flip 4 has a Built-in 3000mAh rechargeable Li-ion battery that has 12 hours of playtime under optimum audio settings.
Buy Here: Amazon
7. Soundcore Anker Flare 360 Degree Speaker
The Soundcore Anker Flare is a 360 Degree Speaker with Enhanced Bass and Ambient LED Light. The dual drivers arranged back-to-back in combination with passive bass radiators that provide intense all-around sound. It is driven by 2 back-to-back drivers and dual passive radiators. This speaker has bass-up technology that customizes a digital signal processor, analyzes it, and then enhances music's bass frequencies in real-time.
The speaker has IPX7 Waterproof Rating that protects brushes off spills, rain, and even complete submersion in water. It has a long-lasting battery life of 12 Hours.
Buy Here: Amazon
Read More, Best Bluetooth Speakers Under Rs. 5000
Final Words
These are a few good Waterproof Bluetooth Speakers Under Rs. 10000 with the rugged body. If you need something that is hard to break and can survive after dropping in the pool, you can select any of these. Bluetooth speakers are portable and hence these are suitable for road trips and camping. With the waterproof and dustproof design, you will feel free to carry it with you.
If you think we forgot a good product that should be on the list, you can comment below to notify us. We will add that Waterproof Bluetooth speaker under Rs. 10000 in this list after doing research.