5 Best Smartwatches for Women in India – 2018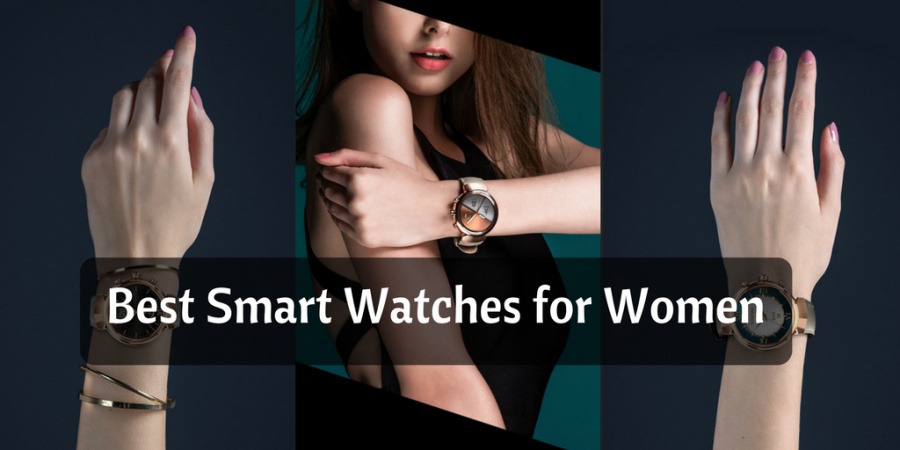 Smart gadgets are now becoming the key part of our lifestyle. Every smart gadget has its own importance in the daily routine of a person. If you are gadgets lover, you definitely agree with me. Many people thought that only men are gadgets lover and women only like make-ups. Well Hello!!! I am a girl and also a gadgets lover. Yes, we exist. We love gadgets and always curious about recent gadgets. Smartwatches are one of them. A good and suitable smartwatch always improves your personality and also makes you healthy and look smart.
From tracking calories and health fitness to attend calls, smartwatches play the very important role. If you also think that watching smartphone for every notification became too boring and also outdated, then smartwatches are for you girls. So, what are you waiting for?? Check out this list of best smart watches for women and make yourself happy with your new and best smartwatch.
Rs.3000 off on Xiaomi Mi A2 4GB + 64GB
Rs.3000 off on Xiaomi Mi A2 4GB + 64GB
Best Smart Watches for Women
This is the list of 5 best smart watches for women to buy in India. The price range for smartwatches is varying from Rs. 10000 to Rs. 40000. Buy the smartwatch that matches your personality and your budget.
1. Apple Smartwatch with Milanese Loop:

Apple smartwatch with Milanese is specially made for women. This women's smart watch is a stylish and lightweight smartwatch that is compatible with iOS-based gadgets. With a gentle tap, the Apple smartwatch alerts you when you get notifications. It has functions like Tap to Send Short, Preset Phrases Based on the Context of Message (Send an Emoji, Use Voice, Share Location), Precise Timepiece that Keeps Time to Within 50 milliseconds of the Definitive Global Time Standard, Digital Touch Feature (Sketch, Tap, Heartbeat), Moon Phases or Sunrises, Sunsets, Stock Quotes, Weather Reports and Daily Activity Tracker.
Features:
With Call Function
watchOS 3
Touchscreen
Resolution: 312×390 Pixels
Water Resistant
Heart Rate Monitor and Calorie Count
Bluetooth Support v4.0 and Wi-Fi (802.11b/g/n)
Battery life: 18 hrs
Sensors: Ambient Light Sensor, Heart Rate Sensor, Accelerometer, Gyroscope
Notifier: Messages, Calendar, Activity, Phone, Mail, Apps Alert
Compatible with: iPhone 5, iPhone 5c, iPhone 5s, iPhone 6, iPhone 6 Plus, iPhone 6s, iPhone 6s Plus and iOS 8.2 and Above
Buy Now: Flipkart
Currently, this Apple smartwatch for women is out of stock. So, you can go with Apple smartwatch series 2.
2. Motorola Moto 360 Sports Smartwatch:

If you are a fitness freak female then this moto 360 sports smartwatch is only for you. You will be happy after investing in this Sports smartwatch as this smartwatch is only for Rs. 15999 with almost all the features of expensive smartwatches. The battery of this women's smartwatch lasts for up to 1 whole day with the 'Ambient' setting. You just need an Android phone running Android 4.3 or higher or iOS 8.2 or higher that supports Bluetooth for this smartwatch. Its amazing features make it one of the best smart watches for women.
This smart watch has no calling function.
Features:
512 MB RAM

Android 4.3+, iOS 8.2+

GPU: Adreno 305 With 450 MHz
Internal Memory: 4 GB
Built-in GPS for route tracking
Optical Heart Rate Monitor
Water protection IP67 (Water Resistant)
Bluetooth Support and Wi-Fi Version: 802.11 b/g
Touchscreen
Used for: Fitness & Outdoor
Sensors: Accelerometer, Ambient Light Sensor, Gyroscope, Vibration / Haptics Engine, Heart Rate Sensors, Barometric Altimeter
Battery Capacity: 300 mAh; Wireless Charging
Battery life: Up to 1 full day of mixed use with Ambient on
Compatible with Android Smartphones and iOS
Check this List of Best Smartwatches Under Rs. 5000
Also Read: 6 Best Smart Watches For Men to Buy
3. ASUS ZenWatch 3 for girls

The Asus WI503Q-SL-BG ZenWatch 3 is a smartwatch with a sexy look. The look and feel are trendy. It has an annular solar eclipse design with meticulously fashioned from jewelry-grade 316L Stainless Steel and Diamond-cut Bezel that makes it best for women. It is IP67 Water-resistance and has Rating Hypercharge Technology which charges the smartwatch in 15 minutes from 0% to charge 60%.
This Asus ZenWatch has no calling function.
Features:
1.39″ AMOLED display
Android Wear Version 1.5
Internal: 4 GB
RAM: 512 MB
2.5D Corning Gorilla Glass 3
Touchscreen
Water Resistant
Selfie, Music control, Google search through voice
Sensors: 6-Axis (G+A), Ambient Light Sensor
Connectivity: Bluetooth 4.1 + Wi-Fi
Battery 340 mAh with Quick-charge, runs up to 2 Days
Compatibility: iPhone, Android Smartphones (Android 4.3 onwards, iOS 9.3.1 onwards)
4. Samsung Gear S2 Smartwatch – Classic Rose Gold for women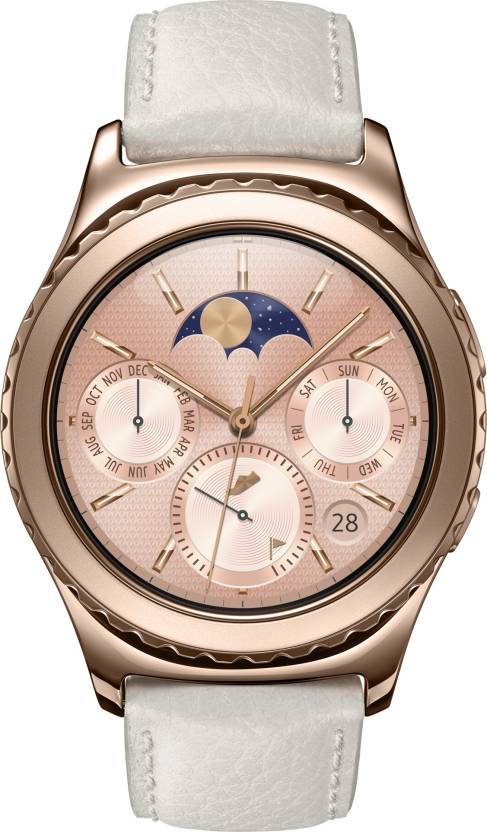 Samsung Gear S2 smartwatch has a sleek design and a Circular UI. The rose gold look of this smartwatch is especially for women. It is powered by a 1 GHz Dual-Core processor and has 512 MB RAM. This Samsung smartwatch has S Health app which monitors heart rate, your caffeine intake and activity levels. This helps a girl to track her daily routine to maintain the figure. It is IP68 certified so it's safe from water splashes or sweat during workouts.
The battery of Samsung gear S2 lasts for up to two days. It also has a power save mode to extend its battery life. It has call function.
Features:
sAMOLED display
RAM: 512 MB
1 GHz Dual-Core processor
Touchscreen
Water Resistant
Call, email and Text Notification, Phone Finder, Heartrate Monitor, Media Control – Music & Photos
Connectivity: Bluetooth 4.1, NFC, Wi-Fi 802.11 b/g/n
With Call Function
Internal memory of up to 4 GB; Available Memory: 1.9 GB
Battery 250 mAh, runs 10 hours to 1.5 days
wireless charging
Sensors: Accelerometer,Gyro,Heart rate,Barometer
Compatibility: all Samsung Galaxy smartphones, Android smartphones v4.4 onwards
5. Pebble Time Round Smartwatch for Women

Pebble time round is the world's lightest and thinnest smart watch. The look and feel of this smart watch are perfect for a female. It has e-paper display which is always on. You can easily check notifications, incoming calls, texts and your calendar. It has a battery life of up to 2 days with fast charging feature. You can easily track steps and sleep with this smartwatch.
Feature:
World's lightest and thinnest smart watch
Includes Pebble Health, a built-in activity, and sleep tracker
Music Control
Splash resistant
2.5 scratch resistant gorilla glass
Timeline calendar alerts, notifications, and silent alarms
Connectivity: Bluetooth
Battery life: up to 2 days; fast charging
Compatibility:  Android 4.0.3 or higher and iOS 8 or higher
Buy Now: Amazon
These are the 5 best smart watches for women in India. We will be happy if we help you in finding your best smart watch for women and if your search ends here. In case you know about any other best smart watch for the woman, do tell us. We will add it here with credit after doing research. Stay beautiful and stay updated. 🙂