5 Best Apple Watch chargers, stands & docks
Apple Watch is the best smartwatch available in the market. It comes with a charging cable with a magnetic puck to charge Apple Watch. If you have lost the charging cable and are now looking for a good Apple Watch charger or charging dock, there are several options to select from. There are several products on different online retailers and it leads to confusion about what to select. For charging Apple Watch, there are four different options. You can get an Apple Watch Charging Cable, Charging Stand, Portable Watch Charger, and Charging Dock. Before you buy something to charge your Apple Watch, you need to know the difference between different Apple Watch charging options.
Apple Watch Charging Cable:
The Apple Watch Charging Cable is the standard charging accessory that comes bundled with the Apple Watch when you purchase it. It's a simple cable with a magnetic charging puck on one end and a USB connector on the other end. You can plug the USB end into a power source (like a computer USB port or a USB power adapter) and the magnetic charging puck attaches to the back of the Apple Watch for charging. It is not a standalone charging solution and requires a power source to function.
Apple Watch Charging Stand:
An Apple Watch Charging Stand is a device that holds the Apple Watch in a specific orientation while charging. It typically has a built-in charging connector or a slot where you can place the charging cable and magnetic puck to charge the watch. The stand keeps the watch in an upright position, making it easy to see the watch face or use the Nightstand mode (if supported) while it charges. Charging stands may come in various designs, materials, and features.
Portable Apple Watch Charger:
A Portable Apple Watch Charger, also known as a Portable Apple Watch Power Bank, is a compact and portable battery pack specifically designed to charge an Apple Watch on the go. It usually includes a built-in magnetic charging puck or a dedicated connector that attaches to the watch for charging. These portable chargers allow you to charge your Apple Watch without the need for a wall outlet or a computer, making them great for travel and outdoor activities.
Apple Watch Charging Dock:
An Apple Watch Charging Dock is a more comprehensive charging solution that often combines the features of a charging stand with added functionality. It typically includes a built-in charging cable or magnetic puck, allowing you to charge your Apple Watch while it is docked. Additionally, some charging docks have extra USB ports or wireless charging pads for charging other devices like iPhones or AirPods. They can serve as a central hub for charging multiple devices simultaneously.
The main differences are in their form and function: the charging cable is the basic cable that comes with the watch; the charging stand provides an upright position for the watch while charging; the portable charger is a battery pack for charging on the go; and the charging dock is a more comprehensive solution with extra features and sometimes supports charging multiple devices. Now that you know the difference, you can easily select one that suits your need. In this article, I am making a list of the Best Apple Watch chargers, stands & docks. The list includes all types of Apple Watch chargers.
Apple Watch chargers, charging stands & docks
1. SYSTENE Smartwatch charger
SYSTENE Smartwatch charger is the replacement for Apple Watch charging cable. It works the same way and is relatively inexpensive. This product is also M Certified to ensure safety. It supports all the Apple Watch series models. The charging cable also has built with over-current, over-voltage, short-circuit, and over-temperature protection. This is a 2 in 1 charging cable that also has a Lightning cable to charge your iPhone. So, you can use this single charger to charge your Apple Watch and iPhone.
Buy Amazon
2. Zitel Charge Stand
This is a good dock station for Apple Watch. It supports all the available Apple Watch models. The charging stand has a soft silicon base that can hold the stand against slipping. It is made of durable TPU material that is sturdy and lightweight. You can also easily carry it. It comes with a good design and solid build. The nonslippery base makes it even better. This charging stand works fine and charges Apple Watch.
Price: Rs. 399
Buy Amazon
3. Spigen Night Stand Dock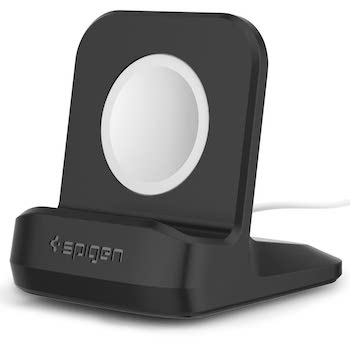 Spigen Night Stand Dock is another impressive Apple Watch charging dock designed for the Apple Watch series. The dock has a bottom Spigen Night Stand Dock for stability and protection. It also has an open cutout for easy usability with a watch and charger. You can place the Watch with the strap open or closed. It is worth noting that a charger is not included in it. It only comes with the dock.
Price: Rs. 899
Buy Amazon
4. Eachbid Charging Holder Dock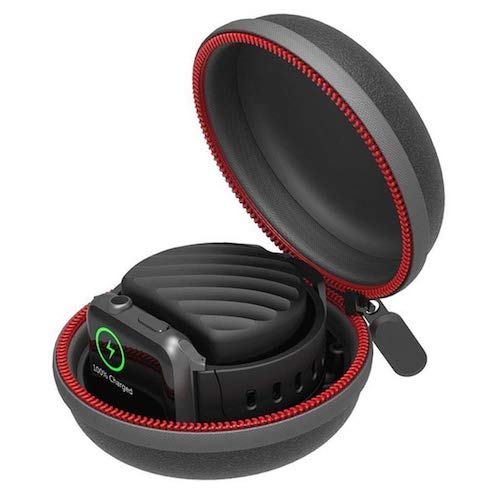 This is a compact charging holder dock compatible with Apple Watch. It is a case where you can put Apple Watch. The outer surface of the shell is sturdy and can protect your watch from bumps and falls. It has space inside the case to put your watch and it magnetically charges your watch. You can store the watch inside the case and charge your watch. You can also attach the case to your bag through a small carabiner.
Price: Rs. 599
Buy Amazon
5. Powerup charging dock
Powerup charging dock is also compatible with Apple watches. It has a small round grip at the base that prevents slipping. It won't drop the watch even if there is an incoming vibrating call. The dock is made of Silicone. It has a compact design. The charging dock works fine. You can also consider it if you are looking for a good Apple Watch charger.
Price: Rs. 599
Buy Croma
Wrap Up
Now that you have a list of the best Apple Watch charging cables and docks, you can select one based on your preferences. All the products listed here are worth paying for. It all depends on your choice and preferences. If you can pay, you can purchase the Apple original charging cable for the Apple watch. For inexpensive option, you already have the list.