6 Best Mechanical Keyboards in India
People who are typists or gamers love having Mechanical keyboards. The reason for preferring mechanical keyboard is fast and accurate switches, durability, and of course the clicking sound of keys. If you spend most of your time typing, coding, or gaming, a mechanical keyboard is recommended over the cheaper and less comfortable keyboards.
Mechanical Keyboard is the type of keyboard that has switches under the keys. These switches are made of moving parts. Here's a GIF explaining how a mechanical switch registers keypress.
Mechanical keyboards offer better build quality and are more durable than the regular membrane keyboards. This is the reason, Mechanical keyboards also cost higher. There are also several different types of switches these keyboards use. You may have heard Cherry MX Black, Cherry MX Brown, Cherry MX Blue, Cherry MX Brown, and similar names. I will talk about mechanical keyboard switches in different articles. In this article, I am listing the best mechanical keyboards available in the Indian market.
Best Mechanical Keyboards in India
Here is the list of best Mechanical Keyboards available in India. Some of these mechanical keyboards come in multiple switch types. So choose it while purchasing.
| | | |
| --- | --- | --- |
| Mechanical Keyboards | Price | Buy Here |
| Razer BlackWidow Chroma V2 | Rs. 17,999 | Buy Here |
| Corsair K95 | Rs. 16,999 | Buy Here |
| HyperX Alloy Elite | Rs. 10,999 | Buy Here |
| Das Keyboard 4 Professional | Rs. 38,155 | Buy Here |
| Logitech G613 | Rs. 7,200 | Buy Here |
| Zebronics Zeb-Max Pro | Rs. 3,699 | Buy Here |
1. Razer BlackWidow Chroma V2
Razer is known for gaming accessories and Razer BlackWidow Chroma V2 is the mechanical keyboard for gamers. This mechanical keyboard comes with excellent RGB lighting, great design, and Razer mechanical switches. Razer switches are rated for 80 million keystroke life span. Along with regular 104 keys, there are also 5 additional dedicated macro keys. The keyboard boasts 10 key roll-over anti-ghosting and 1000Hz Ultra polling.
Razer BlackWidow Chroma V2 also comes with individually programmable backlit keys with 16.8 million color options. You can easily set the lighting using Razer Synapse. The keyboard has been designed to keep comfort in the mind. It has a wrist rest for offering comfortable usage.
Razer claims that the keyboard is for both work and gaming. If you code by day and game by night, you should prefer this one.
Buy Here: Amazon
2. Corsair K95 RGB Platinum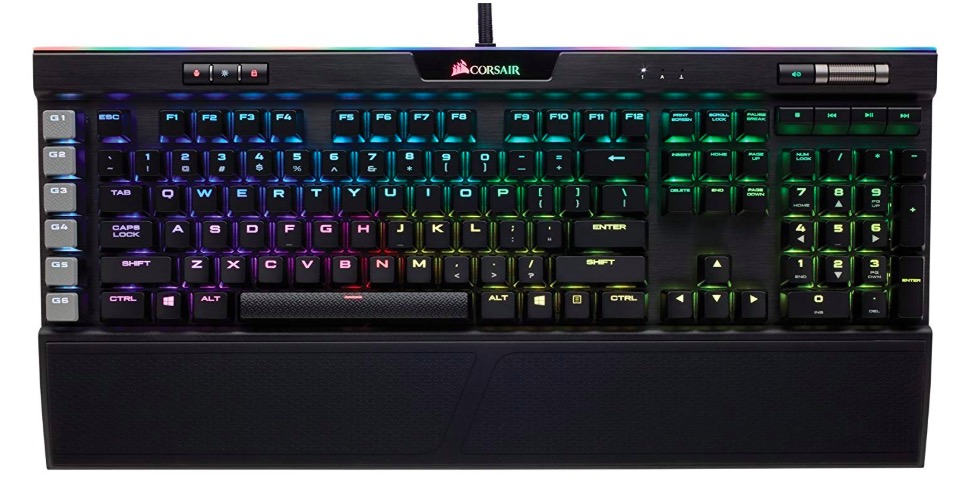 Corsair K95 is one of the most popular mechanical keyboards among gamers. The keyboard features Aircraft-grade anodized brushed aluminum and offers a solid build quality. There's also an armrest to give you comfort. Along with regular keyboard keys, it also has 6 programmable g-keys keys for in-game macros. The keyboard has Cherry Mx keys and you have options to choose from Cherry Mx Brown and Cherry Mx Speed. Keys are highly responsive making it good for gamers.
This mechanical keyboard has N-Key RollOver and features 1000Hz Keyboard Report Rate. It also has 8MB onboard memory. So, it can save you CUE profiles.
The keyboard has a 19-zone light bar to deliver dynamic and vibrant lighting effects. You have unlimited customization options.
3. HyperX Alloy Elite
HyperX is the gaming brand by Kingston. HyperX Alloy Elite is one of the most popular mechanical gaming keyboard. It comes in different mechanical keys like Cherry Mx Blue, Cherry Mx Brown, and Cherry Mx Red. It features 100 percent anti-ghosting and N-key rollover. The keyboard has a 104 keyboard layout with dedicated media buttons.
This mechanical keyboard features a unique light bar and six dynamic lighting effects. It has a solid steel frame to offer durability and stability. There's a comfortable detachable wrist rest.
Buy Here: Amazon
4. Logitech G613
Logitech G613 is also an excellent Bluetooth mechanical keyboard. If you want a Bluetooth keyboard, this one should be your choice. Logitech G613 can be used for gaming and regular typing. It has a solid design and offers excellent gaming and regular typing. There's no backlighting and it could be a letdown for many. Build quality is good and it also has an arm test.
It features Romer-G Switches rated for 70 million keystrokes. It also has six macro keys on its left. The keyboard has on-board profiling options for the macro keys and you can use Logitech's desktop gaming software for programming multiple profiles. There are also dedicated media control buttons. It runs on 2 x AA batteries and promises 18-month battery life.
Buy Here: Amazon
5. Das Keyboard 4 Professional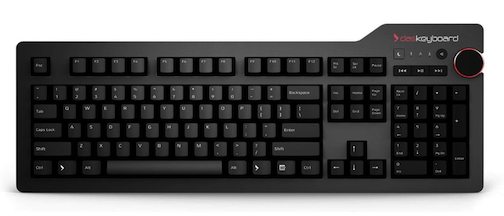 Das Keyboard 4 Professional is costly because is premium. The keyboard is for professionals who want an excellent typing experience. This mechanical keyboard features a standard 104-key layout with multimedia keys at the top. There's also an attractive dial to control the system volume. The keyboard also boasts a full n-key rollover. That means you can press as many keys as you want. Even if there's no fancy RGB light, this keyboard can still be used for gaming.
The keyboard has gold-plated Cherry MX keys that are rated to last more than 50 million keystrokes. It comes in Cherry MX Brown and Cherry MX Blue switches. Get one depending on your interest. Keys feature Das Keyboard font that looks good and is easier to read. The keyboard has good ergonomics and aesthetics. It has an anodized black aluminum top panel. The USB cable also ends in two USB connectors. One is for connecting the keyboard to the system. The second one enables the USB hub. The keyboard has a two-port USB hub for connecting other devices and data transfer.
Buy Here: Amazon
6. Zebronics Zeb-Max Pro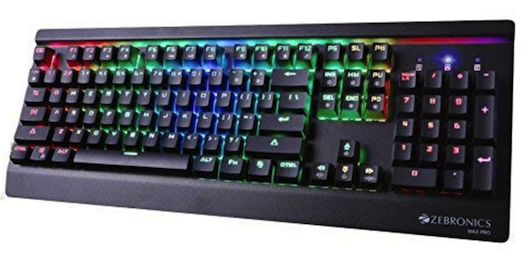 Zebronics Zeb-Max Pro for those who want an affordable mechanical keyboard. This keyboard is priced at less than Rs. 4000 but performs well. This is a full-size mechanical keyboard with an RGB LED backlight. It has 104 keys and 12 multimedia keys. The mechanical keyboard offers tactile feedback for excellent typing and gaming experience. It has string aluminum design and has a durable build quality.
The keyboard uses custom mechanical switches rather than Cherry switches but it offers the same kind of mechanical feel and clicky sound. It has a polling rate of 1000Hz. The keyboard has RGB lighting and you can use the function key to cycle between RGB color modes.
Buy Here: Amazon