20+ Best Gifts for PC Gamer
If you are thinking to buy a gift for a friend who is seen playing PC games most of the time, you need to pick the right thing. A person who is into gaming will love to have something related to gaming. This is the reason, I am writing this article with a list of gift ideas for a PC gamer friend. You can pick one of these products as a gift to give your PC gamer friend a smile he/she deserves.
I am adding several options for a product to give you options in different price segments. Before you go and buy a product that suits you, consider what will suit your gamer friend. This is really important. It is because a person who is into gaming for years may already have a high-end setup with a good mousepad, mouse, and other accessories. Gifting an entry-level basic gaming accessory won't make much sense.
1. Mouse Pad with RGB lighting
PC gamers use a good quality mouse pad for accurate tracking of their movies. Now several gaming mouse pads also come with RGB lighting that can be synced with their PC setup's RGB lighting. Gamers love RGB, so they desire to have a good mouse pad with RGB lighting. Here are a few options to consider.
a) Razer Firefly V2
Razer Firefly V2 is a hard surface mouse mat with Chroma RGB lighting. The mouse pad has a microstructured surface to offer pixel-precise tracking. There is also a surface caring for fast and controlled playing styles. Lights have been integrated at the edges that look really good. Razer is also a notable gaming accessories brand. This is a good gifting option for a person who owns a high-end gaming setup.
Price: Rs. 4449
Buy Here: Amazon
b) AmazonBasics Hard Gaming Mouse Pad with LED Lighting Effects
This is a cheaper option and can be a good gift for a budding gamer. I am saying budding gamer because a person with years of gaming experience won't like this cheap mouse pad because he/she may already have a better mousepad. AmazonBasics gaming mouse pad is a good one and offers precision and speed. It has a non-slip rubber base for stable placement. It has LED lights at the edges with 3 color-changing LED lighting effects and 7 static colors.
Price: Rs. 1999
Buy Here: Amazon
2. Cool mechanical keyboard
Mechanical Keyboard is important for PC gaming. Most gamers get one for their gaming setup. Mechanical keyboards with RGB light are popular among gamers. What can you gift? There are some cool mechanical keyboards. Here I am listing some cool-looking mechanical keyboards.
a) Ducky One 2 Tuxedo

Ducky One 2 Tuxedo is a cool mechanical keyboard with a dual-color bezel design. It has Cherry MX keys and comes with a detachable USB Type-C cable. The keyboard comes with a sleek design and has an independent keyboard indicator light. It also has 3 level angle adjustment stand.
Buy Here: Meckeys
b) Docooler CK62
This is another cool mechanical keyboard with minimal design. It can be used as both a wired and Bluetooth keyboard. The keyboard has an RGB backlight and 19 lamp effects. It has 62 keys,
Buy Here: Amazon
3. WebCam
PC gamers who stream their gameplay need a reliable webcam to show their face while gaming. So, a good webcam will also be a good option.
Logitech C922 Pro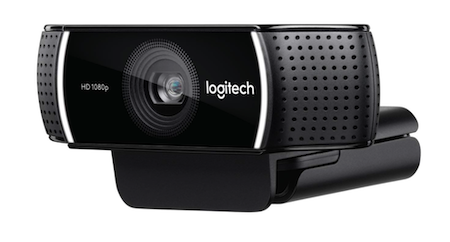 Logitech C922 Pro is an excellent webcam for those who into streaming. This webcam can stream HD 1080p/30fps or HD 720p/60fps. This webcam records and streams razor-sharp clear video. It has several notable features like background replacement using personify, automatic low-light correction to voice flickering room lights, adjustable clip, tripod mouse, and two mics. With two omnidirectional mics, it also records stereo audio from every angle.
Price: Rs. 9799
Buy Here: Amazon
4. Gaming Chair
A person who spends hours playing games should use a comfortable gaming chair to avoid back pain. Gaming chairs help in maintaining good posture and offer hours of comfortable gaming.
Ant Esports – GameX Royale
Ant E-Sports offers a good gaming chair with metal construction and High-Density Mould Shaping Foam. This chair can support up to 113 KG of weight and comes with a 1-year warranty.
Price: Rs. 15,999
Buy Here: MD Computers
Also see: Best Gaming Chairs For PC Gamers
5. Gaming Glasses
Gaming Glasses block harmful blue light coming from the monitor. People who spent hours in front of monitors should have a good glass to protect their eyes. Gamers need a good gaming glass to reduce eye strain and protect their vision.
a) Killer Eye Blue Light Blocking Glasses
This is a good gaming glass to protect eyes from Eyestrain. It blocks harmful UV rays and reduces eye strain.
Buy Here: Amazon
b) Killer X Anti Glare Computer Glasses
This one is a zero power Anti Glare glasses that fits all face types. It blocks harmful UV rays and blue light to protect your eyes.
Buy Here: Amazon
6. Gaming Headset Stand
Gaming Headset Stand is a better gift for the gamer friend than anything else on this list. Especially for an experienced gamer because he may already have everything for his gaming setup. Not many gamers invest in a headset stand. So, you can consider this one.
Razer Base Station Chroma HeadPhone/headset Stand
As I already said, products from the Razer brand always bring a big smile to the gamer's face. So, you may consider this one. It is made of high-grade plastic and looks really good. The reason for the high cost is the built-in USB 3.0 hub.
Price: Rs. 6999
Buy Here: Amazon
Redragon Scepter PRO HA300
If you think the gaming headset from Razer is costly, you can pick this one. Gaming headset doesn't affect gaming performance, so you can buy Redragon Scepter PRO HA300 even for an experienced gamer with a high-end setup. Redragon Scepter PRO HA300 also has RGB lighting and comes with a good design.
Price: Rs. 1699
Buy Here: Amazon
Also see: Best Gaming Headset Stands
7. Steam Wallet Code
Steam is a popular game store most people use to download and purchase games. Steam wallet code provides steam balance. The person can redeem the wallet code to get a balance on the Steam account and use the balance to purchase games and other items from Steam.
Buy Here: Amazon
8. Gaming T-Shirt
Gamers love wearing cool T-shirts. You can consider buying a cool T-shirt with a gaming caption.
a) NoLogo Gaming Black T-Shirt
b) GAMER T-SHIRT
c) Play Till Death Gaming T-Shirt
d) Gamer T-Shirt
9. Coffee Mug
There are several Coffee Mugs with gaming themes. You can select one as a gift for your gamer friend.
a) Circean Traders Ceramic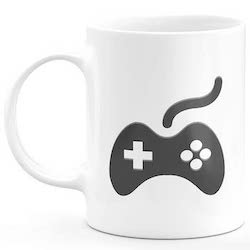 b) Ohio Printed Black Ceramic Coffee Mug