4 Best Bluetooth Earphones Under Rs. 1000
We have made several lists of earphones under different price segments. Recently, I realized that budget wireless earphones are now worth enough to recommend. So, I decided to make a list of best wireless earphones under Rs. 1000. If you are looking for a budget earphone, you should check this list of best Bluetooth earphones under Rs. 1000. I am not making a big list because there are not many good options available. But you can trust this list and get a good Bluetooth earphone for you in the budget.
If you ask a single recommendation from me, I will tell you to buy Digitek DBE 008. I recently reviewed it also found it impressive. For other options, check the list of Bluetooth earphones under 1000 INR.
Up To Rs. 23,000 off on Apple Product
Shop at the Apple Days
Also see: Best Earphones Under Rs. 1000
Wireless Earphones Under 1000 INR
1. Digitek DBE 008
Digitek also has a good range of budget Bluetooth earphones and several models are priced less than Rs. 1000. Digitek DBE 008 is the best one to go with and it is also now available at less than Rs. 1000. Digitek DBE 008 has a solid build quality and features magnetic absorption buds. So, it won't hang around. You get a comfortable fit.
This earphone offers good music experience. It also has buttons to control audio, sound and tracks, You can also take calls and access the digital assistant of your phone.
The most notable feature of this earphone is its battery life. It offers more than 20 hours of battery backup and you may end up using this earphone for more than 3-4 days on a single charge.
I also reviewed Digitek DBE 008. If you want to know about it in detail, read Digitek DBE 008 review.
Tech Specs
Drivers: 10mm
Output Power: 3mW x 2
Working Distance: 10 Meter
Noise Cancellation
Bluetooth 5
Impedance: 32 Ohms
Frequency Response: 20Hz – 20KHz
Battery Capacity: 280mAh
Price: Rs. 949
Buy Here: Amazon
2. Xmate Mana
Xmate Mana is the one that I recently reviewed. It impressed with its battery backup and sound experience both. Xmate Mana comes with the impressive build quality and is IPX6 rated for being water and dust resistant. It offers a secure fit and the quality of the wire is also good. Earphone also fits properly.
It has a Qualcomm CSR chipset and features Bluetooth v4.2. It works really good and offers a good music experience. The earphone produces a balanced sound and has good bass.  It also has an in-built microphone for hands-free calling. There are also in-built music control buttons. A fully charged Xmate Mana offers over 10 hours of battery backup even if it is officially rated for 8 hours of backup. So, you are not compromising anything.
Read: Xmate Mana Review to know more about this earphone in detail. You can also watch the video added below for the full review.
Tech Specs
CVC noise canceling
Qualcomm CSR chip
Driver size: 14.2 mm
Impedance: 32 ohms
Frequency: 20Hz-20KHz
Sensitivity: 101(+/-4) dB
Bluetooth v4.1
IPX6 Rated
Battery: 8 hours
Price: Rs. 899
Buy Here: Amazon
3. Leaf Sport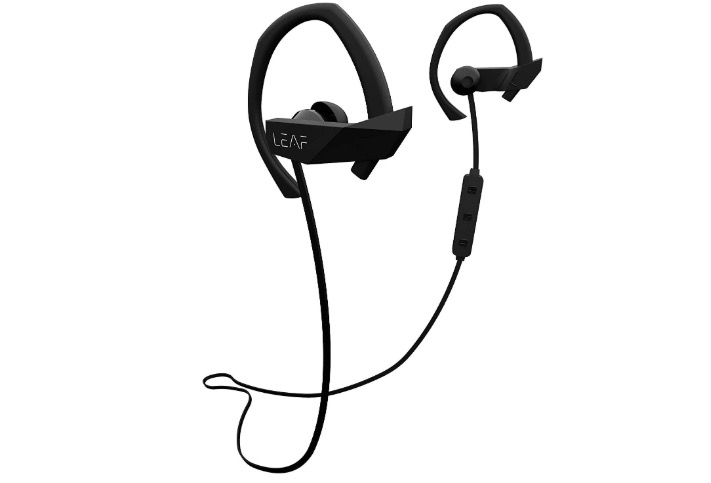 Leaf Sport is another goof wireless Bluetooth earphone you can buy in the price range of Rs. 1000. Leaf Sport is a good option for music lovers who do not want to invest much but need a Bluetooth earphone. It offers a stereo sound that will surely impress you. It looks a bit bulky and will cover your ear. Not all people like this kind of design. There are inline control buttons that let you control music, tracks, and volumes.
It also has a mic for hands-free calls. You can accept or reject calls using the inline buttons. You can also access to voice assistant of your phone using the earphone. It works fine with both Android and iOS devices. So, you can use Google Assistant or Siri depending on what phone you are pairing with it. Leaf Sport offers 6 hours of battery backup and it takes 1.5 hours in charging its battery.
Tech Specs
Impedance: 32 ohms
Frequency: 20Hz-20KHz
Sensitivity: 101(+/-3) dB
Bluetooth v4.1
IPX4 Rated
Battery: 6 hours
Price: Rs. 999
Buy Here: Amazon | Paytm Mall | Flipkart
4. PTron Intunes Evo
PTron Intunes Evo is also a good Bluetooth earphone with mic. It has a Sweatproof design and is lightweight. It is good for daily activities and won't come out until you remove it. It offers a good fit. It has a magnetic design that keeps earbuds together when not in use.
The earphone features a 10 mm driver that perform well and the music experience is really good. It supports Hi-Fi Music. It features Bluetooth v5.0. The music experience is fine and it offers good sound experience. It also has a built-in microphone, so you can take calls.
Battery backup is not good as it offers just 3 hours of music on a single charge. If you want good battery backup, go with Xmate mana. 
Tech Specs
Hi-Fi Sound
Speaker Output Power: 3mV
Driver size: 10 mm
Impedance: 16 ohms
Frequency: 20Hz-20KHz
Sensitivity: 104(+/-3) dB
Bluetooth v5.0
Built-in microphone
Battery: 3 hours
Price: Rs. 649
Final Words
We have listed the best Bluetooth earphones under 1000 INR. You can buy any of these but I personally recommend Xmate mana that offers good music experience along with good battery backup. Not many options are there in this segment and I do not recommend you to compromise with music, instead buy a wired earphone. This is the reason, this list is small. But all the options listed here are worth their prices.
If you know any other good Bluetooth earphone of this segment that I missed, let me know using the comments and I will surely consider that for the list.