7 Best Ambidextrous Gaming Mouse
Having a good mouse is really important for gamers. So, gamers search for a comfortable mouse with a reliable sensor for gaming. The only issue here is the most companies launch mice for right-handed people. So, additional keys are added on the right side to reach using the thumb of the right hand. Around 8% of the world population is lefty and they need a mouse they can comfortably use from the left hand. Some gaming product companies have also launched ambidextrous gaming mice that can be used by left-handed and right-handed people with equal ease. These gaming mice have a design suitable for both hands and additional keys even for left-handed gamers. If you are looking for a good ambidextrous gaming mouse or a good gaming mouse for left-handed people, keep reading.
Also see:
Best Ambidextrous Gaming Mouse
1. Logitech G903
Logitech G903 is costly because it is a wireless gaming mouse. If you want, you can also use it as a wired mouse. The mouse has an ambidextrous design that makes it suitable for both left- or right-handed gamers. It also has configurable buttons on the left and right sides. DPI ranges from 200 to 12000. The gaming mouse comes with a PMW3366 optical sensor that promises accurate tracking. Like most gaming mice, it also comes with RGB lights. There's also a Multifunctional scroll wheel and additional buttons at the top. It also features Customizable weight. You can add an extra 10g of weight.
Price: Rs. 16999
Buy Here: Amazon
2. SteelSeries Sensei
SteelSeries Sensei is a good left-handed mouse for gamers. It comes with an ambidextrous design so right-handed gamers can also use it. This is a wired mouse with extra keys on both left and right sides. The mouse is large and is suitable for people with medium to large hands. It offers good tracking performance and also features RGB lighting. DPI ranges from 100 to 12000 DPI It also has a report rate of 1 ms. You can customize keys and light using the companion software.
Price: Rs. 8252
Buy Here: Amazon
3. Razer Lancehead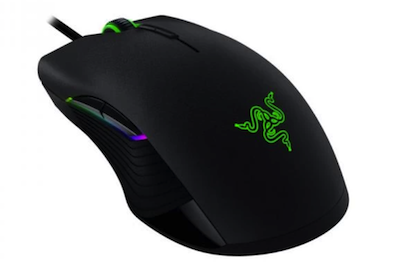 Razer Lancehead is a direct competitor to SteelSeries Sensei. Razer Lancehead is an Ambidextrous mouse with an optical sensor. This mouse boasts to be for eSports players who need an accurate tracking and comfortable experience. It has 8 programmable buttons that can be configured using Razer Synapse. Mechanical mouse switches support up to 50 million clicks. DPI range is up to 16,000 DPI. It also has 1000 Hz Ultrapolling.
Price: Rs. 7699
Buy Here: MD Counters
4. Razer Viper
Razer Viper another good ambidextrous mouse that can be used by both right-handed and left-handed gamers. The mouse has 16K DPI optical sensor that promises accurate tracking. The mouse keys are made to last longer (up to 80 million clicks). It also has Chroma RGB light that supports 16.8 million color combinations. Razer Viper has a max DPI of 16000 and 1000 Hz polling rates. This gaming mouse also has 8 Programmable Buttons that can be configured through Razer Synapse 3.
Price: Rs. 5499
Buy Here: Amazon
5. Asus ROG Pugio
Asus ROG Pugio is a good gaming mouse with an ambidextrous mouse. This mouse also has configurable side buttons. Primary buttons use Omron switches rated for 50-million-clicks. The optical sensor has up to 7200 DPI and promises accurate tracking. It also has good looking RGB lighting zone that can be controlled using the ROG Armoury interface. It has both a DPI button and a DPI indicator. The mouse also lets you easily change switches to vary click resistance. You can also replace worn or broken switches. Changing switches is really easy and Asus offers an easy-to-understand guide for that.
Price: Rs. 5615
Buy Here: Amazon
6. Corsair M55
Corsair M55 is a low-cost option for those who are looking for an ambidextrous gaming mouse. It is a comfortable mouse with a proper grip. The mouse has a high-accuracy optical sensor offering 12,400 DPI. Buttons are rated to feature 50 million clicks. It has programmable buttons on both sides. So it is suited for both left and right-handed gamers. Use these buttons for in-game advantages. The logo on the mouse has RGB lighting using the iCUE software.
Price: Rs. 2999
Buy Here: Amazon
7. Lenovo Legion M300
Lenovo Legion M300 is the cheapest ambidextrous mouse designed for left-handed people. It has programmable keys on both left and right sides of the mouse. Use side keys on what hand you use to hold the mouse. It has up to 8000 DPI and a 1000Hz Polling Rate. The mouse also has a customizable RGB on the legion logo and textured soft side grips. This gaming mouse is designed for comfort and is ideal for palm and claw grip users.
Price: Rs. 1749
Buy Here: Amazon
Wrap Up
This was a list of the best ambidextrous mice available in India. If you want an ambidextrous mouse or a mouse for left-nad use, you can consider getting any of these gaming mice. Logitech G903 is the only wireless gaming mouse on this list but it is also a costly one. I have also included a budget ambidextrous Gaming Mouse. So, you can select one depending on your budget.
Do you really need a gaming mouse?
Yes, you do. The gaming mouse is designed to be more responsive than a normal mouse. Gaming mouse also offers accurate tracking and more controls.