5 Best Gaming PC Cabinets under Rs. 3000
If you are making a custom gaming PC, you might need a good cabinet. If you have already invested much in buying a powerful CPU and GPU, I don't recommend you to buy a costly PC cabinet. You can get a good gaming PC cabinet in less than Rs. 3000. In this article, I am listing the best gaming PC cabinet under 3000 INR. This budget is enough to buy a good gaming PC cabinet with a solid body and fancy RGB lights.
While buying a PC cabinet, you need to take care of a few things. These are build quality, looks, dust protection, Fans and vents, space of additional drives, and USB 3.0 support. I have considered all the important factors while listing the best gaming PC cabinets under 3000 INR.
Best Gaming PC Cabinet under Rs. 3000
Here is the list of best gaming PC cabinet under Rs. 3000.
| | | |
| --- | --- | --- |
| Cabinets under 3000 INR | Price | Buy Here |
| Corsair CC-9011050-WW | Rs. 2999 | Buy Here |
| Ant Esports ICE-200TG | Rs. 2879 | Buy Here |
| Antec NX200 | Rs. 2629 | Buy Here |
| Zebronics Zeb-Demeter | Rs. 2599 | Buy Here |
| CHIPTRONEX MX1 | Rs. 2399 | Buy Here |
1. Corsair Carbide Series CC-9011050-WW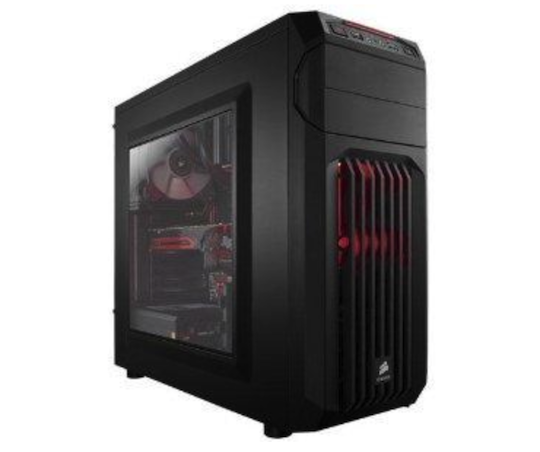 Corsair is a known gaming brand offering different gamine products. It also has some good gaming PC cabinets with cool design. Corsair Carbide Series SPEC-01 is a mid-tower gaming case with good looking design and durable construction. It has red LED lights at the front to make in even more beautiful. It has a huge side panel window to get more air inside. You can add a second 120 mm fan or even dual 140 mm fans for even better aid cooling. It has several mounting points, so you can add up to five fans. There are multiple driver bays and front USB 3.0 connectors.
Buy Here: Amazon
2. Ant Esports ICE-200TG
This is also a cool mid-tower gaming cabinet with RGB lights. It has an RGB front panel with an LED control button and a black glossy finish. The transparent side gives a glimpse of internals. The cabinet has 5 places to add cooling fans. It is compatible with all mainstream hardware. The cabinet not just looks good but also has a durable body with a proper cooling mechanism. It supports 2 x HDD< 2 X SSD, 1 Flashcard reader, ATX, micro ATX, and mini ATX motherboards. There's also 2 x USB 2.0, 1 x USB 3.0. SD /TF Card Reader and audio ports at the front.
Buy Here: Amazon
3. Antec NX200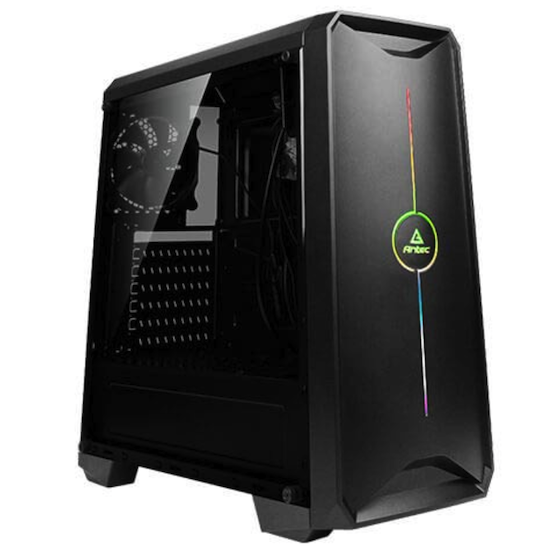 Antec NX200 is also a notable gaming cabinet with RGB lighting and 1 rear fan preinstalled. It has a full-sized ABS clear side window panel, Ventilated PSU compartment, 7x PCI-E Expansion slots, and several disk bays.  This gaming cabinet has enough rim for droves and cards. It has a good RGB strip on the front, PSU Shroud, and clear side panel.
Buy Here: Amazon
Zebronics Zeb-Demeter
Zebronics Zeb-Demeter is a premium gaming Cabot with support to Atx, mATX, or Mini ITX motherboard. It features a transparent side panel to show the internals. There's a 120mm rainbow halo ring rear fan and front RGB LED strips. The classic is made to offer a good airflow. It features a 2 x HDD slot, 3 X SSD slot, and a 120 mm rear fan.
Buy Here: Amazon
5. CHIPTRONEX MX1
CHIPTRONEX isn't a much known brand, but CHIPTRONEX MX1 is an impressive mid-tower cabinet with RGB front light and RGB fan light. This gaming cabinet supports ATX/MATX/ITX Motherboards. The glass side panel is also there to showcase internals. It has a bottom power supply and PSU closure. It also supports 240 mm liquid Cooling radiator on the front. There are multiple driver bays and enough space for different components.
Buy Here: Amazon