10 Best Makeup Apps for Android and iOS
Makeup is something every girl likes and most girls wear makeup on a daily basis. There are thousands of videos on YouTube to learn about makeup and get updates on trendy makeup and styles. Those videos guide properly, but there's one issue. Will that makeup looks good on you? That's why some girls are afraid of trying new makeup. Are you afraid of trying a new makeup style on your face or looking to explore new kinds of makeup styles? There are many beauty and makeup apps to help in these cases.
We have tested several Makeup Apps and made a list of the best makeup apps for Android and iOS. These apps offer AR to give you a real-time idea of how a makeup or beauty style will look on your face. You can try several kinds of makeup and hairstyles on your photos and see the changes in real-time. When you are satisfied, you can apply that on your face for real. Few of these apps also connect you to professional makeup artists if you want.
Also see: Best Hair Styler Apps
Best Makeup Editing Apps
Here is the list of best makeup apps and best beauty apps for Android and iOS. Check the list, read the description and download one.
1. YouCam Makeup app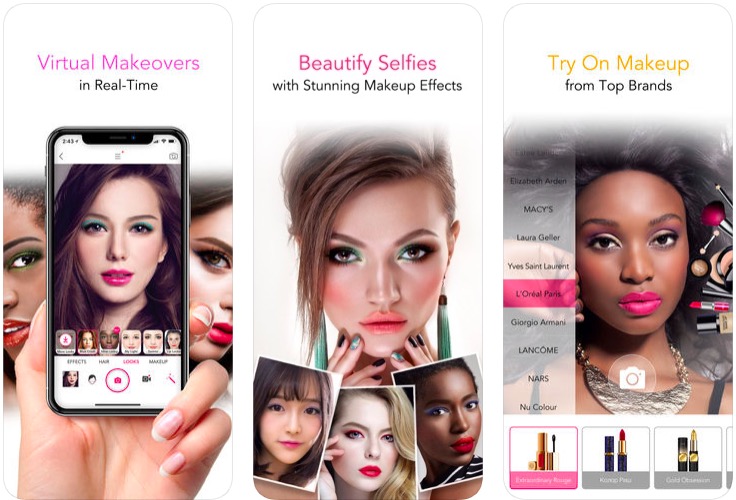 YouCam Makeup is the most popular makeup app available for both Android and iOS. The app lets you check how a specific makeup will look in your photos. It uses Smart facial detection to show the makeup on your face in real-time. The app also analyses the health of your skin and makes a score based on wrinkles, spots, acne, and dark circles.
The app has several tools for makeovers of eyes, brows, lips, and getting Flawless Skin. You can also try makeovers from the hottest celebrities. You can make your eye color shine, edit eyebrow style, and choose the color of lipstick. Not just facial makeup, you can also try hairstyles. YouCam Makeup offers Live 360-degree hair coloring. All these features make it one of the best Best Makeup Editing Apps for android and iOS.
It is a free makeup and beauty app with in-app purchases. You can download it from Google Play Store or App Store depending on the smartphone you use.
2. Perfect 365 makeup app
Perfect 365 is also a popular makeover app that offers full virtual makeup. You can use the app to change your style with tons of options available for face and hair. Many of these options are created by professionals. The app comes with more than 20 makeup and beauty tools to get a personal style. There are also more than 200 pre-set hot styles to try on a single tap. You have unlimited custom color options.
There are also video tutorials from YouTube artists for recreating the virtual looks on your face for real. In case you want a professional service, the app also lets you connect with a pro makeup artist near you.
The app also offers Daily makeup and fashion tips along with Beauty and fashion product recommendations.
Perfect 365 app is also free to download with an in-app purchase option. This makeup and beauty app is also available for both Android and iOS.
3. Pretty Makeup – Beauty Photo Editor Selfie Camera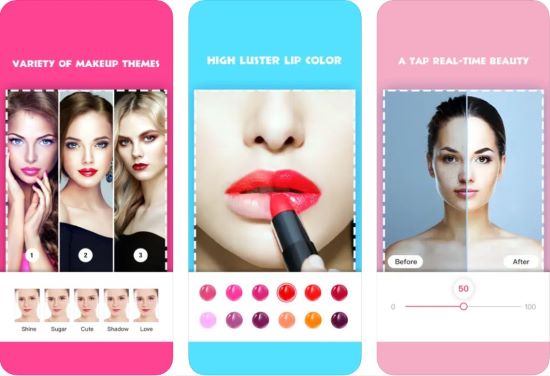 The pretty Makeup app is a full virtual makeover app where you can also take selfies with motion stickers and beauty effects. It has a Beauty Photo Editor & Selfie Camera both with many amazing makeup effects. This beauty app works on intelligent Auto-Recognition technology and the effects can be applied in real-time. Edit professional & beautiful photos with Pretty makeup app and share them on social media.
4. Pixl – Face Retouch & Blemish Remover Photo Editor
Pixl is a Face Retouch & Blemish Remover Photo Editor app that helps in taking a selfie and editing them using the built-in tools. This app has features like Red-eye corrector or remover, Face reshaper, Acne remover, Dark circle remover and Add or remove tan. You can also whiten your teeth with this app to give yourself a beautiful smile.
5. MakeupPlus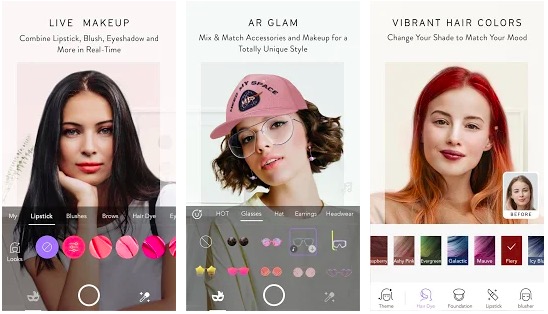 MakeupPlus is also an excellent makeup app that lets you try several makeup tools on your photos. You can use this app to try makeup looks created by the beauty industry's top professionals and see how a specific makeup will look on your face. By using the augmented reality (AR) camera., you can see how you will look after the makeup.
You can apply lipstick, blushes, and eyeshadow and see the effects in real-time. The app also lets you try several accessories and even change hair color. You can even change the eye color by applying virtual contact lenses. There are lots of options available in the app to try.
6. Mary Kay MirrorMe
Mary Kay MirrorMe is also a good makeup app for iOS and Android. This is a real-time makeup app that uses a smartphone's camera to apply makeup products just like in real life. You can also upload your selfie and then use several makeup tools to add makeup to your face. You have a full range of makeup looks, hairstyles, nails, and accessories. You can create unlimited makeovers on your photos.
There are several hairstyles and hair color combinations to choose from. You can customize your eye makeup, lip color, accessories and more. You can also download your makeover from the app or share it with your friends on social media platforms.
This makeup app is also free to download for both Android and iOS.
7. InstaBeauty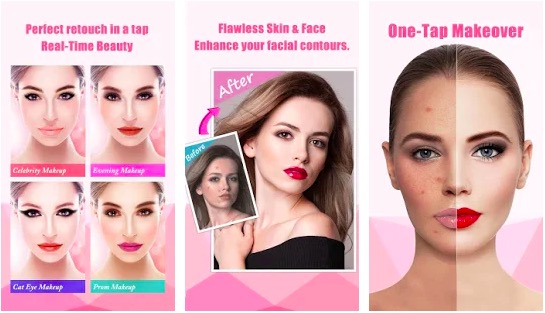 InstaBeauty is basically a selfie photo editor app that you can use to make perfect photos to share on social media. This makeup and beauty app is available for both Android and iOS. It comes with more than 100 beautiful makeup styles and filters. You can use this app to remove whiteheads, blackheads, pimples, acne, and rosacea to get flawless skin in your photos.
The has a one-touch option to beautify your photos. It also has the option for teeth whitening, changing the shape of eyebrows, and more. The notable features of the app include Beauty Makeup, Beauty Camera, Beauty Collage, Beauty Video, and QuickSnap.
Download: iOS
8. Visage Lab
Visage Lab is also an interesting makeup app that lets you retouch your face and perform several kinds of makeup to things to improve your face in a photo. The app offers an option for skin smoothing that includes removal of face shine, imperfections, and wrinkles. You can perform Eye makeup, Red-eye removal, Teeth whitening, Color enhancement and more. There are a total of 40+ awesome artistic effects to try.
You can also remove pimples and wrinkles if you want. Another interesting thing about the app is that it also works fine in group photos. It will enhance all the faces in the photo. The app has a simple and intuitive interface. So, you won't face any issue in using the app.
9. Cymera: Makeup app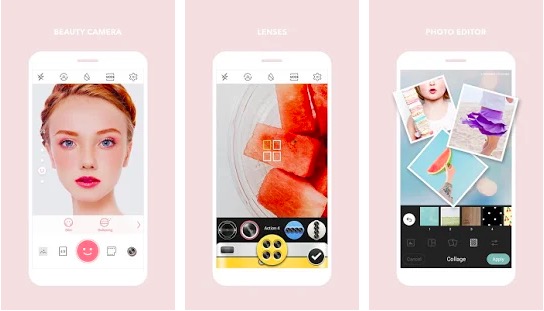 Cymera is a selfie camera app that can also be used as a makeup app. The app comes with several filters, snap stickers, makeup and other tools to enhance your photos. The app offers Skin Care Feature. You can reshape your body, Slim your waist and lift your hip to hey a sexy body. It offers options to enlarge eyes, skin corrections and 200 kinds of natural hair and face makeup items.
Along with these options, the app also brings standard tools for editing like options for brightness, contrast, cropping and frame rotation. You can also create a collage by combining several photos.
10. Bestie – Camera360 Selfie
Bestie is a makeup editing app that has more than 100 new filters comprising detailed fixture functionality. It has facial recognition feature that helps in fixing the blemishes and acne on skins. You can also take night mode camera pictures with the help of this app.
With the help of this app you can also film short videos through the Bestie app camera and even create high-resolution GIFs with these videos.
Final Words
This was the list of best makeup apps for Android and iOS. These apps offer lots of makeup and styling tools that you can try on your selfies. When you are satisfied, you can try that style for real after using Best Beauty Apps For Android & iOS. Few of these apps also have an option to connect with professional stylists to get that makeup done.