ZOOOK Infra Temp Review: Infrared Thermometer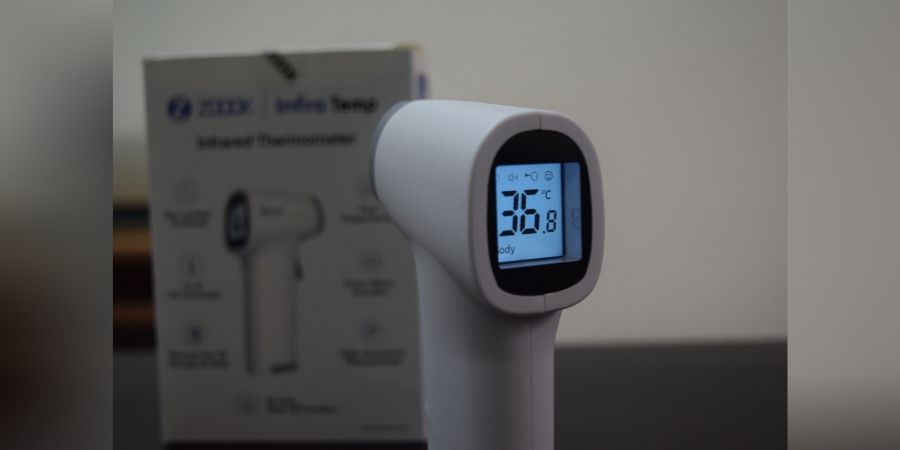 ZOOOK recently launched its contact-less infrared thermometer ZOOOK Infra Temp in the Indian market. It is priced at Rs. 3499 and is now available in the Indian market. Now when the world is facing the COVD-19 crisis, it is really important to have a contactless infrared thermometer at home to measure body temperature. I recently started using ZOOOK Infra Temp at home to keep track of the body temperature of all members. Based on my experience, here is the review of ZOOOK Infra Temp.
ZOOOK Infra Temp is made of high-quality plastic and feels solid. It is splash resistant to make it suitable for regular usage.  There's an LCD display to show the temperature reading along with battery level, activated mode, and sound alert. The LCD has tri-colour backlit. White backlit is if reading is normal and orange if there's mild-fever. It appears red when it detects a high temperature. The display remains readable even in outdoor making it good to us in outdoors.
There's a trigger button to wake up the device, take the measurement, and access the menu options. It is sturdy and offers clicky feedback. At the bottom side of the grip, there's a cover to put batteries. It requires 2 AAA batteries. It shows the battery level all the time, so you know when it is time to buy a new pair of batteries.
This Infrared Thermometer features dual-mode. So, you can use it to measure the temperature of the body or surface. It can also show the temperature in both degree C and degree F depending on the mode activated. The temperature range is 32°C-43°C and claims an accuracy of ±0.2°C. Whenever you want to measure the temperature, just point the device to the person or object and press the trigger button to wakeup and press again to measure the temperature. The device is really fast in measuring the temperature. For accurate results, keep the thermometer at a distance of 3-4 cm. It is important to change the mode to Body while measuring the temperature of a person and use Surface mode while measuring the temperature of any object.
It also has storage and can hold up to 30 measurement readings. So, you can check the last 30 measurements taken using this thermometer.
This device is really easy to use. There is just one trigger button. Press that to measure temperature. Measurement is accurate and fast. AAA batteries will last long and storage lets you check recent measurements. Overall, this device seems pretty good and value for money. There are similar Infrared Thermometers available in the Indian market, but ZOOOK Infra Temp seems to be the cheapest one from a reliable brand.
Buy Here: Amazon (Rs. 3499) | Flipkart
ZOOOK Infra Temp Review
"ZOOOK Infra Temp is an impressive value for money contact-less infrared thermometer."
The Good
Fast and Accurate
Good build
Breakdown
Design and build 75%

Performance 80%

Value for money 70%